Rapidly Reconfigure Factories with AI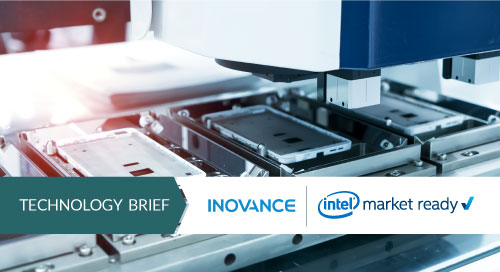 Editor's Note: In times of rapid change, manufacturers need to be agile. This has never been truer than today, when factories are being repurposed to deliver personal protection equipment (PPE) and other critically needed products.
But revamping a factory is a difficult challenge. Manufacturers must maximize output of their new products while maintaining high levels of quality—particularly when they are creating health- and safety-critical materials. For example, factories are being asked to produce hundreds of millions of multilayered medical masks with the lowest possible defect rates.
This is where AI and computer vision come in, enabling fully automated production lines that include quality control testing, not possible with human resources. As a case in point, Intel® has partnered with Inovance and Xinje—a 3C manufacturer—to build multiple mask defect detection systems.
Leveraging the same Inovance technologies and solutions described in the article below, rapid reconfiguration of production line runs is a real possibility. And with AI and computer vision, this automated inspection speeds up the process in bringing quality solutions to market—from smartphones to medical masks.
---
Consumer products such as smart watches, mobile phones, and computers have strong brand recognition. But how many people know the names of all of the different companies that make the parts and components assembled into their favorite devices?
More than 50 individual components may be in one device, each designed and built by a different company. These manufacturers must deliver huge quantities of flawless, precision-made components to these name-brand electronic firms.
The 3C industry (computers, communications, and consumer electronics) is extremely competitive. Suppliers are under pressure to lower costs, increase productivity, and improve quality, all while meeting just-in-time schedules set by their customers: device manufacturers.
New technologies—such as wearable devices, smart speakers, and robots—are expanding the need for 3C manufacturing. To help demonstrate the scale of this business sector, approximately 30,000 visitors attended and viewed 500 exhibitors at the 2018 3C electronics, manufacturing, and technology show in Guangzhou, China.
Featured at this and similar trade shows are IIoT technologies and smart factory solutions that help companies get more out of data at the edge and in the cloud. The result: improved productivity, efficiency, and lower costs.
To deploy these solutions, manufacturers have two options: convert existing facilities or build new ones. The benefits, in either case, are gained by combining operational and information technology systems as well as applying a modular and flexible approach to manufacturing. These enhancements can provide specific benefits, including:
Improving the manufacturing process, leading to the ability to produce components that rigorously comply with customer design specifications.
Centralizing factory data and information management to refine analytics and uncover new methods that enhance production.
Meeting diverse manufacturing requirements to simplify setup of factory lines that can produce a wider range of components for different customers.
Reducing costs related to upgrades and maintenance, leading to increased profits and opportunities to invest in new equipment.
Ramping Up Industry 4.0 Performance
The Micro Smart Factory, developed by Inovance, is an example of how one solution can meet the needs of 3C and other discrete manufacturers seeking to capitalize on Industry 4.0 productivity and efficiency benefits (Figure 1).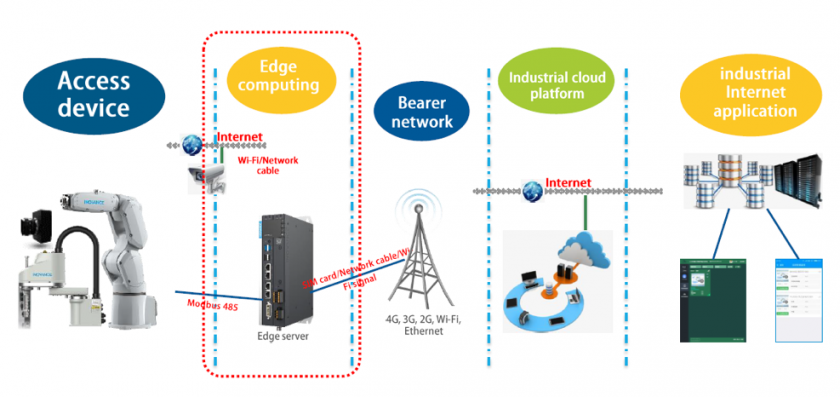 The heart of the Micro Smart Factory solution is the AC810 intelligent controller. It is an edge platform that runs on Intel® processors, providing performance needed to rapidly process machine and other data at the edge. Through secure connectivity, the system also provides a link between external application equipment and the cloud.
This can improve performance of a wide range of tasks and systems such as workload consolidation, data collection, human machine interfaces (HMIs), programmable logic controllers (PLCs), and device topology management.
And by enhancing how information is gathered and used by sensors and edge devices located across the factory floor, the solution can increase the speed and precision of automation technology.
IIoT and Flexible Use of Data
"The solution is ideal for 3C and other types of discrete manufacturers—including the automotive and aerospace sectors—as well as operations like laser cutting, intelligent metal drilling and grinding, and woodworking," explained Li Zhou of Inovance.
"It provides a cost-effective way to transmit, from the edge to the cloud, various types of data. Production, components, equipment operation, and maintenance all produce data that can be measured and acted on," said Zhou.
In a traditional factory, all of this siloed data is uploaded to an ERP system and analyzed. But by then it's ancient history. It's too late to proactively fine-tune equipment, which can enhance production or cut waste.
The solution provides real-time analysis of factory data, enabling rapid reconfiguration of production line runs. And by performing analysis at the edge, developers can use open APIs to treat data in different ways, which can help them discover new operational insights. All of this enables businesses to improve production by becoming flexible in how they use data, deep learning, AI, and the IIoT.
It is also designed to let developers standardize process data. This makes it possible for manufacturers to not just connect everything on the factory floor, but to collect and analyze data generated at the edge in real time.
"They can then read and process real-time data at the drive, executive, control, and information layers, then encrypt and upload it to the cloud," said Li. "This facilitates improvements in product and component quality and standardization, machine maintenance and planning, and factory management."
One AC810 controller can replace multiple small-size PLC and PC servers, making the solution simple and cost-effective. And by using the Intel® Core™ processor, the solution increases compatibility and floating-point speed. This improves the ability of the solution's intelligent controller to support information layer interaction.
"Our customers know that our system is verified as an Intel® IoT Market Ready solution, and that it will help them achieve the benefits they need," said Li. That's critical as the 3C Industry becomes more competitive, driving manufacturers to gather and use their data to gain new insight and value.