Health Tech Takes Flight with VR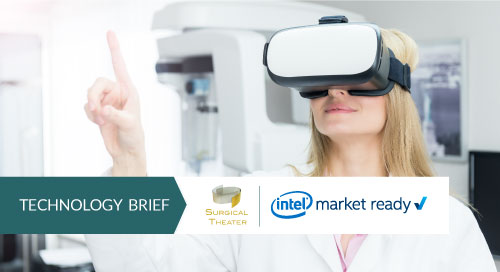 The surgical patient's journey from initial consult to treatment and recovery can be a harrowing one. And patient-doctor communication challenges only add to the stress.
The gap between a surgeon's specialized knowledge and experience—and the patient's—is hard to bridge. And often, patients are left feeling overwhelmed and helpless—despite their doctors' best efforts to help.
Most people don't know how to read the imaging scans that medical professionals have traditionally used to explain to patients their pathology, so they just nod and pretend to understand. But there's no pretending with virtual reality (VR). Just as pilots use VR-guided simulators to rehearse their flights, the same technology can reconstruct a patient's 2D medical imaging into a 3-dimensional, 360-degree model. This virtual "twin" becomes its own environment, where surgeons and patients can experience virtual reality together.
Rendered from comprehensive combined modalities of CT, MRI, and advanced post-processing images such as DTI and BOLD, the 360-degree immersive environment is designed to allow surgeons to walk in and "fly through" a reconstruction of the patient's own anatomy and pathology. By simply turning their head side to side or up and down, patients can explore their anatomy, as the surgeon explains and demonstrates the planned surgical path the medical team will use during the procedure (Figure 1).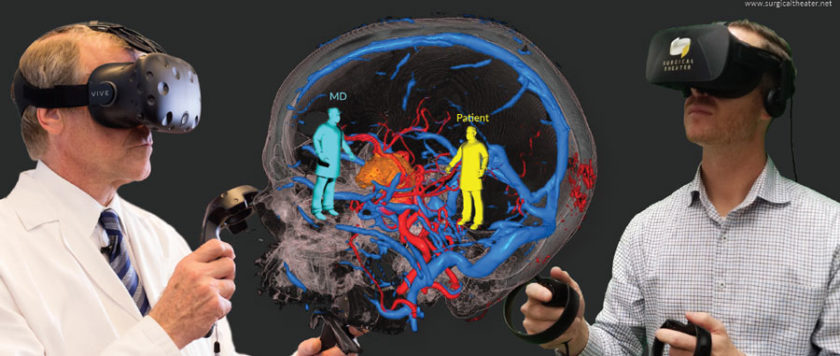 Health Tech That Engages and Educates
Without VR, a typical surgical consultation has the doctor typing into an Electronic Healthcare Record (EHR) system while the patient sits and waits. "EHR is touted as a tool for increased patient engagement, but really the screen is just a barrier between them," said Alon Zuckerman, COO of Surgical Theater. Add a few hard-to-read 2D images and esoteric medical terminology, and even a plastic model (of a brain, for example) isn't much help.
The Surgical Theater Precision VR platform solves the problem of engaging and educating patients during such a difficult time by providing a visual bridge. "Doctor and patient can literally fly inside, as if they were pilots or astronauts, and get familiar with the critical areas, the terrain, and the threats," said Zuckerman.
It's the difference between hearing "Here is the brain, here is the optic nerve," and seeing—almost experiencing—one's own pathology. For example, patients could see firsthand that their tumor is too close to a crucial structure to be removed surgically. And instead of questioning the quality of care, they might be grateful to have been spared unnecessary risks.
Even under extreme stress, patients leave a consultation that includes Precision VR with clarity and understanding that wouldn't have been possible without it.
Not only does @SurgicalTheater VR allow you to see what you can't see with traditional 2D imaging, it gives you better insight on how to plan surgeries.
Medical Imaging Plus
This easy transmission of information makes Precision VR an excellent tool for informed consent. But its value in the surgical planning process is even more striking. In some cases, 3-dimensional information leads to a modification of the surgical plan originally created from standard 2-dimensional imaging. Wearing VR goggles, doctors might decide to go in above the eyebrow, for example, instead of through the nose—because they saw something with the solution that they couldn't have seen with traditional imaging alone.
One example highlighting the power of VR is a patient who was confined to a wheelchair due to a tumor on his spine. His first surgeon used a CT scan and determined the tumor was inoperable. Unwilling to give up on his diagnosis, the patient decided to get a second opinion. The patient's second consult was with a surgeon at a different hospital. This particular surgeon used Precision VR and saw a tiny opening that traditional imaging hadn't revealed. He performed the surgery safely and gave the patient back the use of his legs.
And this isn't a unique scenario. Not only does VR allow you to see what you can't see with traditional 2D imaging, it also gives you better insight on how to plan the surgery. Zuckerman said that in one analysis at a major academic medical center, 24 percent of surgeons using the Surgical Theater VR system changed their plans based on the additional information it provides. And sometimes they modified their plans in real time, during the actual surgery.
The platform is also used in the operating room providing live 360-degree augmented reality—synchronizing the optical view from the surgical microscope/endoscope with the latest computer-assisted navigation and the patient-specific VR model. Zuckerman explained: "Surgeons can see the patient's anatomy from many different angles. They can see virtually around corners to anticipate their next move."
White-Glove Service
While the Precision VR system doesn't require any other special technology beyond traditional medical imaging, Surgical Theater offers a suite of additional services to help hospitals take full advantage. For example, they might assign a dedicated VR technician to support the hospital five days a week, or even place a representative in the OR to support the surgical team and service the technology. In other cases, the company trains OR and other clinical staff so they can provide this support themselves.
And when hospitals want to upgrade from a single system to multiple, Surgical Theater offers an enterprise solution. The Centralized Control Room Model is a technical architecture that drives the enterprise-wide VR/AR platform. It enables access to any 360-degree VR case stored in the hospital's database at any site on the hospital's network. Cases are built in the Control Room, where all activities are monitored and remotely supported. The VR/AR application can be run either on a VR/AR-ready machine or a client with reduced capabilities.
Intel® has been an integral part of this effort. It helped Surgical Theater build the architecture behind the enterprise solution as well as optimizing the software to work better with the Intel processor.
"VR and AR require so many computing resources," noted Zuckerman. "We refresh the image 90 times a second, with the need to render a detailed 360-degree scene down to the millimeter. And to pass FDA standards for use in the OR, you can't compromise on details or performance."