Fill form to unlock content
Error - something went wrong!
Your content is just a step away. Please submit below.
Edge AI and CV Power Supply Chain Transformation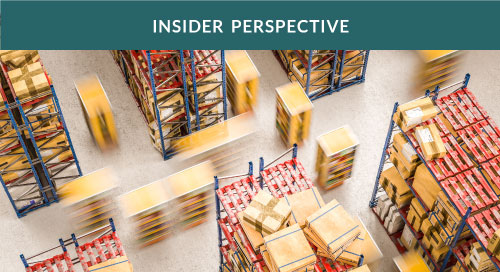 Until recently the idea of a "supply chain" was an unknown for most people. The pandemic changed all that when essential goods became hard to find. Now the term is part of our daily lexicon. But for organizations that need to move goods from point A to point B, the Covid crisis exposed longtime systemic efficiency challenges. Fortunately, the past few years have seen advanced technologies like AI and machine learning. These tools are making all the difference not just to these supply chain organizations but also to the expert SIs and VARs that serve them.
With technology advancing so quickly, companies need solution integrators that understand supply chain operations and how to apply the right technologies. One example is Global Solutions Distributors BlueStar, Inc., which partners with companies like supply chain-AI and image-recognition solution provider Siena Analytics. Together they bring the software, hardware, services—and, of course, logistics—that VARs need to deploy edge-to-cloud solutions for their supply chain customers.
John Dwinell, Founder and CEO of Siena Analytics, joins us to discuss challenges and opportunities in the supply chain space (Video 1). He talks about the importance of real-time data to smart logistics and tracking, the far-reaching benefits of system visibility, and how a no-code solution can bring the esoteric art of AI right to the level of the domain users who really understand the issues at stake.
What is the state of supply chain today and what are the current challenges?
As e-commerce has grown, supply chain organizations are under so much pressure to get higher throughputs, better efficiency, and to be able to scale. Visibility has really been critical to understanding where the bottlenecks are and how to deal with them so that businesses can realize greater performance and precision, and can have better quality overall. Quality and visibility are really big pressure points in supply chain today.
Another common challenge in supply chain is vendor compliance—that incoming quality of product. So having a real, deep understanding of the supply chain is important—again, having the visibility to identify at scale what packages are compliant and why; and what packages are not compliant and what's wrong; and to be able to provide that feedback to the suppliers so they can make improvements.
We started out with IoT capturing data and images in the supply chain, and along the way came the capability to bring AI and AI vision into that IoT solution, which has really helped transform visibility.
Tell us more about those recent technology advancements addressing these challenges.
IoT has really flipped the problem on its head in a lot of ways. Traditionally, there's enterprise data telling us, for example, "This is the size of a case, and so X number of cases is going to fill a trailer." And IoT is looking at the cases and saying, "Well, actually this is the size of the case." It's real data flowing up. The accuracy and precision of the information is critical to being able to make those adjustments at a reasonable cost.
IoT is feeding back very precise information about the good and the bad as product comes in. And that's critical to being able to quickly adjust to changes in volume in the supply chain, and to still have the capacity and the throughput to move those through. That real data in real time allows you to make adjustments so that you can allocate resources correctly. There's a lot of benefit and sustainability there: Obviously, getting those numbers exactly right allows you to plan your supply chain more efficiently.
How are you using artificial intelligence to make efficiencies happen?
AI is a big, big factor here. The volumes are very high, and the speeds are also very high. We are looking at over 50 million cases every day. That's just a tremendous amount of effort. AI changes the formula for that completely, because we can literally look at all six sides of every case flowing into and out of a warehouse. We can see what condition a case is in, how it's packaged, how it's labeled, what's there and what's not there. And we can answer the question of how does it meet the standards? How does it meet the supplier requirements? And doing that at scale in real time was just not possible in the past. AI and the platforms that we work on really made it possible.
What are some best practices for implementing these complex technologies like AI?
It's true that there's a certain intimidation factor with AI. If you go back only a few years, it was kind of a dark art; you needed a real specialist. There have been a lot of advancements there.
We have a very friendly, no-code environment that takes away the mystique of the training. We've simplified things so that we can capture the images, label that data, train new models using the platform, and engage the customer's domain experts to help with that themselves. They really see these models come together, which is very exciting. And we also train them to recognize that what's really critical are small variations from one customer to another—that's exactly what they need to see. The AI model is very adaptable to that, but you need the platform, and you need the tools to make it approachable.
And we talk a lot about the tools, but connecting the domain knowledge with the technology is also really important. So one thing I want to make sure I point out is that Siena is now part of the Peak Technologies family. Peak has really broad experience in supply chain, and really understands customers' challenges in that realm. So it's not just the tools, but the breadth of experience that Peak has that we can bring to the customer base to help solve their problems.
How can businesses in this space ensure the privacy and the security of their customers?
Security is really important, especially with IoT. You're capturing data in real time right there at the edge, but it needs to be brought to the enterprise, or sometimes to the cloud. And those connections from edge to cloud or edge to enterprise need to be secure. So we work very closely with information-security teams. We leverage the technologies and platforms from partners like Intel and Red Hat to be sure that we have a very secure environment.
What are some other partnerships Siena Analytics has, and what has their value been to you?
I think IoT, as exciting as it is, is still evolving. So getting the right solutions, the right technology pulled together is extremely important to us. We work very closely with Intel, we work very closely with Red Hat. We work closely with other partners like Lenovo on the hardware. Splunk is an important partner for us in terms of analytics.
We've been able to watch the technology as it evolves, but also to be a part of the conversation to help guide the technology that's needed. And I can't thank our partners enough. They're really critical to making this all work.
What comes next for the supply chain space?
I've been in this business for a long time, and I see this as the very beginning. AI in supply chain—really intelligent supply chain—is just beginning, and there are tremendous opportunities for growth. Edge-to-cloud is something else that's also really bursting onto the scene, and it still has tremendous opportunity to grow.
Any sophisticated supply chain organization needs real-time visibility, and I think that will continue to grow, too. I think we see a lot happening in standards and collaboration as well. Companies work very closely with a vast array of suppliers, so standards are really critical to making the whole supply chain work together and work efficiently.
Are there any final thoughts or key takeaways you'd like to leave us with?
I'd say, be open to the technology. It's moving quickly, but it can bring a lot of efficiencies. Find partners who understand supply chain and understand the technology—that's really critical. Someone who can work closely with you on this journey and help bring in the best solution, so that you can have the most intelligent supply chain possible.
Related Content
To learn more about AI-powered supply chain logistics, listen to AI-Powered Supply Chain Logistics: With Siena Analytics and read AI Unlocks Supply Chain Logistics.

---
About BlueStar
BlueStar is the leading global distributor of solutions-based Digital Identification, Mobility, Point-of-Sale, RFID, IoT, AI, AR, M2M, Digital Signage, Networking, Blockchain, and Security technology solutions. BlueStar works exclusively with Value-Added Resellers (VARs) to provide complete solutions, custom configuration offerings, business development, and marketing support. The company brings unequaled expertise to the market, offers award-winning technical support, and is an authorized service center for a growing number of manufacturers. BlueStar is the exclusive distributor for the In-a-Box® Solutions Series, delivering hardware, software, and critical accessories all in one bundle with technology solutions across all verticals, as well as BlueStar's Hybrid SaaS finance program to provide OPEX/subscription services for hardware, software, and service bundles. For more information, please contact BlueStar at 1-800-354-9776 or visit www.bluestarinc.com.