Fill form to unlock content
Error - something went wrong!
Your content is just a step away. Please submit below.
The Promise of Smart Retail in Today's Digital World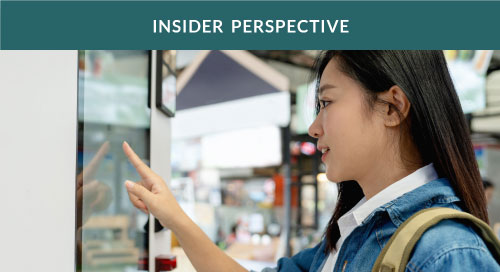 Despite conventional wisdom, the brick-and-mortar retail space is growing – not shrinking. But to be competitive in an online world, retailers must deliver the shopping experiences consumers have come to expect. This may include frictionless self-checkout, omnichannel purchase power, personalized product information, and informational kiosks that make for an attractive shopping environment.
Deploying these transformative retail use cases depends on a wide range of new technologies and edge-to-cloud solutions. But no single supplier can deliver these solutions alone. This is why companies like VSBLTY, a retail-technology provider, partners with Global Solutions Distributor BlueStar, Inc.
BlueStar works with an ecosystem of hardware, software, and other developers to build solutions designed to help retailers—and the integrators that serve them—streamline operations and grow profitable sales. In addition to offering ready-to-deploy retail solutions, BlueStar backs them with service, support, logistics, and technology expertise—enabling VARs, systems integrators, and ISVs get to market faster.
Jay Hutton, Co-Founder and CEO of VSBLTY, believes that computer vision could be the answer to the online vs. on-the-ground dilemma. He talks about the future of brick-and-mortar shopping in a digital world, retail's place in the omnichannel experience, and the benefits of digital signage to the consumer—a.k.a. you and me.
How have physical stores had to compete with online shopping over the past few years?
Physical stores are not dead, nor are they dying. Consumer behavior has changed, for sure, resulting in a certain amount of commerce being fulfilled online. But that doesn't mean the store is dying; it's evolving. The pandemic has caused retail to really look at the consumer experience, and to modify it in a way that—I don't want to say it's more like online—but it's more like online. It delivers immediate response and immediate engagement in a way that brands value and consumers value.
There's this merging of online with offline that requires the store to reinvent itself by embracing digital more, having more consumer engagement, and being more consumer-centric. I think this is a challenge to a lot of traditional retailers, but I'm delighted to report that they're really stepping up to that challenge.
What do we mean by "Store as a Medium"?
The store has always been a medium for messaging. In the past, that took the form of poster boards or stickers on the floor in front of the Tide detergent. And that was meaningful in the way it redirected brand spend: Brands spend money to drive impressions at the point of sale—at the moment of truth when you are most likely to be influenced by a message.
What's different in the past two or three years is how all that's becoming digital. We're talking about stores embracing digital surfaces: It could be a digital cooler; it could be an endcap that's got a digital screen embedded in it; it could be shelf strips that are interactive and drive attention, gaze, and engagement at the point of sale.
These are all ways in which stores invest in and embrace turning the store into an advertising medium. We know that the internet is an advertising medium. We know that a billboard on the side of the highway is an advertising medium. We're now at a point where the store itself is an advertising medium, or channel. When the big brands, like Unilever, Coca-Cola, and PepsiCo, make decisions on which channel to invest in, now the store is a legitimate option because it's where the consumer makes decisions. It's where the brand can deliver its narrative and the consumer can be impacted, which is really valuable. This is exactly what Store as a Medium is: intimate engagement with the consumer.
How does Store as a Medium fit into the retail omnichannel experience?
As so often happens, we were waiting for the technology to catch up to the demands of the marketplace. But now we've got computer vision and the ability to draw inferences; we're looking at audiences and deriving meaningful data. How many men, how many women, how many 25-year-olds, how many 35-year-olds? (And this is not privacy data—not data that would make any of us feel creepy—but data that is relevant to a brand.) We all knew that once we cracked that code it would realistically open up the store as a valuable medium, as one of the channels in "omnichannel." It wasn't before, and now it is.
Now we've got this opportunity to drive really meaningful insights—it's the data dividend. Not only are brands interested in delivering advertising at the point of sale, they're interested in lift; they want to sell more stuff. And they're interested in this unbelievably complex and robust data set that they've never had before, one that allows them to segment, to laser-focus, and to understand their customer engagement much more acutely than ever before.
What benefits might customers get from this situation?
If consent is not secured from the customer, there's still a lot of very focused marketing that can be delivered to that person as a member of a group—a gender group or an age group, for example.
But when there is consent, now maybe there can be a loyalty app aligned with what's going on in the digital display. If that consenting customer gets personalized advertising, gets choices on brands that they already have a preference for, now it can be more meaningful to them as a consumer. That's what's in it for the customer. Now it's not just a general broadcast—shotgun advertising; now it's laser focused: "Jay likes Coca-Cola more than he likes Pepsi, so I'm going to drive digital coupons." Or "I'm going to drive a campaign promotion to him specifically because of his brand affiliation and because of his brand interests."
What other kinds of retail use cases might there be for these digital-signage solutions?
If there's one brand category that can afford the investment in digital infrastructure, it's health and beauty. The margins are out of this world. It has a problem right now getting enough skilled labor to perform the educational role at the point of sale, so health and beauty can invest in the digital infrastructure and the ROI is almost immediate. The adoption that's happening there is outpacing everything else, because of that ROI. This doesn't necessarily mean a conflict with a grocery deployment or a big-box deployment; health and beauty can be co-resident, and they can do it together.
How is VSBLTY actually making this happen?
That is perhaps the most complex part of the business model. Generally, retail business runs on a 3%-4% gross margin. So what is the probability that most retailers are interested in a multimillion-dollar capital infrastructure investment for digital overlay? Almost zero—unless you're Target or Walmart or one of the really big players.
The hypothesis was that if a group of us—called the Store as a Medium Consortium—could get together and solve that problem on behalf of retailers, therefore creating a media infrastructure—capitalizing it, deploying it, managing it, even doing brand-demand creation for the media network—it simplifies the retailer's value proposition. We said, "You don't have to do anything. We'll open up the doors." VSBLTY relieves the responsibility of investing in the infrastructure from the store.
Our largest deployment is in Latin America, along with Intel and Anheuser-Busch. Together, we're building a network that will reach 50,000 stores by the end of year four. If we reach that objective—and I firmly believe we will—it will be the largest deployment of a retail-media network on the planet. And if we can do it there—in a 10-square-meter convenience store on the side of a dirt road in Guadalajara—it gives us a leg up on doing it in places with a less challenging environment.
Boston Consulting Group says this will be a $100 billion market by 2025—it's under $5 billion today. Even if that statement is hyperbolic, we know it's exploding. This is no longer a whiteboard exercise; it's "We're doing this now."
How has your work with Intel made Store as a Medium possible?
Intel has enormous global reach. If we're having a particularly difficult time reaching the C-suite of a retailer, Intel can get there because they have a team dedicated to ensuring thought leadership. Of course, at the end of the day, Intel wants to move silicon—and it has proven leadership in delivering powerful, high-capacity processors at the edge. But you would be surprised at the level of expertise there—subject-matter expertise, vertical expertise—and we lean on Intel all the time.
There's also the legitimacy they give to us. We're a side-by-side partner, and proud to be the 2022 Intel Channel Partner of the Year. Intel also has a track record of putting its money where its mouth is: When it comes time to really drive that thought leadership, Intel will always be there with us, assisting us wherever we need it. We're enormously gratified to be in that position.
What types of technology investments does Store as a Medium require?
Everyone has a fantasy that existing infrastructure can be leveraged, therefore lowering the total capital expenditure. But generally speaking, that's not the case. The Wi-Fi in a Target or a Kohl's or a Walmart usually sucks. But if you're driving new content, you need internet access, and we would have to deploy on top of the in-store Wi-Fi to get the bandwidth we'd need. Cameras and networks obviously also exist in retail for loss-prevention purposes. But those are generally up in a ceiling and looking down on heads, not directly at faces.
So for the most part, this is new build. But new build, I should hasten to add, that we're removing the capital-expense responsibility for from the retailers. So if they deliver us a large enough number of stores, we'll go and assemble the capital necessary to make it happen.
What can we expect from Store as a Medium going forward?
It's no longer conjecture; we're now looking at large-scale deployments. If you ever doubt the veracity of this category, just look to Amazon and Walmart. And if you're in retail and you're not afraid of what Amazon and Walmart are doing and you're not, then you're just not paying attention. The challenge now is speed—the speed with which adoption can be secured, deployment can be secured, and revenue can start to happen. It's a land grab at the moment.
Anything further you'd like to leave us with?
Strap in, because your retail experience is about to change. There's going to be more for you on your customer journey. If you decide to opt into a loyalty program, it will become profoundly more personalized. And that experience will extend to your home, if you wish it to.
The whole customer journey, that whole engagement modality, begins at bricks and mortar; it cannot begin in an online experience. So the entire experience will change, but brick and mortar is not going anywhere.
Related Content
To learn more about ongoing retail transformations, listen to the podcast Reinventing Smart Stores as a Medium: With VSBLTY and read Retail Digital Signage Gets an Upgrade with Computer Vision.

---
About BlueStar
BlueStar is the leading global distributor of solutions-based Digital Identification, Mobility, Point-of-Sale, RFID, IoT, AI, AR, M2M, Digital Signage, Networking, Blockchain, and Security technology solutions. BlueStar works exclusively with Value-Added Resellers (VARs) to provide complete solutions, custom configuration offerings, business development, and marketing support. The company brings unequaled expertise to the market, offers award-winning technical support, and is an authorized service center for a growing number of manufacturers. BlueStar is the exclusive distributor for the In-a-Box® Solutions Series, delivering hardware, software, and critical accessories all in one bundle with technology solutions across all verticals, as well as BlueStar's Hybrid SaaS finance program to provide OPEX/subscription services for hardware, software, and service bundles. For more information, please contact BlueStar at 1-800-354-9776 or visit www.bluestarinc.com.