Augmented Reality Brings Playgrounds to Life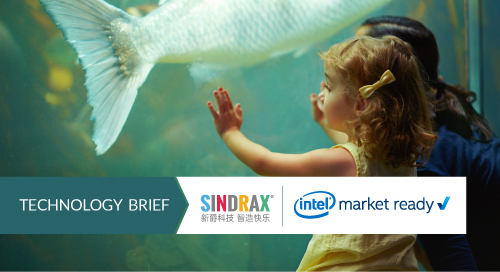 The technology and objectives of today's indoor smart playgrounds have progressed beyond the video and gaming arcades of the past. The focus now is on interactive learning through introducing children to immersive educational tools.
Smart playgrounds can help youngsters develop creativity and scientific thinking, recognize the value of collaboration, and cultivate physical coordination.
For example, one popular game is the Kids STEM Lab. Children can create colorful virtual structures and influence how water flows around them. The game provides a hands-on introduction to hydrodynamics, a branch of physics that centers on fluid motion and how it responds to solids (Video 1).
Video 1. Kids STEM Lab lets children experience hydrodynamics in a fun and intuitive way.
Several trends are driving interest in smart playgrounds. Parents understand the importance of teaching their children the proper use of digital technology. And indoor smart playgrounds provide young learners with a head start.
Businesses that cater to families, such as quick-service restaurants, are continually looking for new ways to increase revenue. For instance, McDonald's and Taco Bell have changed their menus to reflect new, healthier eating habits. And just as the right food nourishes young bodies, interactive learning can nourish young minds.
Edutainment startups also recognize a need in the market. They're investing in these technologies as their core business. And while preschools and other educational organizations have always emphasized learning, many are also adopting smart playground technologies.
Immersive Learning
The Intelligent Gamified Kids (Pre-School) Education Solution by Sindrax Technology is deployed in indoor playgrounds. These venues could be in family entertainment centers, preschools, restaurants, museums, and more.
Children and their families can play in a space that combines traditional learning facilities with augmented reality, computer vision, laser projectors, interactive touch screens, and other technologies. Activities like climbing pegs on a wall simulate the experience of scaling a tree. As the children climb virtual branches, they can experience picking flowers that appear to bloom before their eyes, creating a game.
A multiplayer option helps preschoolers acquire sharing skills and develop interest in others. In addition to providing a fun experience, the solution teaches children how to use basic technology at an early age, while supporting multiple languages and cultural differences.
Some of the learning that takes place within the solution is based on concentration theory. This helps children overcome difficulty in focusing on a single task. In addition to helping children develop their concentration, these methods enable them to improve memory, response speed, visual perception, eye-hand coordination, and motivation.
Better Learning with Analytics
The Sindrax solution collects and analyzes anonymous usage data to determine overall interest in games and exercises. This helps guide developers to improve the solution, such as creating a more child-friendly interface and adding new games, themes, and imagery. Keeping indoor smart playgrounds fresh gives families a reason to return regularly, which is essential to protecting system investments.
Preschools and other educational organizations can use data in a more refined way. For example, they can analyze in real time how a specific child interacts with an activity. This enables instructors to raise or lower the degree of challenge on an individual basis. As a result, children receive the most appropriate and interesting content (Figure 1).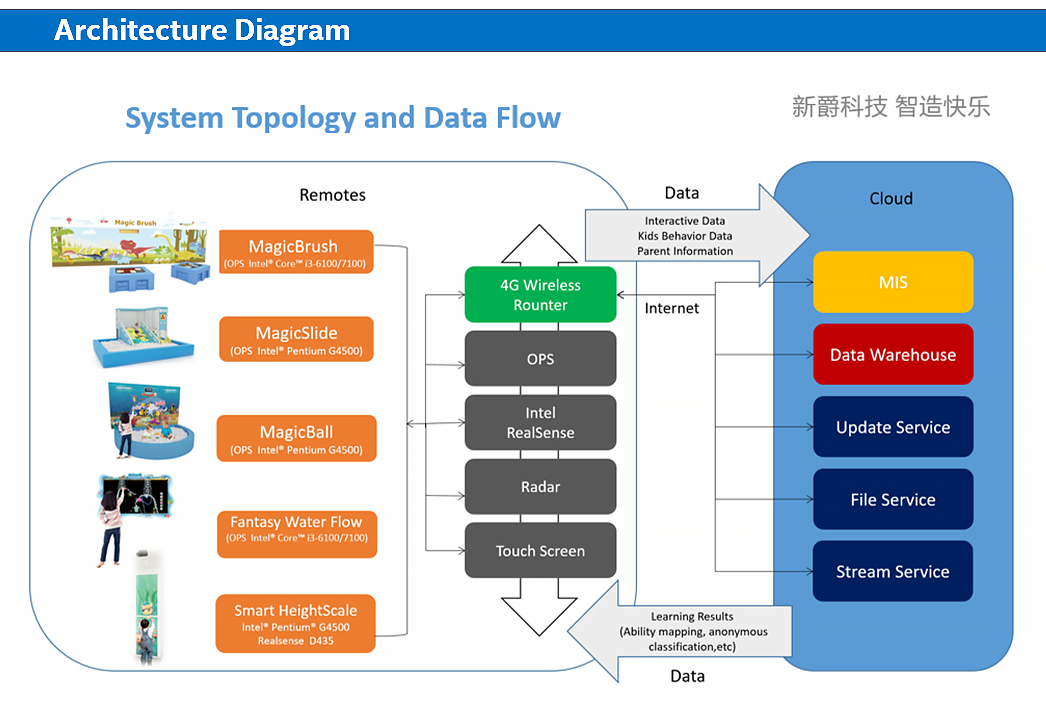 By connecting the hardware and content to the cloud, it's simple to remotely update game content, software, and do system diagnosis and maintenance.
Traditional indoor video gaming technologies, on the other hand, usually require on-site updates and maintenance. Another big difference: Smart playground content replaces the violence frequently found in conventional video arcade games, with themes that promote learning and cooperation.
Computer Vision Requires Powerful Processing
When it comes to smart playground technologies, children and their parents have high expectations. To help provide seamless operation and great experiences, Sindrax Technology powers its IoT solutions with Intel® processors. Intel technology delivers the performance required for real-time analytics. It also enables interactive capabilities using a variety of sensors and connected devices.
"Intel products are designed for high reliability and a long lifetime," said Harry Haochuan Lu, Managing Director at Sindrax Technology.
The company also uses Intel® RealSense™ technology to bring its solutions to life. RealSense hardware and software enable advanced computer vision with depth perception, tracking, motion tracking, and other capabilities.
An example of the technology in use is the Virtual Beach Interactive Sandbox. Children can scoop up virtual sea creatures to experience in real time how their physical movements affect what's occurring on a screen (Video 2).
Video 2. Children can practice parallel, associative, or cooperative play.
Making augmented reality feel natural and comfortable is essential. Any action or behavior in the digital world must respond as if it's taking place in the real world.
AI, computer vision, and augmented reality are reinventing kids' spaces. They are becoming more interactive and engaging—providing an adaptive learning environment for developing minds and bodies.