AI and Deep Learning Put Hospital Robots to Work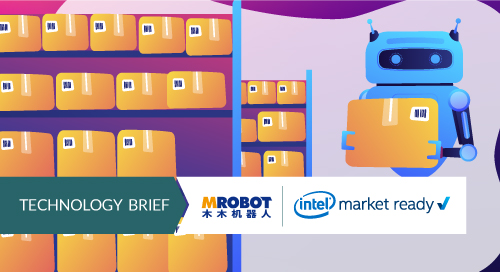 Editor's Note: Even in the best of times, hospitals can find themselves understaffed and overcrowded. During a crisis, the need to free up healthcare workers from commonplace tasks is even greater. That's why robotics and AI are playing a growing role in medical facilities.
MROBOT is leading the way with Noah, a smart, autonomous robot that transports supplies to and from almost anywhere in a hospital. On top of that, Noah can help reduce the health risks of hospital workers by cutting need for direct human interactions.
Read on to see how state-of-the-art, autonomous robots are a smart fit for the demanding hospital logistics of today and tomorrow.
---
A nurse instructs a robot enhanced with artificial intelligence (AI) to enter a warehouse, pick up surgical instruments and other items, before reporting to an operating room. Once all of the required objects are packed into its payload, the robot navigates itself to the elevator without assistance. The robot even communicates with the elevator system to get to the right floor.
Deploying robots in hospitals is a response to a growing challenge, particularly in China. Every day, hospitals go through tons of linens, surgical instruments, lab specimens, and other items.
From on-site warehouses to operating rooms, people move the vast majority of these loads. They also remove everything from dirty linens to medical waste, forming the other side of a hospital's closed-loop supply chain management system.
The scope of this physical and logistical challenge will increase as China builds thousands of new hospitals over the next five years. Robots using AI and computer vision can help overcome these challenges.
And while other methods, such as pneumatic devices and track logistics, can reduce the burden on hospital staff, they're neither capable of carrying large, heavy loads, nor acting on their own. They also require physical renovations, while robots can share the same hallways and elevators that people use.
AI Robots on the Move
The MROBOT Hospital Logistics Robot, called "Noah," is much more than a smart autonomous transport vehicle. Developed by MROBOT, a fleet of such robots is hard at work in the Children's Hospital of Shanghai and several other major hospitals in Asia. With the capacity to carry up to 300 kilograms, they optimize the movement of hospital supplies, allowing people to perform more valuable roles, and reduce costs (Figure 1).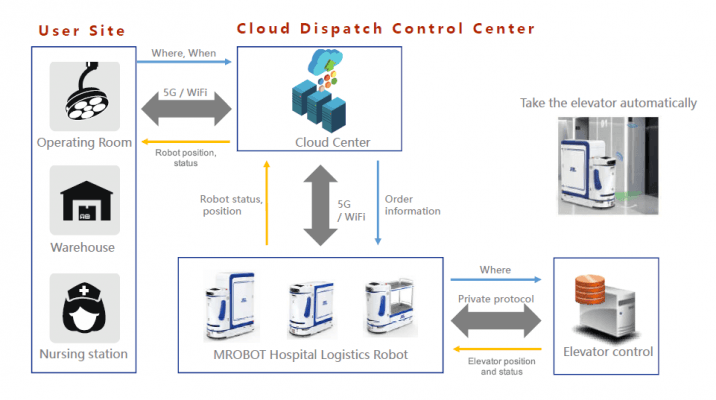 Noah runs on the Robot Operating System (ROS), an open, flexible framework for creating complex behavior over a variety of platforms. It uses voice interaction to take and confirm orders as well as computer vision to attain environmental awareness, navigate, and avoid obstacles. All of this requires compute at the edge.
"Achieving this level of behavior takes a significant amount of processing power and reliability," said Scott Liang, Director of R&D at MROBOT. "These are just two of the reasons we use Intel® technology."
Noah's AI navigational capabilities are trained using target detection. This helps it learn to map an unknown environment while estimating its position within it. Data association matches sensor observations to landmarks, and loop closure is used to recognize previously visited locations.
Teaching Noah to detect and locate obstacles and avoid collision is also necessary. To do this, data from multiple sensors is collected in real time. Neural network techniques are then used to instruct Noah on how to plan a trajectory that predicts and avoids obstacles.
"We use Caffe and TensorFlow for the training framework," said Liang. "And with Intel® Movidius™ we can achieve faster speeds while saving 30 percent of CPU resources compared with other options. We also use Intel® OpenVINO™ for deep learning inference at the edge."
Several methods help ensure that only authorized personnel can access the items that Noah holds. These include passwords, RFID, and fingerprint recognition, with facial recognition planned for the future.
From Obstacle Avoidance to Logistics Enhancements
It's no surprise that Noah can optimize the movement of hospital goods. MROBOT holds 300 patents related to robot navigation, computer vision, obstacle avoidance, and multi-sensor fusion. It's also the only company to receive a China Robot Certification in the hospital logistics category.
In addition to navigating and delivering needed supplies, Noah uses data to improve overall operations. It automatically collects and preserves logistical data and uploads it to the cloud. By using data analysis and AI, Noah optimizes labor and material collection to improve efficiency and reduce costs. This also offers an enormous improvement over the traditional use of paper records.
Noah also provides visualization and predictive analytics. Users can filter data depending on their needs. For instance, managers must keep current on the big picture regarding hospital supplies. But those in support roles tend to focus on details related to specific items within a department, over a precise timeframe. Noah can automatically generate relevant charts according to the user's preference.
Realigning Staff
As the volume of medical supplies and other items transported within a hospital increases, it's no longer practical for people to perform these tasks. Nurses, responsible for patients and doctors, don't have time. Porters and others can accomplish more valuable work by moving patients rather than things.
Liang summed it up: "Healthcare staff are busy and overworked. But the movement of supplies never stops. A single robot can do the work of up to three people, making hospital logistics a good job for robots."