Fill form to unlock content
Error - something went wrong!
Your content is just a step away. Please submit below.
All-in-One Kits Power Machine Vision in Manufacturing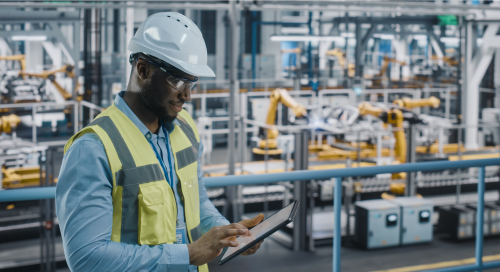 Manufacturers are eager to implement machine vision solutions in the factory. The technology can improve product quality, enhance operational efficiency, lower costs, and help companies to scale. But machine vision can be a double-edged sword for solutions providers and SIs that serve the industrial sector.
"On the one hand, you have this powerful, sophisticated technology that solves enormously complex problems," says Patrick Ye, Vice President at Shenzhen Seavo Technology, a specialist in hardware platforms for smart manufacturing. "But it requires development expertise and computing power to implement. And machine vision solutions should be adaptable to multiple use cases and configurable post-deployment."
But that means solutions providers need to source unusually flexible and scalable solutions to remain profitable. Fortunately, all-in-one, ready-to-deploy machine vision kits are now available. Powered by the latest hardware and software platforms, these kits offer powerful, reliable AI processing via a flexible, scalable platform.
The rise of #MachineVision kits is a #technological trend—and like so many developments in #AI, it is driven by stakeholders' business and operational needs. Shenzhen Seavo Technology Co., Ltd. via @insightdottech
Overcoming Barriers to Machine Vision in Manufacturing
The rise of machine vision kits is a technological trend—and like so many developments in AI, it is driven by stakeholders' business and operational needs.
Manufacturers, for their part, are attempting to solve thorny technical problems: optical character recognition (OCR) in physically demanding factory environments; complex defect recognition that requires far greater precision than in the past. But the kinds of machine vision solutions that can meet these needs rely on sophisticated AI technologies like deep learning—and that requires unprecedented processing power and extensive development work to implement.
In addition, says Ye, the market is looking for machine vision platforms that are highly flexible and scalable:
"These are solutions for innovative businesses that want to grow. But because of this, these solutions need to be extremely flexible—in the sense of reconfiguration after implementation—if a manufacturer needs to change a process, open a new product line, or scale up. Modular design is also preferred in order to avoid the problem of vendor lock-in."
The need for sophistication, power, and flexibility also presents a challenge to solutions providers and SIs. Namely, their buyers are hungry for machine vision solutions—but the solutions they want are costly and time-intensive to develop.
Enter the machine vision kit: a modular, scalable, industrial-grade kit that offers a range of configuration options to meet varying requirements for computing power, I/O, form factor, and functionality.
These kits are a win-win for everyone involved. They shorten time to market and lower development costs for solutions providers and SIs—and offer manufacturers a powerful, flexible, and easy-to-deploy machine vision solution.
A Synergy of Software and Hardware Technology
The key to building a platform that addresses multiple needs at the same time is combining best-of-breed hardware and software into a comprehensive solution. To accomplish this, Seavo partnered with Intel to develop its machine vision kit—using Seavo hardware designs along with Intel processors and software development tools.
The kit's different components and architectural features deliver outsized benefits to users:
Intel processors provide reliable, high-performance computer vision processing from low-power consumption settings to high-power applications like deep learning and edge AI model training.
Modular design shortens the development cycle, reduces costs, and simplifies maintenance and upgrades for the end users. Extensive I/O options support high-definition IP cameras and a range of display options for human-computer interaction.
Scalable design with via a range of Seavo's kit models, which include various expansion slots to handle data storage modules, networking, motion capture and control, and communication.
Intel® Edge Insights for Industrial (Intel® EII) delivers accurate image recognition and enables real-time control and management through rapid image acquisition, processing, and analysis at the edge. Intel EII includes support for edge image and video processing, pre-trained models for analysis, edge video inferencing, AI acceleration, and development toolkits designed for deep learning applications.
The Intel® OpenVINO™ toolkit speeds up the development of machine vision applications and enables AI optimization.
Ye says that Intel technology is instrumental in bringing Seavo's solution to market: "Intel's processors are ideal for machine vision applications, and its AI software development tools are a huge help in speeding development."
New Business Opportunities for SIs and Solutions Providers
In the coming years, machine vision kits will offer attractive business opportunities to SIs and solutions providers and help more manufacturers take advantage of the benefits of computer vision technology.
The power and simplicity of these kits will enable solutions that address common manufacturer pain points—and their flexibility will hedge against the constant change that is the hallmark of Industry 4.0. The fact that they offer rapid development and easy customization will also be attractive to SIs and solutions developers eager to take advantage of opportunities in the burgeoning market for machine vision solutions.
"All-in-one kits are going to be a massive driver of machine vision adoption in the industrial sector," says Ye. "They offer enterprises a way to deploy machine vision-powered solutions quickly, and they give SIs and solutions providers a fast route to market. By uniting the best in machine vision hardware and software, these kits have become something greater than the sum of their parts."

Edited by Georganne Benesch, Associate Editorial Director for insight.tech.