24×7 Revenue with Smart Vending and the IoT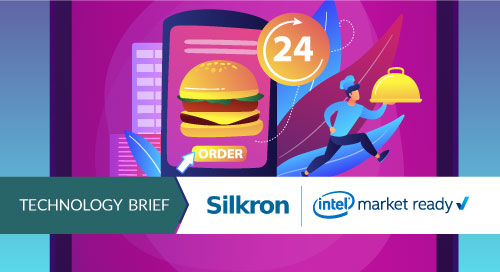 Vending machines are no longer just everyday black boxes that dispense snacks and drinks. They are becoming smarter, more versatile, and fun.
All across China, customized machines now enable consumers to buy everything from hot noodles to clothes and gifts. In Thailand, a kiosk functions as a high-tech greenhouse that sells plants. And then in Singapore, there's a 15-story vending machine where consumers can select and buy luxury cars.
Vending machines are growing in popularity because they offer consumers convenience, and because they enable retailers to sell merchandise around the clock in a small footprint with little overhead.
New solutions now make it easier than ever for vendors to centrally manage multiple types of machines from anywhere, and enhance the retail experience with convenience and entertainment.
Easy Retailing with Digital Displays
Several trends are driving the growth of smart vending.
First, many consumers use vending machines as mini convenience stores where they can quickly pick up products any time of day on street corners, outside offices, and in subway stations.
These machines also use trendy, fun, and engaging digital experiences that exceed traditional human-facing retail (Figure 1).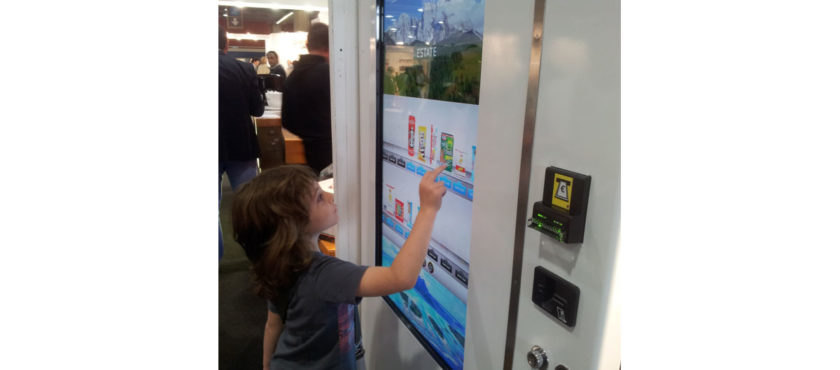 But it's not just about selling products. "They are also providing many different value-added services such as bill payment, news feed, and social media interaction," said Khun Loh, Founder and CEO of Silkron.
And surging mobile wallet adoption in China is spreading throughout the region, enabling consumers to easily make payments by swiping a QR code with their mobile device.
Digital signage and multimedia capabilities provide the opportunity to earn advertising revenue and to better compete with e-commerce retailers. In addition, operators benefit from user and transaction data analytics that enable them to continually improve their operations, product assortment, and display content.
Smart vending machines are typically connected to the internet and offer real-time updates and monitoring. They often stock a variety of products and can accept multiple types of payments, including biometric identification.
"Embracing smart vending technology helps retailers capture new opportunities, operate 24 hours, and minimize the human dependency problem. It really enables them to operate in a more cost-effective manner." —@silkronvending
"Embracing smart vending technology helps retailers capture new opportunities, operate 24 hours, and minimize the human dependency problem. It really enables them to operate in a more cost-effective manner," said Loh.
The IoT Enables a Smart Vending Ecosystem
While retailers and operators strive to capitalize on new market opportunities, managing multiple solutions across various types of machines and geographies can be complex. Fortunately, new cloud-based platforms now enable operators to easily integrate the applications they need and to manage their various machines with one single solution.
Silkron Technology offers an ecosystem that simplifies operations and supports endless opportunities in automated retail by letting operators customize, centrally manage, and monitor their machines with one single platform (Figure 2).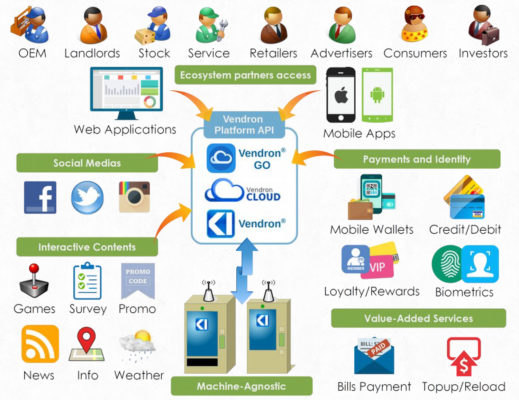 The Smart Vending & Automated Retail Platform includes machine-agnostic hardware and APIs for scalability and integration of third-party applications. The Go Mobile app enables consumers to interact with the machines in a variety of ways. And the Vendron cloud provides remote manageability for a variety of stakeholders.
The single cloud-based ecosystem can connect all partners in the network from the OEM to the service team, advertisers, and distributors. For example, landlords can collect rents or a share of the revenues, service teams can access service record and schedules, and suppliers can view real-time stock levels (Figure 3).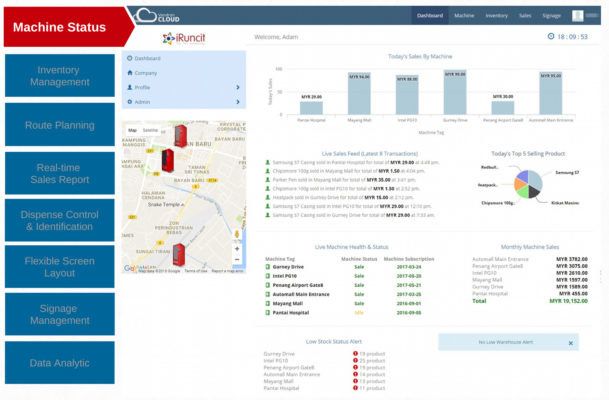 "They can all sync with the platform at different levels according to their roles," Loh said. "It offers one place where operators and all partners can conduct their business and operations."
Managers and partners can also use payment and usage data analytics to further improve operations. For example, they can use sales data to engage in smart pricing based on supply and demand, and predictive maintenance data enables them to troubleshoot problems before they happen.
Open and Scalable
The plug-in-based software framework runs on the Vendron gateway, powered by Intel® technology. This software supports everything from product and content management to mobile payments, video analytics, and the user interface.
The platform can work with any vending machine or kiosk, and it can be retrofitted to machines already in service. This is especially beneficial for operators who want to start small then scale into new lines of business that require different machines and hardware.
"When the business grows and they need more functionality, they can easily do it themselves by integrating through APIs," Loh said. "They can quickly scale into new markets with different machines and products."
For many operators, the opportunities with the Silkron solution are limited only by their imagination.
Vending machines don't just sell products, but play games and redeem points for gifts. They invite customers to dance along and pose for a photos. And they dispense free gifts, food samples, and other goodies—all in exchange for sharing on social media. Operators win, ecosystem partners win, and consumers win, too.