Fill form to unlock content
Error - something went wrong!
Your content is just a step away. Please submit below.
Smart Cities Extend Their Reach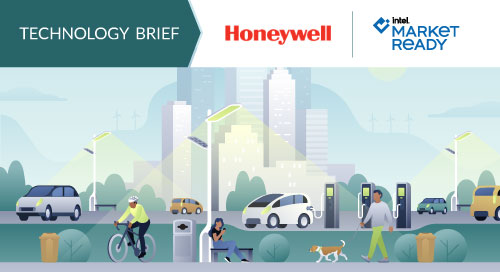 Twenty-eight miles east of Cairo, Egypt, a new administrative capital is arising—a smart city showpiece that will transform operations with IoT technologies—managing everything from public transit to water meters to parking. Administrators will be able to respond to changing conditions in real time, dispatching crews to fix power outages before they're reported, redirecting traffic on clogged highways, and sending emergency responders along the most efficient routes available. More than 6 million new residents will be able to use a mobile app for needs such as turning on their water service, booking a parking spot, or reporting a pothole to the right department—making city life nearly hassle-free.
Egypt is a great example of how government leaders are going all-in on IoT and connected infrastructure—changing the game in automating controls for complex systems and responding to problems.
IoT and Smart Cities
Cities of all sizes are looking at smart city technologies and solutions to deploy services and gain actionable insights more effectively. For example, sensors on buses and trains allow officials to track their location and gauge load and fuel consumption. Smart streetlights detect pedestrians and activate at full or partial capacity, depending on the weather and time of day. Advanced camera systems can detect accidents, alert first responders, capture data for investigators, and generate reports.
Smart infrastructure implementation varies greatly by region. In the high-growth areas of the Middle East and Asia, central governments often combine information from a vast array of smart devices. Egypt's yet-to-be-named capital will send data from 32,000 cameras, a quarter-million smart meters, and 10,000 parking spaces to the Honeywell City Suite platform, where administrators can view metrics in any combination, set controls, and receive real-time alerts.
Improving Safety and Security
In the United States and Europe, cities are often more likely to adopt smart technology piecemeal, and systems typically don't communicate with one another.
"Cities may not get information they need because their traffic camera system doesn't talk to their public safety system or vice versa," says Matthew Britt, general manager of Smart Cities and Communities for Honeywell.
By moving data feeds onto a single platform, officials can orchestrate a faster, better-coordinated response to emergencies and large events. This means, for example, the potential to see significant reduction in emergency response times.
Coordinating #infrastructure isn't just for emergencies. It also helps #cities support citizen #safety and manage operations for large public gatherings, such as concerts, parades, or sports events. @honeywell via @insightdottech
Coordinating infrastructure isn't just for emergencies. It also helps cities support citizen safety and manage operations for large public gatherings, such as concerts, parades, or sports events.
"If you're hosting a large sporting event and your camera network shows crowds gathering and closing off streets, you can reroute vehicle traffic so that everyone will get to the stadium safely—and faster," Britt says.
With Honeywell City Suite, all data stays on city servers, where it is processed on Intel-powered, high-performance hardware. Officials can analyze information on the platform with machine learning and artificial intelligence algorithms, making predictions about future demand and shoring up resources before conditions deteriorate.
"Cities are trying to make long-term planning decisions, and the need for data has never been so strong," Britt says.
With data insights, administrators may change the timing of stoplights to reduce congestion as traffic patterns change, or do predictive maintenance to prevent costly, time-consuming transit breakdowns. They can also collect additional revenue from parking garages by charging more based on higher demand.
The Future: Sustainable Smart Cities
As smart infrastructure expands, some cities are offering new services through mobile apps. Citizens can report problems, such as potholes, downed power lines, or vandalism without having to navigate the city bureaucracy. Commuters can purchase transit tickets with contactless payments and receive real-time updates on arrival times. Residents can obtain alerts about natural disasters and other safety issues.
Smart operations and analytics can also help cities make progress toward environmental goals. For example, drivers can receive directions to parking spaces using the most efficient route, not only saving time but also using less energy.
"If you know exactly where you'll park from the second you leave the house, you'll spend less time in traffic, waste less fuel, and emit fewer greenhouse gases. Many cities have put aggressive targets in place without devising any way to get there. By aggregating and analyzing their data, they can find ways to improve efficiency and sustainability," Britt says.
As 5G connectivity spreads, Britt expects to see cities expand their use of smart infrastructure: "With 5G, you can connect millions of sensors on widely distributed assets without the expense and potential latency of other types of connectivity."
Further economic incentives are on the way as funding from the U.S. Infrastructure Investment and Jobs Act and the Inflation Reduction Act becomes available. "There is more money currently aimed at upgrading infrastructure than we are likely to see again in our lifetimes," says Britt.
The boon could encourage the development of innovative technologies to help cities create a safer, more sustainable future.
For example, Honeywell is working on municipal microgrids that will help cities to continue vital services during sustained outages, such as those that occurred during 2021's Winter Storm Uri in Texas. With microgrids, cities can store energy in batteries, instead of relying on fuel deliveries that may not arrive when they're needed most. Batteries can store energy from any source, including solar.
"If you can generate solar energy on-site, you could theoretically have an infinite amount of power at your disposal," Britt says.
He expects to see many such ideas flourish in the near future: "I think you will see the concept of a smart city take hold much faster. Governments will implement technologies that have a wider impact on people's lives."
This article was edited by Georganne Benesch, Associate Editorial Director for insight.tech.