Fill form to unlock content
Error - something went wrong!
Your content is just a step away. Please submit below.
Making Cities Smarter with AI Video Analytics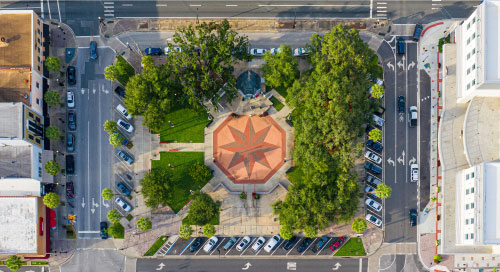 Smart cities offer many advantages that traditional municipalities only dream about. With the right technology in place, cities can optimize traffic, enhance safety in public places, and better enforce their laws.
All of this is possible with video analytics powered by artificial intelligence (AI). When connected to surveillance cameras, AI-based video analytics can improve city life by keeping an eye on the movement around its streets, plazas, parks, and municipal buildings.
For example, one large city in North Africa uses this smart city technology for a host of different purposes—including traffic management, stopping illegal parking, preventing loitering and trespassing, and detecting and tracking suspicious vehicles across multiple surveillance cameras. To keep track of all this movement, the city uses an AI platform developed by video analytics provider AllGoVision Technologies, which leverages multiple algorithms to deliver a wide range of functionality.
"We created a generic platform where we can actually pick and choose algorithms that can be used," says Aji Anirudhan, the company's Chief Sales and Marketing Officer. "The algorithm which actually comes into play depends on location where it's implemented."
So, if the city's traffic enforcement wants to capture license plate numbers in moving violations or illegal parking, the platform delivers that. If people are hanging around where they shouldn't on a street corner, or stepping into restricted areas at an airport, the platform detects and reports that, too—in addition to being able to detect objects left unattended or locate missing objects.
"It wasn't too long ago that surveillance systems were restricted to a small number of users. But today, that has changed a lot. Capturing meaningful analytics from video has evolved over the years beyond safety and security to operational efficiency," Anirudhan says. Critical intelligence captured from surveillance cameras helps redefine what city management and planning mean, Anirudhan explains.
Driving Outcomes with AI Video Analytics
The AllGoVision platform delivers immediate outcomes. For instance, when a crime such as a mugging takes place, the platform enables a quick response. AllGoVision can even leverage GPS technology combined with their multi-camera tracking feature to track a getaway car as it moves through a city, says Anirudhan.
But there's also an important long-term component to the platform. Data collected from crosswalks at busy intersections can help improve safety—potentially keeping citizens out of harm's way. If data shows a recurrence of accidents in specific spots, city planners can add signs and traffic lights, or redesign traffic lanes, to avoid accidents and ease congestion, Anirudhan says, adding, "Our system then becomes an input to a much bigger planning system for the city."
"Capturing meaningful #analytics from #video has evolved over the years beyond safety and security to operational efficiency" – Aji Anirudhan, @AllGoVision via @insightdottech
Beyond traffic management and pedestrian safety, the platform can help optimize public parking as well as operationalize safety monitoring of utility companies like power and water throughout a municipality.
AllGoVision's generalist approach makes it customizable to a variety of environments by matching algorithms to desired outcomes. At airports, AllGoVision can help control crowds, manage queues, and prevent people from wandering into restricted areas. At gas stations, it monitors interactions between attendants and customers. And in classrooms, it observes students for behavioral analysis.
Take the gas station example. The use of video analytics helps operators see whether attendants are prompt, efficient, and courteous—which affects customer service. But there's also an operational aspect. Video monitoring lets operators track all kinds of activities. For instance, if a gas spillage occurred, it can determine if the area has been cleaned or not.
In the classroom, AllGoVision helps gauge a teacher's effectiveness in engaging students— or whether students are pursuing the right educational track. EdTech companies in countries such as India, where students pay for instruction, leverage behavioral analytics to drive outcomes. And those outcomes translate to revenue for the companies.
"They can do an analysis and say, 'This student has done very well in a math course, and he should do an advanced math course. This is what we see from the engagement for him,'" Anirudhan says. The analysis can even help a student redirect their instruction from, say, math to literature or vice versa, based on their aptitude.
Open Framework Keeps Costs Down
While using multiple sets of algorithms provides several benefits and opportunities across industries, it also makes the AllGoVision platform processor-intensive—which potentially could get expensive for the customer. But working with Intel has helped the company moderate costs, according to Anirudhan.
By leveraging the Intel® Distribution of OpenVINO™ Toolkit, AllGoVision optimizes the platform's processing requirements.
"If you can have a high-end processor resulting in a lesser number of servers, the total cost of ownership with respect to power, with respect to management of the servers, and the life of servers, all that adds up to optimization of the cost. So that helped us to bring our cost per channel of analytics to our customers down significantly," Anirudhan explains.
In another effort to keep down costs, AllGoVision is cloud-enabling its platform.
"Even if the costs are optimized, when you are running something like a 5,000-camera campus, the CAPEX cost is a challenge for many of our customers to justify. So what we are trying to build is a system where we could work with partners and do a combination of edge plus cloud model offered as a SaaS business model," Anirudhan says.
In this model, cameras and some servers would run on the edge and, depending on the use case, some data would be sent to the cloud for analysis and presentation to the customer.
Another development for the future, Anirudhan says, is to integrate the solution so that different areas of operations can share information and learn from one another's experience. For instance, data collected at airports, in parking lots, roads, city plazas, and municipal buildings would be aggregated and reviewed in a centralized location to enable a more concerted, organized approach to running a smart city.
This article was edited by Christina Cardoza, Associate Editorial Director for insight.tech.