Fill form to unlock content
Error - something went wrong!
Get the latest updates on IoT for smart cities.
You are following this topic.
Hyperconverged IT Infrastructure: A Game-Winning Play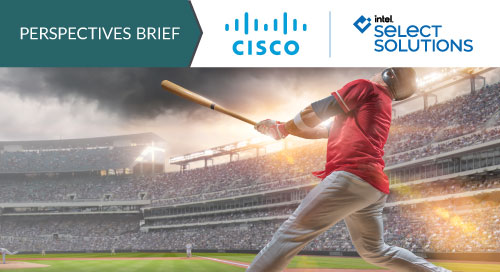 Going to see a baseball game live is an experience. There is nothing like the smell of the hot dogs or having a food vendor toss you a bag of salted peanuts. Then there is the energy and the buzz of the crowd with every positive or negative play. Whether your team wins or loses, nothing beats the thrill of the game.
But that camaraderie and excitement is contingent on the stadium experience. Fans don't want to waste time in long lines. They don't want to have to track down those food vendors in the middle of the game. It is not just the team that keeps fans coming back. It's the entire outing—from the ticket booths to the concessions stands to the digital scoreboards and even the merchandise vendors.
But this all depends on the ability to operate as smoothly and effectively as possible, which means innovating from stadium edge to data center.
It is easier said than done. Most baseball organizations still run outdated technology, have legacy equipment, and deal with multiple vendors. And they just don't have the staff or resources to support a major transformation. The technology stack can become very complex very quickly.
For instance, one major professional baseball franchise was looking into how it could improve its stadium experience and operations on the fly. To do so, it had to find innovative ways to update its IT platforms. It found real-time data would be crucial to identify bottlenecks and new opportunities, but its infrastructure limited the ability to be agile and obtain that valuable information.
"At the end of the day, they want to make sure when people come into the stadium, they provide a top-notch user experience. And they can only do that by using real-time data and analytics to understand what the situation of the crowd is in the stadium," says Rupesh Chakkingal, Product Management, Cloud and Compute, Cisco Systems, a networking, cloud, and cybersecurity solution provider.
IT Performance That Doesn't Strike Out
The baseball franchise wanted to measure ingress and egress counts, wait times, and location-based engagement as it happened. For instance, it wanted to detect how many fans entered the stadium at a given time, how long it took to obtain their tickets, areas of congestion within the stadium, and at what points in the game fans started to leave.
Having access to this information would allow the organization to detect if gates became too crowded and immediately minimize wait times by deploying additional security or ticketing personnel. If concession stand lines become too long, the stadium might send out portable merchandise carts to reduce wait times.
A hyperconverged infrastructure combined with the #hybrid cloud provides the low latency, #network integration, and high-performance computing at the scale organizations are searching for. @Cisco via @insightdottech
Beyond the stadium, the organization wanted to provide play-by-plays as they happened to fans watching at home or on the go.
To achieve the cloud-like agility, performance, and security it needed, the baseball franchise worked with Cisco to deploy the hyperconverged infrastructure solution HyperFlex.
According to Chakkingal, Cisco HyperFlex enabled the IT team to break down storage, compute, and data management silos to a cluster of x86 servers. Traditionally, it would have to test certain new capabilities and wait to measure the impact. With Cisco HyperFlex, the team can analyze efforts in real time to make better-informed decisions.
All the stadium's digital systems now run on Cisco HyperFlex with Intel® Xeon® Scalable processors and Intel® Optane™ technology. This allows the organization to achieve the best performance with fewer nodes and less storage. The IT team went from managing 30 legacy nodes individually to eight nodes collectively. It also was able to reduce the number of physical data racks from two to only a half of a rack, and went from 30 hypervisor hosts to only six. All managed through a simple, easy-to-use management interface.
"What used to take 12 to 18 hours to query now takes minutes," says Chakkingal. "In fact, the results of the stadium's queries started to come back so fast, the IT team thought something was awry with their system or queries weren't working."
A Home Run for Hybrid Cloud Infrastructure
The baseball franchise success story is just one example of the real business benefits Cisco HyperFlex offers. The technology is helping customers in a wide variety of markets such as financial, manufacturing, retail, healthcare, and public sector industries.
As big data, artificial intelligence, and cloud computing become core to digital business success, Chakkingal sees more and more organizations starting to redesign their current infrastructure around hybrid cloud. It provides the low latency, network integration, and high-performance computing at the scale organizations are searching for.
Chakkingal says a successful hybrid cloud strategy has three essential components:
Hyperconverged infrastructure to provide a cloud-like operating experience and integration with ecosystem partner services
Workload engine to deliver virtual machines and containers as a service with full stack observability
Workload management and optimization both on-prem and off-prem through a single pane of glass
"Our secret ingredient to help customers successfully adopt a hybrid cloud strategy goes well beyond Cisco HyperFlex," he says. "We provide the entire lifecycle management capabilities for customers."
Cisco understands customers typically work with multiple other technologies. To ensure interoperability, the company offers Validated Design Guides that provide a reference architecture on how to get started and ensure multiple third-party components work together.
Going forward, Cisco plans to offer customers even more choice and flexibility when it comes to adopting Cisco HyperFlex. The company already offers easy-to-deploy and easy-to-manage edge node configurations for quicker data response times. And it is working on a software-only version of HyperFlex on third-party vendor platforms that will enable additional edge use cases.
"There's a growth of IoT and smart devices, which will demand a lot of processing closer to the endpoint," says Chakkingal. "We're providing our customers with a better user experience and faster access to the data they need now and into the future."
This article was edited by Georganne Benesch, Associate Content Director for insight.tech.