Cities Put the Brakes on Bad Driving with AI at the Edge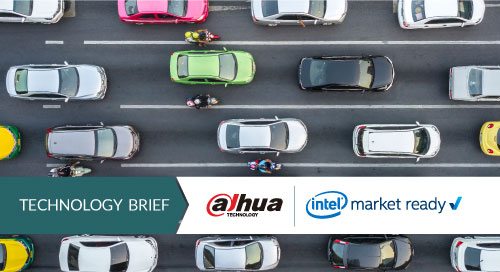 Sao Paulo, Brazil has some of the worst traffic in the world. While maddening on a good day, traffic may have set a record on June 10, 2009—when drivers got stuck in more than 182 miles of traffic jams during their commute. It's hard to imagine that in the financial capital of Brazil, the average motorist sits in up to four hours in traffic each day.
This is the reality for cities around the world, where people spend too much time behind the wheel on roads that are far too crowded. And it's not just a problem in developing nations. The average driver in the U.S. lost 97 hours to traffic, costing the country $87 billion in 2018.
But it's not just the hassle and cost of wasted time and lost productivity. Congestion has other serious consequences, including injuries and deaths from accidents and poor air quality.
These are symptoms of an underlying infrastructure problem. Metro areas are running out of room to lay more roads. And legacy traffic management systems simply can't keep up with the influx of autos, motorbikes, trucks, buses, and pedestrians.
Many are built around proprietary technologies, making them ineffective, expensive, difficult to scale, and unlikely to communicate with others. While these systems may collect plenty of visuals and other data, the information can't be processed at the edge or sent to the cloud for analytics.
For example, an existing speed camera setup may not communicate with the traffic signal control system. This lack of integration leaves cities with little understanding of what causes congestion, making it difficult to take corrective action. Adding new control devices just adds complications and increases costs.
That's why city officials, law enforcement agencies, and public transportation officials around the world are seeking new ways to address road safety and congestion problems.
Innovative solutions using computer vision, AI, deep learning, and other advanced technologies address these problems. These systems address a host of traffic-related issues at the edge, providing automated, real-time, and dynamic traffic enforcement.
AI Offers New Solutions
But every metropolitan area is different from the next. City roadways, resources, and challenges are unique—calling for flexible and customizable solutions.
The priority in one city may be to reduce speeding, while another chooses to focus on catching and ticketing drivers running red lights. Other cities increase safety by persuading scooter riders to wear helmets via automated citations. Some deploy a system for all three.
For example, managers for one city in Serbia wanted to use a red-light enforcement solution that would not increase light pollution—caused by systems that emit a flash each time a vehicle passes a checkpoint.
To accomplish this, they worked with Dahua Technology Co., Ltd. to deploy infrared illumination and Starlight technology cameras, which can produce high-quality images in virtually any lighting conditions. The system achieved exceptional results. This includes a vehicle license plate recognition rate of up to 95 percent, automatically generated tickets, and no increase in light pollution.
Two-wheeled vehicles can pose their own problems, which is why Bangalore's traffic safety priority is common to Asia: Scooter and motorcycle riders resist wearing helmets and overload their motorbikes with three or more riders or bulky items.
Bangalore installed the Dahua Automatic Number-Plate Recognition (ANPR) system, allowing the city to leapfrog to more advanced technology. The solution fit Bangalore's budget and gave motorbike riders a powerful incentive, which changed their behavior and improved safety.
The Dahua Intelligent Traffic Solution (ITS) demonstrates how cities can overcome their challenges by taking a comprehensive approach. The system processes data at the edge and in the cloud to solve traffic issues and improve safety through a wide variety of applications, as shown in Figure 1.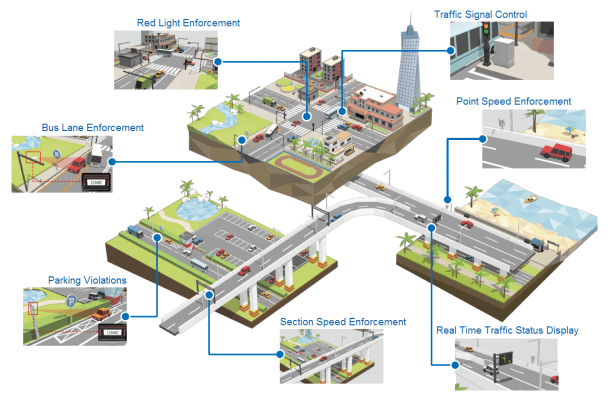 The ITS edge device camera systems use advanced analytics, front-end intelligence, and AI to capture and process data without uploading it to the cloud.
This improves compute efficiency and speeds data analytics to recognize people not wearing seatbelts, illegally using mobile phones, or performing prohibited driving maneuvers. The system can also detect traffic flow, identify license plate numbers, and other vehicle description information.
"Our solution uses a front-end camera to collect and hand over traffic flow data to the signal control system," said Eason Xu, Marketing Solution Manager at Dahua. "Performing data analysis at the edge enables the system to adjust traffic light timing on the spot, reducing congestion."
Performance at the Edge
Cities can deploy a broad range of ITS solution devices—depending on their requirements—and control them through a single management platform. These include surveillance cameras, speed measuring, signal detectors, edge storage units, LED and flash lamps, traffic controllers, ticket generation printers, and more.
And Dahua routinely customizes its systems to help city managers reach specific goals. These modifications often take as little as one to two weeks.
Dahua selected Intel Atom® and Intel® Xeon® processors for cost-effective performance, stability, and reliability. The company also uses the Intel® Movidius™ Myriad™ 2 Vision Processing Unit (VPU) technology in its video surveillance cameras.
With the Myriad 2 VPU, Dahua can run Deep Neural Networks, creating natively intelligent cameras that can operate with or without cloud-based compute resources. Myriad 2 technology also enables its video surveillance cameras to use AI functionality that can train devices to collect, examine, and retain data.
In explaining the benefits of working with Intel®, Xu said, "The technology in Movidius allows us to dramatically improve the accuracy of our traffic video analysis solutions."
Cities deploying solutions like Dahua's Intelligent Traffic System are gaining control of their roads. They're improving safety while reducing congestion, air quality, and the amount of traffic enforcement resources they need.
These cities are also increasing revenue through automated traffic violation ticketing. And spending fewer hours on the road can improve people's quality of life.