From Building Automation to Health Tech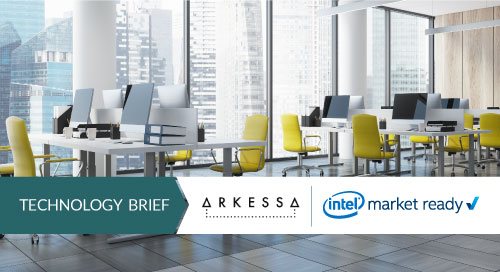 Editor's Note: Remote patient monitoring has become more commonplace, especially for patients with chronic illness, the elderly, and others needing special support. With the latest connected medical devices, these patients can receive care at home, avoiding lengthy hospital or assisted-living facility stays.
But people don't want to feel as if they are being spied on, which means an alternative to placing cameras throughout the residence is required. Today, sensors that can detect movement, vibration, temperature, and other environmental factors enable holistic, noninvasive monitoring. For example with a temperature and humidity sensor near the stovetop, it's easy to determine if a burner has been left on—alerting remote monitoring personnel to take appropriate action.
As described in the article below, Arkessa—in partnership with IAConnects—enables remote monitoring applications for building automation and asset control. Even better, the platform is built on Arkessa building management services, reducing overall system costs and making the solution more affordable.
Read on to learn how organizations are reducing energy and building maintenance costs with data analytics. Then picture how the same technologies and services enable proactive in-home care—for those who need it most.
---
Location, location, location. While this has been the longtime mantra in commercial real estate (CRE), innovative technologies are creating new ways for owners to attract tenants and increase property values.
There is also the green factor: Buildings represent nearly 40 percent of energy used globally. That's why owners of offices, residential complexes, factories, and others have a shared goal to cut power consumption. And with modern building automation, these organizations can reduce energy and building maintenance costs by up to 30 percent.
But deploying and managing building automation systems can be complex. Different stakeholders—building owners, third-party facilities management, and tenants—can have conflicting objectives. And they all have independent network infrastructure, cloud service providers, and cellular data plans.
Lowering Office Space Costs with Data Analytics
Lighting upgrades and automation are just two applications where smart building technology pays off. Lowering operational costs by optimizing usage of office space is another big one—especially in cities around the world where real estate costs have skyrocketed.
Take central London, where office space is notoriously expensive. One insurance firm with 250 employees was spending a whopping $5M per year on its offices—or $20,000 per desk. To achieve its goal of reducing costs by $1M annually, it set about working with Arkessa, a mobile virtual network operator (MVNO), and automation experts IAConnects. In combination, the two companies offer a unique as-a-service approach to smart building deployments.
The first step was creating an up-to-date occupancy map to understand floor space usage trends. To do so, it deployed the Building Control and Asset Management Solution.
By collecting and analyzing this data over a period of time, the company is gaining new insights into how, when, and where employees use office space. This enables it to take actions such as:
Establishing hot-desking policies
Lowering costs associated with maintaining work spaces
Reducing the office square footage required for business operations
And when this project is complete, the company does not need to continue paying for usage monitoring since Arkessa provides the solution as a managed service. Down the road, the system can be easily extended and expanded for other services such as lighting control and energy management.
From Wireless Infrastructure to Data Services
The Arkessa as-a-service solution installs without disruptions, eliminating worries about network integration and contractual headaches. The company partners with IA Connects to deploy and manage an independent, wireless building control infrastructure from sensor-to-cloud for a true end-to-end solution.
It can be deployed quickly and independently, even in challenging conditions that can include owner/operators, occupants, facilities management, and IT departments. It also addresses customer security concerns about integrating business data networks with building control data networks.
"With wireless—including the cellular backhaul—you just cut through all the complexities of multiple stakeholders," said Iain Davidson, Head of Arkessa Channel Enablement. "You remove the need to connect into any existing infrastructure. You're much more in control."
The system includes the IA Connects MobiusFlow Gateway, sensors, cellular connectivity, a data visualization portal, and Arkessa managed services as shown in Figure 1.

Managed mobile data services provide secure cloud connectivity over LTE cellular networks, removing the need for sourcing data plans from different operators in multi-region scenarios.
Wireless in the building helps with quick and easy retrofit, and using the Arkessa mobile data service gets the data out of the building and into a cloud or application environment. This also makes the building control network in and of itself secure—provisioned to keep data off the public Internet. Additional security features include private IP addressing and VPNs for a secure environment.
"Since the system is physically separate from the company's existing network infrastructure, it presents no security risk to their business operations and data," explained Davidson.
The IA Connects Gateway allows connectivity and control of devices to be provisioned via the Arkessa managed mobile data service. It normalizes this data, collected by a variety of sensors, and connects with existing or legacy building control systems such as HVAC, air quality, and lighting.
"The gateway's pretty capable of connecting to any or all of the different sensor network technologies that are out there, and that includes industrial field buses that are used in the factory environment," said Davidson. "And the same is true for the office buildings."
The MobiusFlow software stack includes standard Cloud Service Provider (CSP) APIs and standard messaging protocols—enabling analytics to operate at the edge gateway or in the cloud. "I can see us doing more in the future, with real-time decision-making at the edge and cloud-based analytics for passive monitoring," added Davidson.
More Than a Technology Partnership
Intel® technology is a key part of the Arkessa solution. "One of the benefits of using Intel technology is having that processing and connectivity headroom," said Davidson. "Having a high-performance gateway where we can run analytics on the edge and the capacity to add more sensors and applications is key to the solution."
The company finds considerable value in the Intel® IoT Solution Alliance program ecosystem. Davidson concluded: "We work with Intel partners both for solution development and to bring our products to market. Partnering with Intel solution aggregators is becoming a great way to bring value to customers more quickly."