Bring Smart Building Tech to Smaller Facilities
Smart building technology has proven its ability to reduce expenses and improve maintenance in large facilities, but these benefits have been difficult to attain in smaller buildings. The complexity and cost of building automation has relegated this technology to the largest and most sophisticated facilities and organizations. These limitations have restricted the market available to system integrators, solution providers, and value added resellers (VARs).
The Intel® Building Management Platform (Intel® BMP) aims to change this situation with an application-ready architecture that makes smart building tech simpler and less expensive. Intel BMP combines readily available off-the-shelf components and software with an extended reference design, cloud connectivity, and strong security. As illustrated in Figure 1, the platform can manage virtually all aspects of building automation.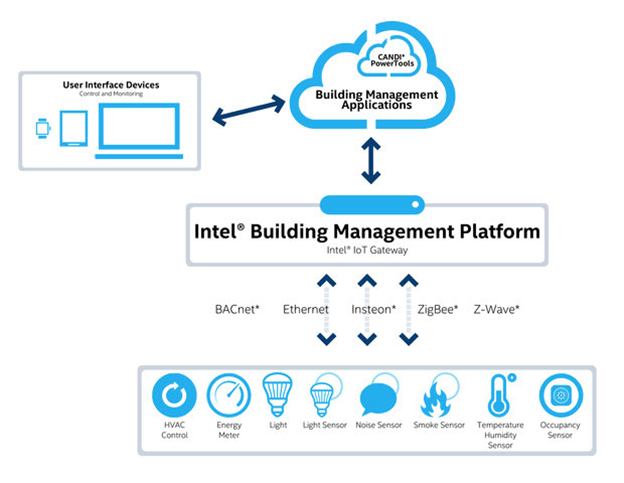 The Intel BMP architecture connects disparate building equipment and devices that use a variety of protocols and sends their data to cloud-based services and applications. This connectivity enables flexible building management applications, such as dashboards for control and monitoring or data analytics for bigger-picture business intelligence (BI).
By providing the foundational hardware and software, Intel BMP enables VARs and integrators to avoid wasting time on rudimentary design chores. Instead, they can focus on higher-margin customization, consultation, and their add-on offerings and services. VARS and integrators can also help their customers move from concept to implementation more quickly and economically.
Solid IoT Foundation
The Intel BMP is built on Intel® IoT Gateway Technology, which provides a bridge between sensors and the cloud. The first gateway certified for use with Intel BMP is the Advantech UTX-3115, a palm-sized gateway equipped with a dual core Intel® Atom™ processor E3826 or E3815 (Figure 2).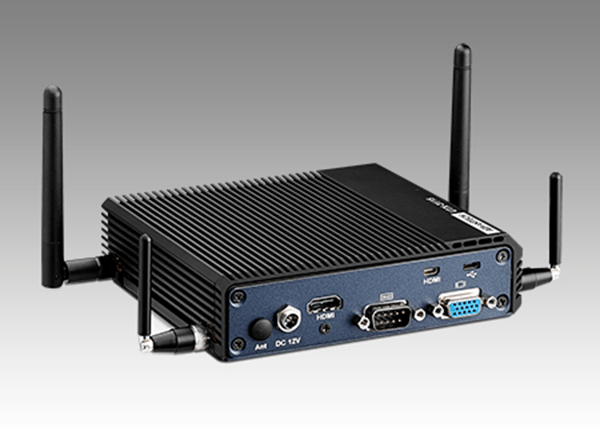 The UTX-3115's compact, fan-less design enables it to be placed almost anywhere. It provides connections for Ethernet, serial RS-232 or RS-422/485, USB, SATA, and TPM. A half-size Mini PCIe expansion slot for additions such as a Wi-Fi module and a full-size PCIe slot for mSATA round out the hardware.
The UTX-3115 also includes software common to all Intel IoT Gateway Technology designs. This includes the Wind River Intelligent Device Platform XT* 3.1, a robust Linux-based software stack for gateways and other IoT devices. On top of this, McAfee Embedded Control* security technologies tightly integrate the critical, hardware-based security of Intel® processors with operating system and application software security. This helps protect against cyber threats and keeps building systems safe from outside influence.
Smart Building Software
What makes Intel BMP truly useful for smart buildings is the automation software from Candi. Candi PowerTools gives cloud-based smart building applications and services secure and easy access to data and things in commercial buildings. The software provides discovery tools to locate existing sensors and a drag-and-drop interface that allows installers to quickly find and provision sensors and collect their data.
Candi's software includes interfaces for hundreds of devices and data types over a wide range of protocols, including BACnet, Modbus, ZigBee*, Wi-Fi*, Ethernet, Z-Wave, serial, powerline, and many manufacturer-specific interfaces. There are also CANDI-compatible third-party adapters that can connect many legacy devices.
In the cloud, Candi securely connects smart buildings to leading apps and services that provide business intelligence, analytics, dashboards, reporting, remote control, and alerts to building owners and operators. The cloud portion of Intel BMP also provides the ability to remotely provision, manage, and maintain the software with over-the-air updates, such as the most recent protocol drivers, critical security patches, and new features. The update capability reduces administration headaches and helps keep building systems safe from electronic intrusion.
Smart Buildings Don't Have to be Big
In summary, Intel BMP is a platform that gives VARs, integrators, and solution providers an enormous head start in developing smart building applications. For the vast number of small- to medium-sized companies looking to realize the benefits of smart buildings at a price they can afford, Intel BMP provides the perfect platform on which to build their solution.