Fill form to unlock content
Error - something went wrong!
Your content is just a step away. Please submit below.
Smart Grid Modernization to Power a Decarbonized Economy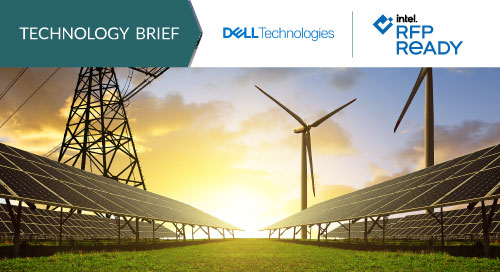 Power outages due to extreme weather are wreaking havoc on the U.S. economy, which, according to the United States Department of Energy, can take up to a $150 billion hit every year due to power disruptions. One report recently found that 83% of power outages between 2000 and 2021 were due to hurricanes, tropical storms, wildfires, ice storms, floods, heat waves, and other extreme weather events caused by climate change, a trend that is expected to continue.
On top of this, customer power needs are changing. Rapid growth in renewable energy sources, more electric vehicles, and weather-related events are creating a significant challenge for electric grid operators to maintain the reliability levels their customers expect. Customers continue to expect power systems to be reliable and affordable.
With governments mandating aggressive sustainability targets for reducing emissions and decarbonization, the need to modernize the electricity grid is urgent, according to Russell Boyer, Global Energy Field Director of Utilities for Dell Technologies.
Modernizing the Electric Demand
According to the International Energy Agency's Net Zero to reduce emissions by 2050 report, clean energy investment will need to triple by 2030 to around $4 trillion per annum globally. A key element of this investment will be in the digitalization of all elements of the energy value chain, but with a particular focus on grid modernization, substation automation and protection, and distributed energy resource management.
But supporting these new digital approaches is challenging—especially considering the industrial and regulatory requirements for electric utility IT infrastructure and the critical cyber-resiliency needs. At the same time, electric utility companies are moving rapidly toward the convergence of information technology and operational technology. In many cases, utilities are developing strategies to disaggregate their vendors' technology from their operational control planes.
The modernization of the #electric grid and virtualization and automation of substations are critical activities to meet the world's #power requirements while achieving aggressive #climate goals. @DellTech via @insightdottech
Meeting new standards will require new business models, updating the current operational infrastructure, and expanding to new forms of energy generation. This transformation will need to support an ever-increasing percentage of sustainable energy, integration with utility-scale storage; a massive increase in electric vehicles; and a new generation of smart homes, smart buildings, and intelligent industrial control systems.
All of the transformation initiatives will generate vast amounts of data at the edge of networks. This data must be processed and analyzed in real time to ensure that utilities minimize the carbon intensity of the energy they use.
"The modern substation is going to need more digital intelligence because it's going to increasingly move from centralized one-way power distribution to the energy consumer to a two-way dynamic system where, for example, a subdivision can become a virtual power plant during peak periods," Boyer says.
He explains that switching out the existing legacy technology in every substation is a major undertaking requiring significant time, capital, and resources. That's why Dell Technologies has partnered with VMware and Intel® to create a standard software-defined architecture for the substation.
"Up until now, equipment has been very customized and served a single purpose," says Boyer. "We're providing a standardized virtualized platform that supports multiple vendors' applications running side by side, maintaining reliability, security, and resiliency. Utilities will be able to use this same platform to support new requirements like AI/ML."
A key component of this architecture is the Dell EMC PowerEdge XR12 ruggedized server that meets the IEC 61850-3 industry specifications. This provides a standardized compute platform to operate multiple virtualized software workloads inside substations.
The Future of Smart Electrical Grids
Dell Technologies is working with VMware and Intel to help electric utilities move from a traditional three-tiered architecture to a contemporary software-defined solution running on Dell EMC VxRail hyperconverged infrastructure (HCI). According to Boyer, this will help utilities automate capabilities and operations, improve lifecycle management, and significantly lower total cost of ownership.
The Dell Technologies Grid Modernization Kit is an Intel® RFP Ready Kit that features VxRail Hyperconverged Infrastructure, powered by Intel processors and next-generation services to reduce system footprint. In addition, it is based on VMware's software-defined data center for automated, remote management. With the kit, systems integrators no longer need to build custom solutions. Instead, they will have a standard platform suitable to scale and support their customers' grid modernization initiatives.
Dell Technologies recently worked with a large investor-owned utility to implement the VxRail HCI platform as part of its grid modernization efforts. The results of this partnership included systems that were more redundant, more automated, and more reliable. The utility company is continuing to work with Dell Technologies and VMware on ongoing grid and substation modernization plans.
"Their challenge was to define what the grid of the future is going to look like," says Boyer. "They are focused on standardizing the overall architecture and automating the grid with our virtualized grid modernization platform. Using our ecosystem of partners, they run all of their various OT and grid workloads on VxRail."
VxRail also provides several intrinsic security advantages such as security hardening, network segmentation, secure logging, and data-at-rest encryption. The need for comprehensive cyber-resilience capabilities is essential as utility companies work to ensure their critical infrastructure is protected from external threats.
Globally, regulators are focused on protecting National Critical Infrastructure (NCI). For example, the US government recently introduced new cybersecurity requirements in response to the Colonial Pipeline ransomware attack. Electric utilities are now required to file a cybersecurity plan that aligns to the National Institute of Standards & Technology (NIST) Framework.
"Dell Technologies is working to help utilities adhere to the NIST framework through its Zero Trust approach, which basically states that until you can verify, don't trust any other device on the network," Boyer explains. "In addition, our Cyber Recovery solution protects and isolates critical data from ransomware and other sophisticated cyber threats.
Machine learning plays a crucial role for the solution too, says Boyer. "To identify suspicious activity and allow customers to recover known good data and resume normal business operations with confidence. Finally, SecureWorks security services help utilities recover during and after a security incident, quickly ramping up resources to identify what is happening and how best to respond."
The global demand for electric utility digitalization and transformation is expected to attract trillions of dollars of investment over the coming years. The modernization of the electric grid and virtualization and automation of substations are critical activities to meet the world's power requirements while achieving aggressive climate goals and emissions reduction long term.

This article was edited by Christina Cardoza, Associate Editorial Director for insight.tech.
This article was originally published on December 7, 2021.