Fill form to unlock content
Error - something went wrong!
Get the latest updates on IoT for industrial.
You are following this topic.
Wildfire Detection: Follow the Smoke with Smart Systems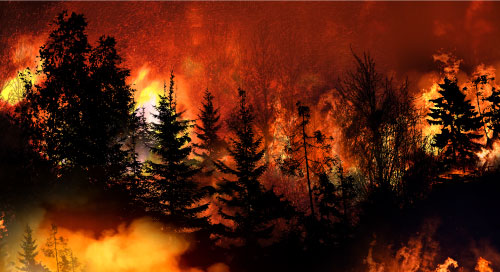 It's too easy to start a wildfire. All you need is a small spark from a cigarette tossed on dry ground, a controlled burn run amok, or a lightning strike to a utility pole. The ensuing fire can burn for weeks, consuming millions of acres and taking numerous lives in its wake.
From the forests in California to wooded lands in Spain and even large farming operations across the world, the risk of wildfires is everywhere. And traditional efforts to prevent them are not enough.
For instance, utilities, forest rangers, and firefighting agencies traditionally rely on staffed observation towers to spot fires and initiate a response. But it is virtually impossible to dedicate staff around the clock to fire detection, says Laura Moreno Sánchez, manager of Phygital Assets for Minsait, a subsidiary of Spain's Indra Sistemas specializing in digital transformation.
"We are talking about kilometers and kilometers that would have to be looked after constantly," she says.
Taking images by satellite is another option, but it is an expensive one. And then there's the six-hour lag between each set of photos. That's plenty of time for a fire to spread, putting infrastructure, property, human lives, and livestock at risk.
It doesn't have to be this way. Recent technology advancements are making automated wildfire monitoring, detection, and prevention a reality—giving new hope to wildfire-prone areas across the globe.
The Pressing Need for Wildfire Prevention Technology
Minsait is working to help combat the start and spread of wildfires in Central Spain and other areas in the Iberian Peninsula that are plagued by raging wildfires during dry months. It has developed the Smart Wildfire Detection (SWD) solution that operates on a simple directive: "Follow the smoke."
Utilities in Spain have been testing the Minsait system for the better part of a year with fleets of AI-enabled cameras connected through the Internet of Things (IoT) to collect and analyze fire and fire-causing data.
Originally, the company had been working on an artificial intelligence and visual detection system for the manufacturing industry. But after a conversation with the third largest Spanish distribution company Naturgy, it realized it could leverage its existing technology to build the smart wildfire detection solution.
Recent #technology advancements are making automated #wildfire monitoring, detection, and prevention a reality—giving new hope to wildfire-prone areas across the globe. @IndraCompany via @insightdottech
The company also found the problem with wildfires extended beyond the destruction of life and property. Wildfires can cause millions of dollars in infrastructure losses and rebuilding, Sánchez explains.
With climate change increasing the potential of wildfires, Spanish authorities have enacted stringent prevention regulations on utilities, according to Sánchez. For instance, terrain under power lines must be clear of vegetation and trees, essentially creating an access road. "The law says that they have to have 50 meters free of any type of vegetation underneath the lines," Sánchez says.
Visual data captured by Minsait's SWD technology is designed to help utilities adhere to the 50-meter rule. "Having these cameras there can also help them to decide when to send people to prune or to cut the trees," Sánchez explains. The cameras provide a 360-degree view and can cover up to two kilometers.
The cameras also evaluate environmental conditions such as humidity, temperature, and wind, and calculate the dew point. AI software reviews the images to detect and confirm any signs of fire. Having this information about wind speed and direction can also help in situations where firefighters need to forecast the spread of the fire.
Wildfire Detection That's Cost-Effective and Sustainable
To achieve these results, the company leverages its phygital platform, which blends physical and digital components to deliver information to users. The platform leverages Intel® processors for its computing power and hybrid architecture as well as Intel's VPU technology to make its vision of phygital possible.
According to Mariano Ortega de Mues, Minsait Phygital IoT/Edge Computing Director, Intel's technology combined with Minsait's work in AI and phygital systems has the potential to really address the climate change and wildfire problem. The solution combines IoT and edge computing technology to cover vast areas and transmit data in real time to a monitoring site. When the solution detects a potential fire, it sends an alarm to a cloud-based central monitoring location using 4G or LTE wireless networks.
Since utilities are always under budget and energy conservation pressures, Minsait built the solution to be sustainable. It leverages solar power through a small photovoltaic panel on the cameras to conserve energy and lower costs.
The solution also goes into "sleep mode" to conserve power and can "wake up" at regular intervals during dry months to capture data when needed the most, Ortega explains.
For security, the solution is built around the Intel Trusted Platform Module 2.0. "This allows us to have a solution that can live in the middle of nowhere. If someone tries to open the device, they can open the box, but they're not going to be able to access the information in it," says Ortega.
The Future of Wildfire Detection Technology
While the Minsait solution has been used only by utilities, Sánchez says the company plans to expand its use cases in the future.
She explains that in addition to wooded areas and power lines, the detection system is suited to environments such as farms and rail lines, which often cut through fire-prone areas. The company has already conducted some tests in farmland areas where the system was able to accurately detect fires and issue an alarm.
This summer the SWD system will be fully operational in Spain where it will work toward making a significant impact on reducing the region's wildfire problem.
This article was edited by Christina Cardoza, Associate Content Director for insight.tech.