Fill form to unlock content
Error - something went wrong!
Get the latest updates on IoT for industrial.
You are following this topic.
The Key to Successful IoT Projects: Edge Computing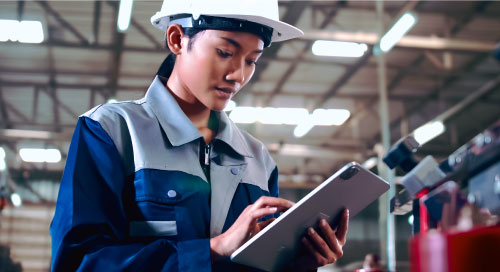 IoT can be groundbreaking technology. By harnessing data from machines and acting on related insights, companies can fine-tune business operations. And with machines no longer in a black box, they can alert and issue warnings when processes go awry.
But the devil's in the details. IoT might promise radical operational efficiencies, but too often companies don't realize that they need a robust infrastructure framework for the technology to really do its job. When built on a shaky foundation, IoT projects collapse—or stall.
IoT Challenges: Why Projects Flounder
Failed IoT projects come in all shapes and sizes. Sometimes companies neglect to factor in the cost of data transfer and computing in the cloud over a product's entire lifespan, according to Rodney Hess, Technical Architect and Development Lead at Beechwoods Software, an embedded services and solutions provider. "By the time they realize that they need to change their service model and find a way to pay for it, they get backlash from their customer base," he explains.
Being hamstrung by decisions not fully thought out is not the only challenge enterprises face. Data from machines is valuable currency since it is an indicator of machine health. But the dizzying number of formats in which data travels also complicates matters as data that can't be read and mined for value is just plain useless.
In addition, Hess points out, "we're in a world where every week we have a shiny new security patch that needs to be applied to systems." When the lifespan of a project can run up to 20 years or more, the costs of such security firefighting add up quickly. Companies are justifiably terrified of leaving legacy systems and protocols vulnerable to security challenges.
Last, machine learning programs are sometimes a one-trick pony and "start conflicting with evolving requirements and needs," Hess says. "If solutions can't be easily updated or changed, suddenly you have hardware that becomes obsolete really fast," he adds.
As a result of these many challenges, companies opt for the "safe" option and drop or stall IoT projects altogether.
But it needn't be this way, says Mike Daulerio, Vice President Marketing and Business Development at Beechwoods. Edge computing is fast emerging as a potent solution to these various IoT-related data challenges.
The Benefits of Edge Computing to IoT Projects
As enterprises grapple with the high costs and latency of transferring IoT-generated data to the cloud, they are giving edge computing a closer look. "There's a dissonance where companies have a lot of data and want to get it to the cloud, but it's too expensive. It's just not feasible," Hess says. Relying too heavily on the cloud also endangers business continuity, he says. "What do you do when your Internet access goes down? Suddenly business logic stops working, you're sitting on data and not getting anything out of it. That's a big problem," he explains.
Edge computing solves this IoT challenge by bringing the computing closer to the source of data—the edge. Doing so "helps reduce the messaging costs of getting data to the cloud," Hess says, and in doing so, makes IoT computing scalable. Instead of spending time and money ferrying data back and forth, computing and insights happen closer to the source of action.
As enterprises grapple with the high costs and latency of transferring #IoT-generated data to the cloud, they are giving #EdgeComputing a closer look. @BeechSoft via @insightdottech
While edge computing is not a new concept, advances in microprocessors have improved its utility and accelerated its adoption, Hess says. "Embedded processors have crossed the threshold where they're now capable of running machine learning algorithms, so you don't need a room full of servers to crunch these algorithms," he says.
Another advance is that the machine learning algorithms "have been refining themselves to the point where they're more effective at getting the answers to the problems we're looking to solve," Hess explains.
Overcoming IoT Project Challenges
Beechwoods offers the edge computing platform EOS, which is based on EdgeX Foundry, an open-source framework that helps interoperability between IoT devices and applications. EOS aims to address several IoT-related challenges that customers face, according to Hess. For one thing, it provides a protocol gateway so different types of data from legacy and modern machines can talk to one another.
The platform also verifies identity through secure APIs so only authorized devices and people can access the data. Enterprises can run different sets of machine learning analytics programs to meet evolving needs.
In addition to providing software, Beechwoods provides system integration services so IoT projects can reboot after lurching stops-and-starts.
For example, Beechwoods delivered its EOS edge IoT solution to a startup that was developing smart locker appliances installed in exterior walls of homes and offices. The company needed connectivity components, camera sensors, and other control systems to truly make the product smart.
"We helped them take their idea for a smart locker and turned it into a proof of concept. With EOS as the tech platform, it was a straightforward path from product concept to demonstrable prototype," Daulerio says.
Beechwoods leverages the Intel® Distribution of OpenVINO™ Toolkit for its EOS platforms and learning from new developments in the open standards front. "Intel provides us with some of the best-performing codes for video analytics and helps us build the best models for machine learning," Hess says. "We can achieve the best results we can on our embedded processors because of the work Intel has done in this area."
In addition, Hess is grateful that Intel is an active proponent of open standards within EdgeX Foundry, which Beechwoods has folded into its EOS offering.
A Truly Smart Future
With IoT and edge computing rapidly gaining ground, expect the future to be truly smart, Hess says. "Because of the ability to have a lot of embedded devices all around us running algorithms, we will have an environment that is truly smart and responsive and intuitive, that addresses our needs and concerns right away," Hess says.
These environments could be a smart home, or a factory floor tuned to occupational safety standards and continually routing guidance to workers about unsafe areas. Dynamic operational changes need dynamic smarts. With the help of IoT and edge computing, it's where the future is headed, Hess explains.
This article was edited by Christina Cardoza, Associate Editorial Director for insight.tech.