Fill form to unlock content
Error - something went wrong!
Get the latest updates on IoT for industrial.
You are following this topic.
The IIoT Powers LV Substation Innovation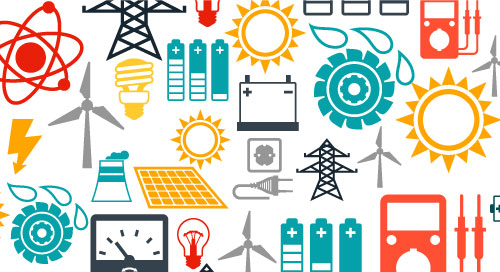 Electric utilities are under increasing pressure to tackle challenges they face today and into the future. Severe weather events, unplanned outages, restoration response times, and aging equipment are just a few of the problems impacting the energy ecosystem. And with the growth of renewables, the grid is evolving from one-way power delivery to an infrastructure that can accommodate two-way energy flow.
Utilities need to operate in a smooth, synchronous way at all times. But what we're experiencing today is constant fluctuation. Take solar, for example. At times, too much photovoltaic (PV)-produced electricity may come back to the grid and stress the infrastructure. And with sudden weather changes, there's not enough power, and the load shifts back to the grid. With that constant stress, the infrastructure risks failing.
New technologies such as powerful edge compute, artificial intelligence, and machine learning enable utilities to innovate—solving ongoing challenges and creating new opportunities. And much of it is happening at the distributed substation level.
Deploying IIoT sensors and other devices at the LV substation—connecting equipment such as transformers, switch gears, and breakers—is opening the door to transformative applications. Collecting, normalizing, and centralizing asset data enables real-time intelligence that can predict asset life cycles and detect failures before they happen. As more and more information is collected, you can begin to build predictive and preventive maintenance schedules.
"We're providing an out-of-the-box product that makes it easier for utility service providers to install and configure an IoT-based solution…" —@prasanthgopal, @kalkitech CEO
Out-of-the-Box Edge Computing and Analytics
Kalkitech, a global provider of smart grid technology and solutions, is making digitization possible with its LV Substation Solution (Video 1).
"We're providing an out-of-the-box solution that makes it easier for utilities and EPC (Engineering, Procurement, and Construction) service providers to install and configure an IoT-based solution to digitize the Low Voltage (LV) Substation," says Kalkitech CEO Prasanth Gopalakrishnan. "The kit enables data collection from 30-year-old legacy equipment to the latest assets, via a range of sensors. And then you have centralized visibility to what is happening across your distribution network."
The solution consists of an Intel® processor-based edge gateway and Kalki.io Edge Software—also called SyncConnect. Kalki.io is a cloud-based device management and monitoring portal to oversee edge equipment and access field devices, all from one central location. The software aggregates and filters the data from all the various LV substation assets for analysis before sending it to the cloud.
Remote monitoring and logging of field device health doesn't simply reduce the amount of costly truck rolls. It is essential to minimizing downtime and improving the grid's operational efficiency.
"Unless you have visibility to the data and what's happening in the field, there is nothing you can do to prevent an outage or take proactive measures before things fail," says Gopalakrishnan. "Once you have that information, you can take immediate actions at the control center where you have a complete, real-time view of the network.
As utilities begin to modernize in this way, it opens new business opportunities for EPCs and operational technology SIs that may have limited experience in deploying digital transformation technologies like AI and ML. The Kalkitech LV monitoring kit enables integrators to help customers innovate, solidifying their value-add and staying ahead of the competition.
Visibility and Scalability at Tata Power
Kalkitech currently has an LV substation digitization pilot underway with Tata Power-Delhi Distribution Limited (TPDDL). While TPDDL has been monitoring its MV grid, this proof of concept demonstrates a scalable IoT solution it can expand to monitor the LV side.
India, like many nations, is seeing a rapid increase in rooftop solar and the number of EVs tapping into the LV grid. The ability to monitor and identify weak points in the substations is critical for TPDDL to reduce outages and improve restoration times.
As utilities like TPDDL move toward this data-driven model achieving visibility and granularity at the edge of the grid, they will have necessary information to take intelligent actions. With full visibility to that last mile, an operator receiving a problem report might look for harmonics in the network and transformers that are not working correctly. It may then choose to temporarily shut off some of the solar coming into the substations until everything is stabilized. This enables avoiding an outage, preventing equipment problems, or improving the power quality of that neighborhood without ever having to send out a truck.
Overall, in modernizing its infrastructure in this way, TPDDL can lower cost of operations, gain new revenue opportunities, and improve customer service.
Partnerships Smooth the Power Curve
As Kalkitech and its customers' needs grow, the company needed expandable solutions with minimal software modifications. Partnering with Intel® allows the company to build a reliable, scalable architecture. Utilities can use the same solution for any size substation and collect as little or as much data as they need, making it a seamless option for operators of all sizes.
Gopalakrishnan summarizes, "By deploying technology we have created together with Intel, utilities can smooth the curve and increase substation reliability while keeping costs down."