Fill form to unlock content
Error - something went wrong!
Get the latest updates on IoT for industrial.
You are following this topic.
Self-Service IIoT Platform Gives OT Experts an Edge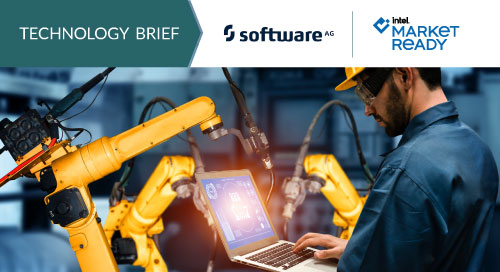 Finding an industrial IoT platform that meets the end-to-end needs of both IT and OT is a common challenge for manufacturers. And it's a big reason why smart-factory initiatives often fail. OT prioritizes robust, resilient systems and secure, isolated deployments that use logic, while IT prizes quick development of applications and agile adoption of new technologies. When manufacturers choose an IoT platform that does not offer flexible deployment options, those two worlds—and their priorities—clash.
Operational experts on the factory floor are masters of their domain, but they often lack the skills to deploy the latest IoT technologies to meet production quality and continuity needs. They need a platform that allows them to apply their understanding—without having to learn how to code.
With its Cumulocity IoT platform, Software AG tackles these challenges via a set of low-code tools that let OT experts connect and manage devices, analyze data, build and apply rules, and create customized dashboards.
The solution's adaptability lets companies remain agile in their approach to the market, changing their strategy as needed to stay competitive (Video 1).
The @SoftwareAG IIoT solution's adaptability lets companies remain agile in their approach to the market, changing their strategy as needed to stay competitive. via @insightdottech
Smart-Factory Analytics
"We want OT specialists to leverage their knowledge without any software development effort," says Andrej Schreiner, product manager for Cumulocity IoT Edge & SDKs at Software AG. "We make sure the APIs and solutions that customers build with our tooling are available for any deployment option—whether that's a cloud solution, a private data center, or even a single industrial PC that sits next to the assets it connects with."
At one automotive manufacturer, the solution helps OT experts build their own applications to solve specific problems within the highly automated manufacturing processes. The company uses industrial robots to paint car body parts on factory floor assembly lines. Sometimes there were problems with the paint job that caused quality defects. Often those issues went unnoticed in the factory and were discovered by customers, threatening brand reputation and increasing the costs to correct.
Using the self-service Cumulocity IoT streaming analytics—deployed on an Intel® processor-based IPC located directly at the painting stations—machine operators and process experts can create analytics models via an intuitive user-interface. As a result anomalies and potential problems are identified in real time and service measures are initiated immediately, before the part even leaves the paint station.
"At the moment an anomaly is detected, they can stop production and apply corrective actions," says Schreiner.
This dramatically reduces time and expense on the product end, but it also illustrates how such solutions can empower OT professionals to solve problems on the floor. There's no need for an IT software engineer to be involved. "The QC expert knows the process, how the robot works, and where glitches can happen—and that same person created the analytics rules without any coding," adds Schreiner.
Distributed Architecture and Edge Computing
Many industrial IoT applications need computing power at the edge to help with decision-making when they are not connected to the cloud. For example, an energy company operates wind-power farms using a distributed architecture, with multiple data streams flowing from several sites. Each turbine needs its own intelligence and each farm needs robust compute capability to manage all the turbines in its area. At the same time a centralized, cloud-based command center oversees the entire operation.
Wind-power farms tend to be in remote areas, making continuous high-speed cloud connectivity a challenge. Cumulocity IoT allows companies to operate a secure edge solution that delivers the compute power to keep a site up and running even when it's not linked to the larger network. When it does connect, the platform can backhaul data to the cloud for deeper analysis.
"One advantage of edge analytics is to pre-filter and aggregate data before it goes to the cloud, or before you generate an alarm or insight," Anthony Sayers, Partner Manager for Global Alliances at Software AG, says. "The hardware needs to be powerful enough to deal with large sets of data and machine learning models—and this is where our partnership with Intel® helps us. Intel's powerful IPCs allow us to create use cases that can handle large amounts of IoT device data at the edge."
Full-Service IIoT
Designed to connect with many different industry protocols, the solution is adaptable for complex use cases that require customization beyond what the self-service tooling supports. "A lot of customers choose to work with one of our experienced consultants, who can guide them in finding the perfect combination of technologies for their use case," says Schreiner. With the QuickStart Pilot Package, customers can achieve a return on investment within 90 days. "We want to ensure they're getting the business success they need," Schreiner adds.
Building alliances with other hardware and software providers is an ongoing priority for Software AG. "No single company can deliver everything needed for an IoT project," says Sayers. "We continue to create partnerships so we can deliver everything our clients need to power complex, real-time solutions."