Fill form to unlock content
Error - something went wrong!
Get the latest updates on IoT for industrial.
You are following this topic.
Safety First with AI Vision Kit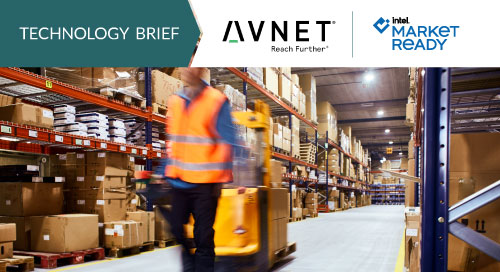 While humans may have a short attention span, computer vision will never get tired. This matters because physical safety in the warehouse and on the factory floor is a 24/7 imperative. An increased demand on the supply chain due to the pandemic has put pressure on these operations. And workers who move freight and stock have one of the highest injury rates for all occupations, according to the Bureau of Labor Statistics.
When managers and other personnel are responsible for monitoring industrial settings, employee safety can be put at risk of human error. While technology may provide the answer, creating effective solutions may be easier said than done.
"Traditional solutions, such as lasers, were very complicated to install," says Christian Lang, senior manager embedded solutions at Avnet Integrated, a global technology systems provider. "They also required a lot of effort to track."
In addition, the older technology is set to overcorrect: "It shuts down a complete system if an employee entered a restricted area," says Lang. "That can be dangerous."
AI and CV Automates Warehouse Safety
A better approach combines AI and computer vision to monitor an area and deliver real-time analytics and insights to businesses. For example, Avnet's AI Vision platform defines areas, detects where people should and should not be, and sends alerts (Figure 1). Warning people if they get too close to robots not only improves safety; it allows the machines to continue working uninterrupted by humans, boosting productivity.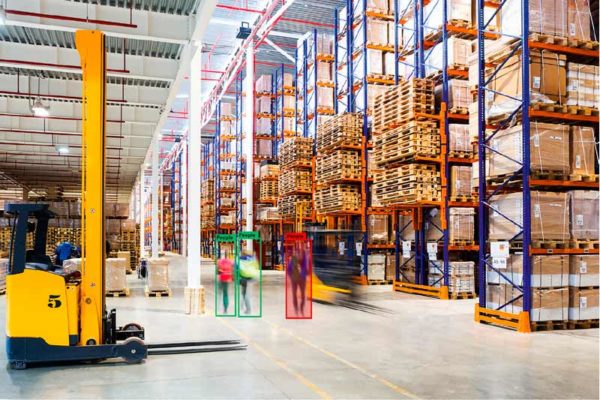 "If a risk is identified, the system can slow down the robots and machinery only in that area, saving time and increasing efficiency," says Lang. "Every second lost in production is also a loss of money."
In addition to monitoring surroundings, the AI-Vision solution comes preprogrammed with other dedicated real-world applications. Its people-counting feature, for example, checks for compliance and distancing rules. Automated real time headcounts from the cameras may reveal problems, such as only two workers in an area where they need more.
The motion detection feature can ensure that a person or machine is moving in the correct direction. The system can also analyze human behavior, creating a report, for example, if someone spends too much time in a parking lot. AI Vision also recognizes intrusion and has settings that can be used for crowd density control.
"In industrial environments, every functionality can be easily adapted to your scenario," says David Meyer, embedded innovation marketing specialist for Avnet Integrated.
The system also includes GDPR-compliant recognition. Protecting privacy is a must, and edge solutions send only metadata, not personal information, to the cloud. "Currently the software is only detecting people in a stream as humans," says Lang. "To ensure privacy, we do it in a way that the face is not visible in the video stream, and the raw data remains at the edge."
In industrial environments, every functionality can be easily adapted to your scenario. @Avnet
Simplifying AI Technology
Edge applications can be difficult and time-consuming to develop, but ready-to-deploy platforms offer systems integrators more business opportunities because they don't need specialized knowledge to deploy them. They can also set up systems faster – an important consideration for safety programs.
The solution includes the Avnet AI-Edge System Infinity AI-Cube, which is loaded with the Avnet software, plus a wireless touch keyboard, accessories, and two cameras. Footage is captured and analyzed at the edge. The system runs on Microsoft 10 IOT, uses Intel® processors, and the Intel® OpenVINO™ Toolkit. Furthermore, it can be connected to Microsoft Azure cloud via Avnet IOT Connect.
"You just plug it in, start the system, set up your peripherals, and it's immediately ready to use," adds Meyer. "It's easy entry for every level of user."
Smart Factory in Action
Avnet recently worked with a warehousing organization that had experienced accidents when workers entered restricted areas without proper equipment. The company implemented the AI-Vision platform to automate real-time monitoring. If an employee violated safety protocol, the solution sent automated alerts that managers could act upon immediately. As a result, the company reduced its accident rate, improved the security of its operations, and set a higher standard of workplace safety.
Because of its small size and adaptability, the solution can be easily scaled by adding cameras—supporting up to 64 cameras at the same time, giving managers insights to improve efficiency on the factory floor. SIs and customers can also get technical support from Avnet to customize the software.
As automation takes on more tasks, manufacturers will need to revise procedures to make sure humans and machines continue to work together as safely and efficiently as possible. An AI-based solution that easily accommodates new use cases will help them achieve that goal.