Safeguarding the Grid with IIoT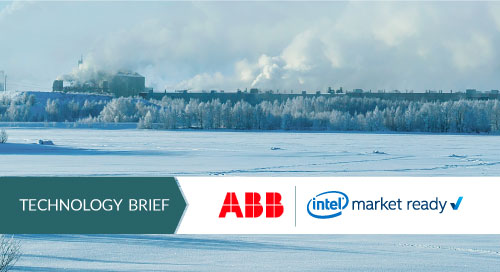 Climate change is driving a need to reshape energy systems across the globe. One way this is transpiring is through connecting renewable and intermittent energy sources to the power grid.
But adding these sources can pose new risks. Utilities want to support renewables, without jeopardizing control of the power network. This means that substation automation systems need to be flexible and manage legacy devices.
For example, Finland is seeking to add renewable sources while coping with exceptionally strong winter storms, leading to long power outages. To prevent them, utilities are installing underground cabling, which requires updating substation automation equipment.
On top of this, the Finnish government has imposed regulations that require utilities to substantially improve the security of their power grids. How can utilities handle these challenges, while holding down equipment and operational costs?
One Utility Takes Action with the IIoT
Caruna, Finland's largest electricity distribution operator, is working to meet current and future needs. The company has launched programs to improve the safety, reliability, and flexibility of its grid network. In 2018 alone, it installed 6,300 KM of underground cables to help keep power flowing in extreme winter weather.
One challenge in deploying underground cables is accurately detecting earth faults. Locating high-impedance faults on distribution systems has been a persistent challenge facing utility operators. Caruna was monitoring and identifying faults via conventional relays—with mixed success.
To tackle the problem, Caruna worked with ABB, piloting the ABB Ability Smart Substation Control and Protection Solution (SSC600) in its Noormarkku substation. With the SSC600 system, Caruna improved accuracy, identifying locations of intermittent earth faults (Video 1).
Video 1. Caruna deploys ABB Ability Smart Substation Control solution.
ABB developed a relay protection algorithm that works without any changes to the existing system. The SSC600 controller made this possible, with centralized functions on top of the existing relays.
The solution leverages ABB Abilitycloud services to manage configuration and upgrades of new and existing protection and control functions. Like many utilities, Caruna was concerned that cloud services could increase cybersecurity risk and interfere with network reliability.
In compliance with country-specific security standards, the system connects to Ability cloud services via a secure connection. With multiple levels of protection, from Intel® hardware-enabled security to ABB software, the system addresses the utility's concerns.
New functionality can be added via remote firmware updates. This eliminates the need to replace devices or send a technician to multiple, far-flung sites. And consolidating multiple relays into a single SSC600 control device reduces complexity.
The results are positive: Caruna benefits from better data that enables the quick detection of fault locations. This one function helps reduce outages and increase productivity, resulting in better community relations. In the end, customers are safer and more satisfied with their utility provider.
Substation Control Powered by Intel®
Built on Intel® technology, the ruggedized SSC600 is at the center of the solution for utilities. The controller is designed to handle a wide range of protection applications and centralizes substation equipment control and monitoring in a single box (Figure 1).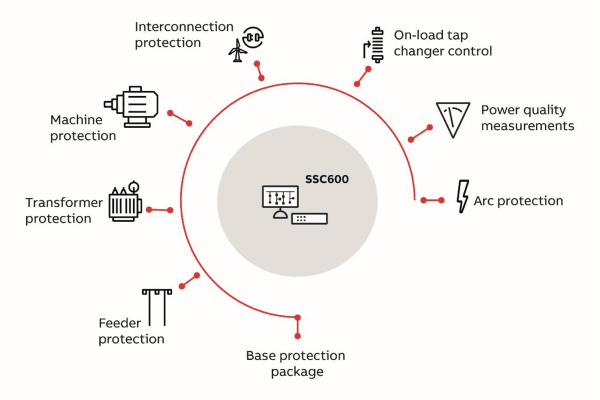 "Working with Intel ensures that the CPU technology is powerful enough to support the performance requirements we need," said Marco Nunes, Global Product Marketing Manager at ABB. "Intel gives us the confidence that the system can support our requirements."
The SSC600 provides measurement and I/O values from circuit breakers and associated equipment via the IEC61850 communication protocol. Digitizing all the signals in the substation enables the SSC600 to collect them and act as a central protection, control, and local HMI device.
Sample data can be used by any device in the substation for protection purposes. And new logic can be designed with virtual wiring on the protection and control devices. This can reduce the need for physical wiring by 90 percent.
Nunes said, "The system unleashes the full potential of IEC61850, utilizing the full capabilities to broadcast messages from one device to another."
Edge-to-Cloud Software and Services
The Ability cloud platform offers a flexible SaaS digital services approach to system deployment. A range of application and service packages are designed to suit the needs of providers of all sizes.
These services help maximize system performance and asset lifetime—lowering operational risk and overall costs. For example, basic services might include:
Personalized support to minimize process downtime
Analysis and supervision of protection and control assets
Scheduled maintenance
Upgrades and extended warranty
Additional engineering support
Customized life cycle management services
A look into the future includes further integration of the SSC600 and ABB Ability cloud services. For example, data collection from network configurations to device values and faults would be analyzed in real time.
Artificial intelligence (AI) at the edge and in the cloud would enable the solution to identify ways to improve system operations. "Some utilities would like to automate settings according to real-time data analytics," said Nunes. "This requires data collection and analysis over a period of time to develop optimization recommendations."
Nunes put it simply: "When we start describing the concept of converging advanced protection functions, centralized logic, and local HMI, all under the same device, then we hit the target."