How System Integrators Solve Big IoT Challenges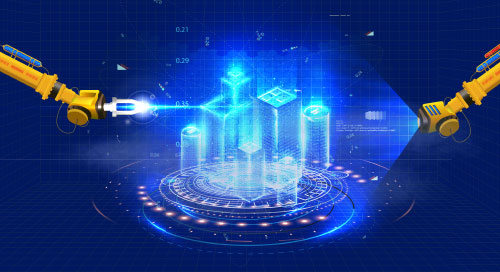 A whole is often greater than the sum of its parts. But for system integrators (SIs), finding those parts can be a challenge.
SIs face growing demand for solutions that combine elements from the IT world and emerging IoT technologies. Manufacturers, for example, want predictive maintenance to keep their equipment in top shape. Agriculturists want automated monitoring of plant health. Real estate firms want video systems with facial recognition.
Finding all of the technologies for these complex systems can be challenging—and figuring out how to integrate everything can be even harder. That's why more SIs are looking for more help from their distributors.
In response, distributors are moving into a new role: the aggregator. "Aggregators connect IT and IoT vendors," said Lie Heng, director of Synnex Metrodata Indonesia (SMI).
"A regular IT distributor that moves products and doesn't understand solutions is no longer enough. You need to have the capability to integrate many different kinds of solutions, work with many different partners, and help formulate the best solution for our customers," said Heng.
Forming Partnerships
SMI recently formed a collaborative partnership with Intel® as an IoT solution aggregator in Indonesia. From agriculture to manufacturing to security and healthcare, the company works with B2B startups, using a business incubator framework.
SMI attracts independent software vendors and solution providers that have unique solutions, especially those in the emerging fields of computer vision, cloud analytics, AI, and deep learning. Vendors and solution providers concentrate on innovation, while SMI focuses on scaling and distributing their solution (Figure 1).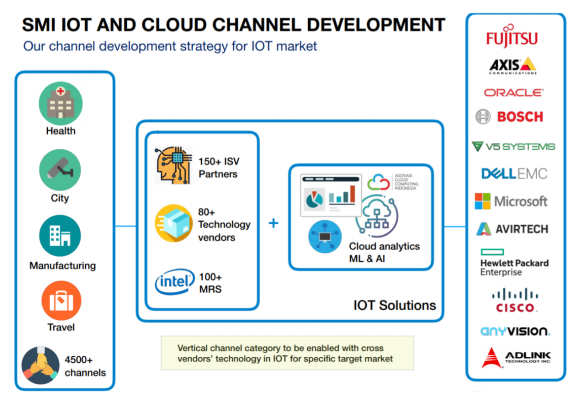 "By working with Intel, we have a way to validate those processes in terms of being market-ready solutions," said Heng. "We are very happy and keen to bring more market-ready solutions to Indonesia."
Computer Vision Sparks Innovative Solutions
New ideas often come from individuals. To encourage and enable creation of more solutions, SMI hosts four Hackathons in Indonesia each year using the Intel® OpenVINO™ Toolkit, which enables computer vision. Heng said that about 450 developers participate in SMI's Hackathon events, creating new products and new partnerships among companies.
The ideas and solutions that happen at Hackathons are impressive.
For example, Indonesia is the world's largest tuna fishing nation, but poaching has been depleting the country's stock. Indonesia loses an estimated $4 billion per year to illegal fishing. At a recent OpenVINO Hackathon, a developer created a drone that can identify illegal fishing boats and send alerts and location information to the authorities.
"The territory of Indonesia is made of 70 percent water," said Heng. "To protect the areas by physical inspection will take a long time. Using a drone that can recognize flags and identify poachers is quite creative and can help solve our illegal-fishing problem."
Another issue Indonesia is working to address is its growing trash problem. The country is second only to China as the world's largest contributor to the ocean plastic problem. One of the government's initiatives is to increase its recycling rates and improve its waste collection rates. A Hackathon developer took on this problem.
"Another solution that is pretty interesting is a waste sorting bin," said Heng. "Using computer vision, it can detect whether the waste is organic, plastic, or paper-based. Once detected, it is sorted into the appropriate recycling bin."
Looking at Long Term
As the role of distributors and SIs evolves, Heng expects that benchmarks and case studies will drive their businesses and help them create wider solutions.
"We've gone from selling products to providing implementation services to becoming a provider of many solutions," he said. "The challenge is to create the go-to-market framework. And the end goal will be having packaged solutions ready to resell in the future."
But finding creative solutions is just one reason why SMI believes in Hackathons: "We have a longer strategic positioning," said Heng. "We are trying to democratize AI technology in the Indonesian market. We are trying to build a developer's community.
"Our grand vision is for Indonesia to create the solutions needed for Indonesian markets as well as for the world. If some of the solutions the developers come up with are really good and validated with the Intel process, they can be marketed outside of this region, promoting the solutions as well as our country," said Heng.