Hannover Messe 2023: The Next Phase of Smart Manufacturing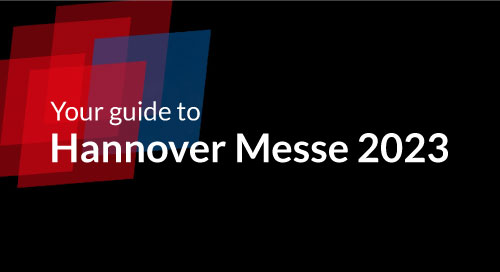 We live in a time when businesses not only have to keep up with the rapid pace of change but ensure these transformations benefit society. That's why the theme at Hannover Messe (HMI) 2023 this year was all about "Making the Difference."
The global industrial event, which took place from April 17 to 21, saw dozens of Intel® Partner Alliance members showcase exactly how they make a difference through Industry 4.0, AI and machine learning, energy management, and sustainable operations.
Intelligent Edge Enables Real-Time Analytics
To make these changes possible, companies adopt an intelligent edge approach, allowing for real-time processing and data collection. This, in turn, results in faster decision-making, improved operational efficiency, and reduced downtime. At Hannover Messe 2023, technology solution provider Dell Technologies presented a variety of edge-to-core solutions to demonstrate this trend.
"Dell has been talking about edge for a number of years now, and this is one of those shows where really we get to highlight what we mean when we are talking about going to market with edge. This is an industrial show with an industrial partner ecosystem with industrial customers," says Willie Reed, General Manager of Global Industries at Dell. "We are talking about outcomes. We are talking about how we are making this real in a trusted environment." (Video 1)
During the event, Dell exhibited its range of edge products like the Dell PowerEdge XR4000, new Dell Gateways, and the latest 16G servers designed for industrial settings, many of which are based on Intel Atom® i3, i5, and i7 processors. Additionally, to help telecoms with the move toward vRAN and Open RAN, Dell highlighted a variety of its XR servers equipped with the latest 4th Gen Intel® Xeon® Scalable processors.
Adopting an #IntelligentEdge approach allows for real-time processing and #data collection. This, in turn, results in faster decision-making, improved #OperationalEfficiency, and reduced downtime. @hannover_messe via @insightdottech
Edge computing "gives you the flexibility I need right now in the factory, but with the flexibility to manage it in an IT standard way. And what's really what we are offering," says Reed.
As an example, Dell demonstrated exactly how it helps factories with its partnership with Exhibit 'A', a small-batch brewery in Massachusetts (Video 2). The brewing company, which had previously done much of its work manually, wanted an easier way to monitor its product and ensure its reliability and quality. Exhibit 'A' turned to Dell Technologies to digitize its operations via edge gateways, and is now able to easily monitor the temperature and pressure of its tanks and adjust accordingly.
Beyond the edge gateway, data can be sent to the cloud to gain valuable insights via historical and live data. The brewery can leverage Dell PowerEdge x4000 servers with Intel Xeon processors to look at production assets and perform predictive maintenance on its machines. This allows employees to ensure the machines always work properly and to detect any defects in the final product before it ships.
Robotics Come to the Factory Floor
Another major theme explored at the event was how to safely incorporate robotics on the factory floor. Case in point was cloud computing company VMware's robotics, vision, and control (RVC) demo with Intel (Video 3). The companies have taken a software-defined approach to manufacturing with a scalable, managed edge compute solution to combine workloads and reduce the hardware footprint on the factory floor.
By leveraging the VMware Computer Stack, businesses can combine, manage, and orchestrate their workloads. And with the OpenVINO™ toolkit, they can enable their robotics to identify objects in real time and perform tasks like defect detection.
Also featured at the VMware booth was the idea of collaboration robots. Using the same camera used for object tracking, manufacturers can create additional AI streams for hand detection or worker safety. That enables the system to receive information if a worker enters the production environment and feed it back to the robot to slow down or move out of the way.
"I can interact with the robot, without losing any of the workload, because it continues to go, but it does it in a very safe environment. If I am breaking the [production] field, I can interact, help, or do something with it. [Then] come out, and the machine goes back to its normal operating procedure," says Ricky Watts, Industrial Solutions Director at Intel.
NEXCOM International's subsidiary NexCOBOT also displayed a functional safety robot control solution with a platform powered by Intel Atom processors and Intel® Safety Island (Video 4). According to Jenny Shern, General Manager of NexCOBOT, this provides robot and machine makers with smart building blocks to design their systems faster. Its advanced features include robot control and safety I/O modules like power and force limitations, hand guide control, monitored stopping, and speed and separating monitoring.
Together with its partners, the company is also able to incorporate no-code robot programming, voice-control capabilities, and an intuitive user interface to simplify the process even further.
"The market demand of functional safety in human robot collaborative applications is promising. It's our pleasure to collaborate with our partners Intel, Synapticon, Fraunhofer IWU, RTS, and Sysgo to equip robot builders with the tools to build safer, high-performance robotic solutions in shorter time frames," says Shern.
Elsewhere on the show floor, HPE demonstrated how to unlock manufacturing data using the cloud with industrial automation datacenter, digital twin, and generative AI demonstrations. Canonical featured a FlexRAN demonstration with full support for the 4 Gen Intel Xeon Scalable processors and Intel® vRAN boost hardware platform. And Phoenix Contact demonstrated its PROFINET over Time-Sensitive Networking (TSN) solutions.
See what else you missed and where the next generation of smart manufacturing is headed with on-demand content available over at the Hannover Messe 2023 website!

Edited by Georganne Benesch, Associate Editorial Director for insight.tech.