Fill form to unlock content
Error - something went wrong!
Get the latest updates on IoT for industrial.
You are following this topic.
Edge AI, Powerful Compute Cut Supply Chain Gridlock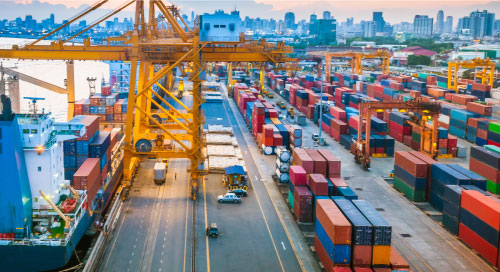 From toilet paper shortages to skyrocketing lumber costs, COVID-19 exposed supply chain weaknesses almost immediately. These disruptions have caused cascading issues across industrial supply chains ranging from product delays and abrupt price increases to an inability to conduct business in certain sectors.
Logistics companies usually keep backups from expanding, but with global shutdowns preventing raw materials from being extracted and goods from being manufactured, there has been little they could do. However, one thing these organizations can control as we attempt to return to pre-COVID inventory levels is the efficiency with which goods are transported from loading dock to retail warehouses.
For example, rather than moving materials as soon as they are available, supply chain digital transformation could cut costs and balance inventory by only sending shipments once transport vehicles have reached 100% capacity.
This is easier said than done because it means someone must constantly monitor shipping containers and delivery trucks for available space, then communicate any vacancies to transport and operations managers. But now by combining computer vision AI with supply chain management, that people resources can be bolstered by IoT tech.
Digitized Supply Chain Management Yields Efficiencies
At ports around the world, transport trucks enter through gates where Port Authority personnel record the origin, destination, and serial number of shipping containers for tracking purposes.
To eliminate traffic jams and the potential for human error in this process, many ports are installing optical character recognition (OCR) systems at the gates that automate container check-in. But these computer vision-based systems are capable of much more.
In checkpoint-based operations like this, AI trained to detect free space is a game changer. The vision AI uses existing cameras to identify reference points in images, determine the space utilization of a given container, then report those findings to logistics managers. When combined serial number tracking operators can quickly pinpoint available capacity in their fleet.
Going a step further, computer vision systems can also be used to identify the volumetric properties of goods and assist in pallet dimensioning. As their names imply, these solutions measure the physical properties of goods and packages as they progress through the manufacturing and distribution chain.
Whereas these systems once required specialized scanners, modern AI can detect item length, width, height, and other physical characteristics with standard cameras to lower implementation costs and simplify integration. But the real logistical power here lies in combining this type of data with transport capacity information so the maximum merchandise can be packed into shipping containers.
Logistics Operators' Eye at the Edge
The above provides just two examples of how AI-enabled computer vision can maximize the efficiency of logistics operations. But there are many more use cases that leverage the technology including dock occupancy monitoring, wrong place detection, and automated robots that handle, load, and unload freight.
None of these applications are possible without edge computing that can execute advanced AI algorithms in real time. This has been a real challenge due to performance, power, and cost limitations in existing solutions. Avnet Embedded—a leader in embedded compute and software solutions—is making advanced edge AI a reality with its MSC C6C-TLU, based on 11th generation Intel® Core™ processors.
The MSC C6C-TLU is a COM Express Type 6 module designed to withstand the environmental rigors of deployment in transportation and other environments while also supporting the performance demands of edge AI use cases. These abilities are rooted in the onboard 11th generation Intel® Core™ i3, i5, or i7 processors, which contain two or four cores and either Intel® Iris® Xe or Intel® UHD Graphics with up to 96 execution units.
When paired with optimizations from the Intel® OpenVINO™ toolkit, COM Express module is extremely efficient at crunching numbers in AI vision applications. However, this level of performance can be a detriment to edge systems because it implies high power consumption and excess heat generation that could damage electronic components.
#SupplyChain #DigitalTransformation could cut costs and balance inventory by only sending shipments once transport vehicles have reached 100% capacity. @Avnet via @insightdottech
Game Changing Processor Platforms
Certain models of the host Intel® Core™ processors are designed to resolve these challenges.
"What is really a game changer in 11th gen Intel processors over previous generations is definitely the support for extended temperatures and 24/7 operating modes," says Christian Engels, Product Marketing Manager at Avnet Embedded. "You can perform heavy duty applications on the CPUs for a long time, which lets you run these workloads in extreme environment conditions."
Being part of the COM Express family of standards, the MSC C6C-TLU needs a companion carrier board that links the module to the larger computer vision system via application-specific I/O. Once built, this carrier board can support processor modules with the same interfaces for years to come.
Avnet Embedded is well-versed in designing and manufacturing carrier cards but can also integrate complete standards-based computer vision systems that give logistics managers their own intelligent eye at the edge.
AI Supply Chain Management Never Sleeps
The complexity of today's global supply chains has made recovering from COVID-19 shutdowns an equally complex challenge that requires different solutions.
For instance, distributors are moving from just-in-time inventory models back to stockpiling merchandise as insurance against supply fluctuations. At the ports of Los Angeles and Long Beach, authorities are enlisting the expertise of logistics powerhouses like Walmart and Target to expand overnight operations until shipping container backlogs are cleared.
These more fluid, higher uptime logistics operations will require support from tools that are intelligent, reliable, and able to identify supply chain opportunities more quickly and efficiently than humans.
Lucky for us, AI-driven logistics never sleeps.
This article was edited by Georganne Benesch, Associate Content Director for insight.tech.