Fill form to unlock content
Error - something went wrong!
Your content is just a step away. Please submit below.
Dive Into the Power of the 13th Gen Intel® Core™ Processors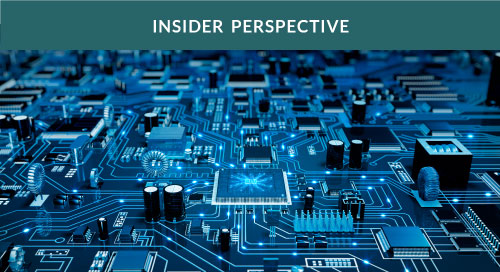 In January, Intel launched the desktop and mobile version of its 13th Gen Intel® Core™ processors, codenamed Raptor Lake. Packed with impressive new features and capabilities, the 13th Gen builds on the strengths of the performance-hybrid architecture seen in the 12th Intel® Core™ processors, as Intel continues to support the growing trend toward the intelligent edge.
Jeni Barovian Panhorst, Vice President and General Manager of the Network and Edge Compute Division at Intel, walks us through the details of the 13th Gen release (Video 1). She'll explain why its multitasking power is so well suited to the intensive workloads that are the norm in industries from healthcare to hospitality, and in specific use cases like autonomous robots. Once again, Intel aims to better its best, and to support its partners and clients in doing the same.
What makes this release so exciting for the network and edge markets today?
The 13th Gen Intel Core processors for the IoT edge are our top choice for maximizing performance, memory, and IO and edge deployments. And I also want to highlight the mobile version of the 13th Gen Intel Core processors, which is focused on combining power efficiency, performance, and flexibility with industrial-grade features that cater specifically to areas that are important for network and IoT edge—including AI, graphics, and ruggedized edge use cases.
It delivers a boost in performance compared to the prior generation, while also offering a range of options for different power-design points. This allows our customers to get exactly the performance per watt that they're looking for in deployments that are often space and power constrained. They benefit from higher single-threaded performance, higher multi-threaded performance, graphics and AI performance, but also increased flexibility to run more applications simultaneously, more workloads and more connected devices—all of which are very critical at the IoT edge.
Our performance-hybrid architecture offers up to 14 cores and 20 threads, and we have a technology called Intel® Thread Director that allows us to match the cores specifically to the needs of our customers' workloads. We also have really great graphics performance, which is essential at the edge for use cases like autonomous mobile robotics and optical inspection. When you combine that with the capabilities of the processor—with technologies like Intel® DL Boost with VNNI instructions—and with developer tools like the Intel OpenVINO™ toolkit, it all creates an opportunity to further enhance AI-inference optimization, which helps reduce dependence on external accelerators.
This is also the first generation of mobile processors to introduce PCI Express Gen 5 connectivity (it was previously available on the 12th Gen Intel Core processors). This allows our customers to focus on deploying more demanding workloads in more places, because there's a much bigger data pipeline, as well as the ability to provide faster, more-capable connections to a variety of different peripherals.
And, last but not least, the 13th Gen Intel Core mobile processors are also focused on redefining industrial intelligence by bringing flexibility, scalability, and durability to the edge. Select SKUs in the portfolio are compliant with industrial-grade use cases for stringent environments—for example, they offer extended temperature ranges of -40 °C to 100 °C. They also support in-band ECC memory to improve reliability—delivering the type of performance and capability needed in harsh environments for installations in areas like machine control, AMR, avionics, and other exciting use cases for the IoT edge.
Can you talk about how Intel is utilizing its hybrid microarchitecture?
We introduced the performance-hybrid architecture in the 12th Gen processors. It's really about bringing together the best of two Intel architectures onto a single SOC: our Performance cores, or P-cores; and our Efficient cores, or E-cores. The primary advantage is in scaling up multi-threaded performance by using these P-cores and E-cores optimally for the workloads at hand.
That performance scale-up is dependent on how efficiently a given application is divided into multiple different tasks, and the number of available CPUs to deliver the parallel execution of those tasks. To cater to what is a vast diversity of client applications and usages of cores, we focused on designing an SOC architecture in which the larger cores are utilized in performance to go after single-threaded performance and limited-threaded scenarios. The Efficient cores can simultaneously help extend scalability of multi-threaded performance over prior processor generations. So, the performance-hybrid architecture achieves the best performance on multi-threaded workloads, as well as on limited-threaded and power-constrained workloads.
And that performance-hybrid architecture is coupled with the Intel Thread Director that I mentioned before, which optimizes performance for concurrent workloads across these P-cores and E-cores. It monitors the instruction mix in real time, and dynamically provides guidance to the scheduler in the operating system, allowing it to make more intelligent and data-driven decisions about how to schedule those threads.
And so performance threads are prioritized on the P-cores, delivering responsive performance where maybe there aren't as many limitations in terms of power requirements. And then the E-cores are utilized for highly parallel workloads, and other power-constrained conditions where power might be needed elsewhere in the system—such as the graphics engines or other accelerators in the platform. This combination then delivers the best user experience.
"The 13th Gen Intel Core processors for the #IoT edge are our top choice for maximizing performance, memory, and IO and #edge deployments" – Jeni Barovian Panhorst, @intel via @insightdottech
What are some of the top improvements over previous generations?
Performance is always top of mind for people. If we look at performance gains within the same power envelope for the mobile family of products, we've got up to 1.08x faster single-threaded performance. In the desktop processors we have up to 1.34x faster multi-threaded performance. And if we look specifically at AI performance, which is so critical for the edge, we've got up to 1.25x gains in CPU-classification inference workloads.
Another area that's important to our customers is an easy upgrade path. And so these 13th Gen processors are socket compatible with the 12th Gen Intel Core processors. I mentioned earlier PCI Express Gen 5 conductivity—it's the first generation of our mobile products to include PCIe Gen 5 to deliver a faster pipeline for more data throughput. A great use case example benefiting from that would be medical imaging, which requires a tremendous amount of visual data.
A specific customer example where we're seeing improvements gen-on-gen from 12th Gen to 13th Gen is with Hellometer, a great example of a company that is digging into those gen-on-gen performance gains, while achieving platform flexibility at the same time.Hellometer has an SaaS solution specializing in AI for restaurant automation for fast food and quick service restaurants, and the 13th Gen is capable of delivering more AI performance at the edge, more cost effectively, for their target market.
In these restaurants time is truly of the essence; it translates directly to revenue, because if a line is too long guests will simply drive past. So these brands are really focused on utilizing Hellometer's computer vision-based technology, and that had been using our prior generation of Intel Core mobile processors with the built-in AI acceleration in the processor itself.
But at the launch for the 13th Gen Intel Core processors, the CEO of Hellometer talked about how the 13th Gen will enable it to add an extra video stream to its solution, which will in turn increase its ability to process customer data by over 30% for real-time inferencing, without a discrete AI accelerator. It gives our customers the ability to win business by better understanding their guests' experiences, and it delivers innovations that really drive business value.
How will these processors provide new opportunities as we move closer to the edge?
There's just an incredible breadth of use cases we're supporting. If we look in military applications there are opportunities to support embedded computing for vehicles and aircraft, or edge devices for intelligence and safety and recon. There is also next-generation avionics, with multitasking performance and durability requirements for space-constrained and stringent-use conditions. There are healthcare advancements—if you look at enabling ultrasound imaging, endoscopy, clinical devices—again, there's a massive amount of visual data that has to be processed there. Then there's hospitality, as in the Hellometer example. And all kinds of other applications as well, including video walls and digital signage; AI-driven, in-store advertising, interactive flat-panel displays—these can all take advantage of our 13th Gen Core processors.
Industrial applications, like AI-based industrial process control, can leverage the 13th Gen Intel Core processors to converge powerful compute and AI workloads in situations with space and power constraints. An example in this area is our partner Advantech, focusing specifically on AMRs—autonomous mobile robotics—which are truly becoming the new normal in warehousing, logistics, and manufacturing environments.
AMRs, and other computer vision applications, are really challenged by the need to provide powerful AI and camera-based inputs, but in very small form factors. AMRs, in particular, may need to process data from multiple different cameras, as well as proximity sensors, so that they can navigate safely around their environments. This market is growing incredibly quickly, so the question becomes about addressing that opportunity, and enabling our customers to extract that value.
Advantech has a couple of offerings that leverage the 13th Gen Intel Core mobile processors to address what's needed for compute and graphics-processing performance, and also power-efficiency needs. And each of these solutions benefits from the fact that you can get adaptive performance from these mobile processors featuring the performance-hybrid architecture, but also intensive graphics processing from integrated Intel® Iris® Xe graphics, as well as memory support from DDR5. And it is certainly benefiting from the really great power efficiency of the latest processor generation—longer battery life boosts operational duration of robots on the factory or warehouse floor. And that improves the total cost of ownership.
Are there any final thoughts you'd like to leave us with today?
Our mission is to deliver the hardware and software platforms that enable infrastructure operators and enterprises of all types to adopt an edge-native strategy, delivering workload-specific performance and leadership performance for our customers at the right power and design points. And that means meeting all design points across the spectrum—whether we're talking about the devices themselves, the edge infrastructure, the network infrastructure, or the cloud.
We're also focused on being a catalyst for digital transformation and business value, on driving and democratizing AI, and making it accessible across the full ecosystem. With this latest release we're really proud to be delivering the next generation of diverse, edge-ready processors, and giving our customers more choices in leveraging this hybrid microarchitecture to unlock all these possibilities. It's the promise of a future that's built on AI-enabled edge computing.
Related Content
To learn more about capabilities and hybrid microarchitecture of 13th Gen Intel® Core™ Processors, listen to An Inside Look at the 13th Gen Intel® Core™ Processors and read Intel Boosts Edge Productivity with Processor Innovations. For the latest innovations from Intel, follow them on Twitter and LinkedIn.
This article was edited by Erin Noble, copy editor.