Combating Driver Fatigue with Mobile Surveillance
Driver fatigue is a leading cause of traffic accidents, especially for heavy-duty vehicles such as mining trucks, excavators, bulldozers, cranes, cargo trucks, and commercial buses. Drivers of those vehicle types often face long shifts and may fall asleep at the wheel for short periods when drowsy or fatigued (Figure 1). According to data from Australia, England, Finland, and several other European nations drowsy driving is a factor in 10 to 30 percent of all crashes.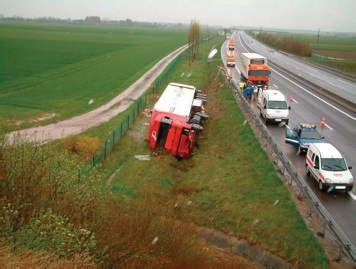 Figure 1. A typical drowsiness-related accident in which a driver confirmed falling asleep and was fortunately only slightly injured. (Image from European Accident Research and Safety Report 2013.)
An intriguing solution for helping prevent accidents from driver fatigue comes from Lanner Electronics, a global hardware provider for advanced network appliances and rugged industrial computers. Their in-vehicle surveillance platform enables using a camera to monitor drivers for fatigue. This platform performs as a gateway PC, analyzing the video in real-time and providing alerts and communications with the control room. Communications can include driver alertness over time, vehicle location, and other data.
The Cause and Extent of Driver Fatigue Accidents
According to estimates from the U.S. National Highway Traffic Safety Administration, 100,000 police-reported crashes are the direct result of driver fatigue each year. These crashes result in an estimated 1,550 deaths, 71,000 injuries, and $12.5 billion in monetary losses. These figures may be the tip of the iceberg since it is difficult to attribute crashes to sleepiness. Many driver-fatigue accidents may not be identified as such. The bottom line here is that driver fatigue accidents have an enormous economic impact – and this is just in the United States.
Data from a 2009 Massachusetts state study, "Asleep at the Wheel," indicates that those most susceptible to incidents of drowsy driving include young men aged 16-29, drivers with untreated sleep disorders, night-shift workers, commercial drivers, and persons working long shifts and long weeks. A 2016 report from the National Academy of Sciences on the approximately 4,000 U.S. fatalities due to truck and bus crashes each year estimates that 10 to 20 percent involve fatigued drivers. According to a study by Volvo, the majority of accidents resulting in truck driver injuries are single-vehicle incidents in which the truck drives off the road.
Long-distance truck drivers on overnight or early morning routes are particularly susceptible to the effects of sleep deprivation because of disruptions to their natural sleep patterns when working nights or long and irregular hours. A study by researchers in Australia demonstrated that being awake for 18 hours produced an impairment equal to a blood alcohol concentration of.05. This goes up to .10 after 24 hours (.08 is considered legally drunk).
A Challenging Problem
Unlike intoxication, there is no breath analyzer for drowsiness. Self-reporting and self-monitoring are unreliable. Consequently, an increasing number of companies using heavy-duty service vehicles seek in-vehicle solutions that can detect driver alertness. These companies recognize that lowering accident rates and damages could help them better protect drivers and the public. It could also help them avoid lawsuits and reduce insurance rates.
A Simple Solution
Lanner's heavy-vehicle driver fatigue management system solution is a video surveillance system that monitors driver eye behavior such as closing eyelids, and frequency and duration of blinking. When abnormal behavior occurs, like distraction or longer-than-expected closed eyes, the system alarms the driver and sends video images to the dispatchers. The system can also activate systems such as a seat vibrator and/or an audio speaker – it can literally shake and wake the driver.
The key component is the Lanner LVR-2010 in-vehicle PC platform. This tough mobile computer functions as a video analytics system and IoT gateway. The platform runs the driver-fatigue management software, and with its wireless network connectivity connects dispatchers with data from infrared sensors, cameras, and alarms. Figure 2 shows the main components of the solution and their function.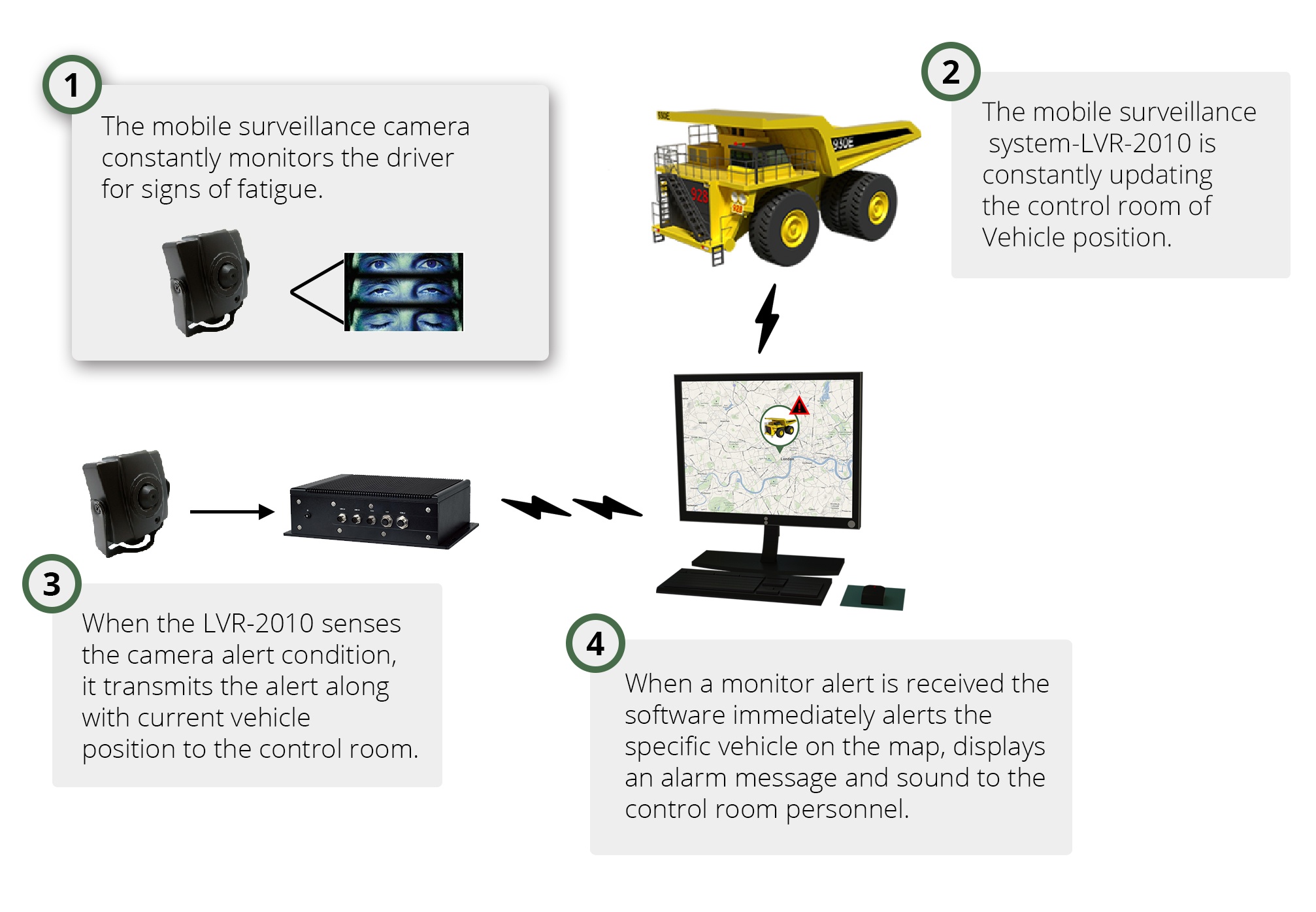 Figure 2. The Lanner LVR-2010 in vehicle PC platform provides the video analytics and gateway functions for a driver-fatigue management system.
The LVR-2010 is well suited to a life on the road. The fanless, aluminum-cased, power-efficient PC offers wide temperature support and rich connectivity with shake-proof M12 connectors (Figure 3). It is EN50155-compliant and MIL-STD-810G-certified, meeting multiple endurance standards for withstanding shock, vibration, humidity, and extreme temperature ( -40°C ~ 70°C).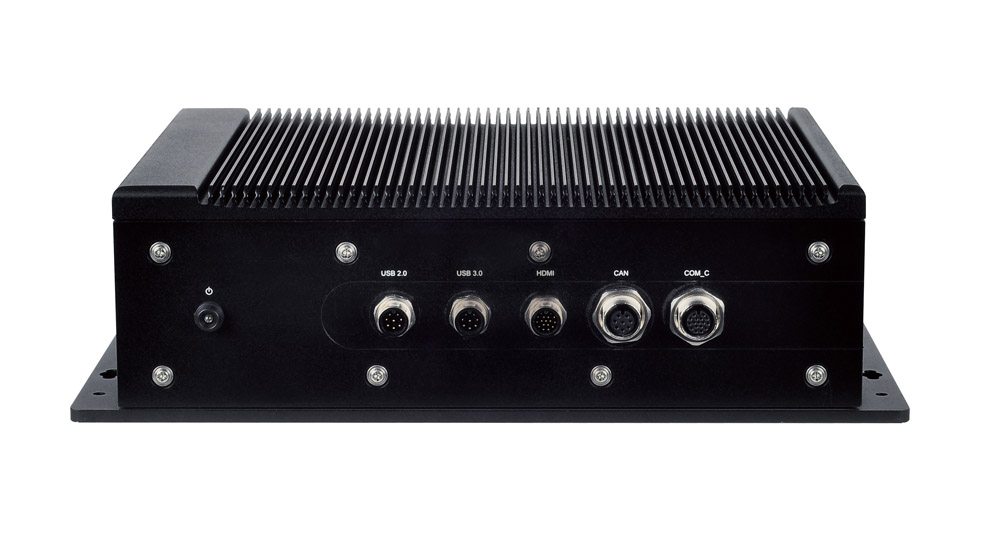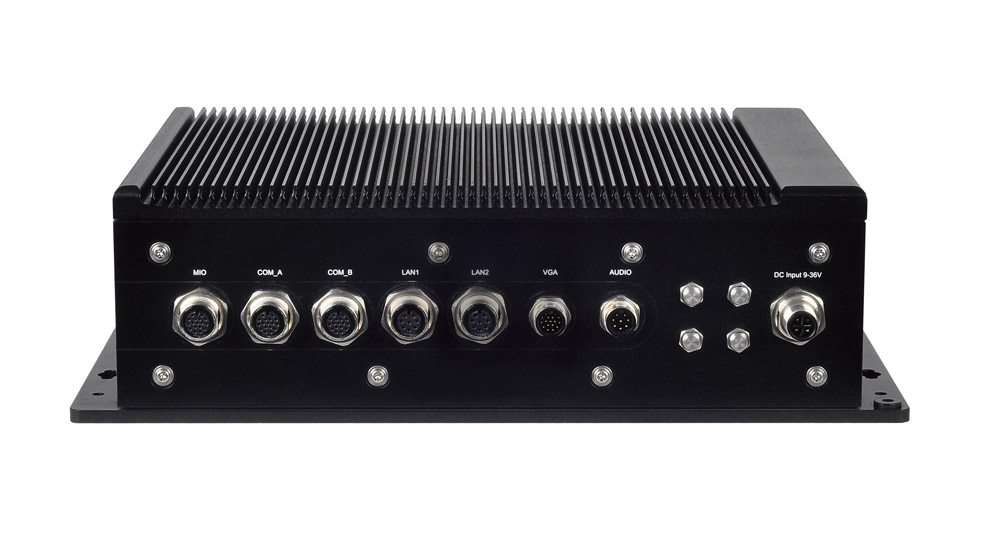 Figure 3. Front (top photo) and back (bottom photo) views of the Lanner LVR-2010 show all its IP-67-rated M12 connectors.
The unit's design ensures reliability in motion, even when aboard heavy-duty mining and excavation equipment bumping over rocky, pothole-ridden grades. To protect the PC from potential dust, liquid splash, and hard jolts, the LVR-2010's the M12 connectors are IP-67-rated. These connectors include three COM ports, two USB ports, two LAN ports, CAN bus, two video ports, audio port, modular input/output (MIO) port, and DC power input. These ports all offer foolproof connectivity for peripherals such as alert devices and IP cameras. A 2.5″ drive bay delivers ample storage capacity.
A GPS and G-sensor built into the LVR-2010 allows location tracking and acceleration measurement. For display functions, the LVR-2010 features both VGA and HDMI.
A Rugged Unit Starts with a Rugged Processor
The reliable, application-proven, power-efficient Intel® Atom™ E3845 processor gives the LVR-2010 all the processing power it needs and more. Written about extensively in past issues of Embedded Innovator magazine, it's a four-core system-on-a-chip (SoC). The 64-bit, 1.91 GHz SoC uses Intel's 22 nm process technology to deliver outstanding compute, graphical, and media performance at just 10 watts (TDP). Designed for ball grid array (BGA) socket, the processor enables a permanent, shake-proof mount.
Particularly important for the driver-fatigue management system, the processor's integrated Intel® HD Graphics save the expense and power cost of a graphics card. Graphics capabilities include Intel® Quick Sync Video – a hardware-based video transcode engine that handles decoding and encoding functions to free up processor cores for applications. Intel® Atom™ processor cores also implement the same x86 Streaming SIMD Extensions (SSE) 4.2 instruction set as Intel® Core™ processor and Intel® Xeon® processor families. This enables developers to directly port existing video analytics algorithms, such as algorithms for monitoring eye movement and closure, from server-centric solutions.
With all these features, the Intel Atom processor processor easily handles the driver fatigue management software, video analytics for monitoring a driver's eyes, and all the associated communications and alarm functions of the system. With processing power to spare, designers of fatigue management systems may even add additional safety and communication features.
Helping Keep Eyes Open and on the Road
Featuring its versatile, rugged design, the Lanner LVR-2010 in-vehicle PC makes a reliable choice for driver fatigue management on any vehicle. For a look at all the rugged mobile platforms available from Intel® Internet of Things Solutions Alliance members, see our Solutions Directory.