Fill form to unlock content
Error - something went wrong!
Get the latest updates on IoT for industrial.
You are following this topic.
"Cloud in a Box" Puts Azure API Into an On-Site Appliance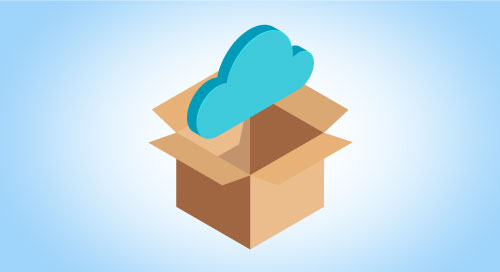 Hybrid cloud infrastructure is booming thanks to its ability to combine the best of the cloud environments and on-premises data centers. But for some organizations, hybrid clouds fall short in terms of security, compliance, and performance.
Public sector applications are a prime example. Because these applications handle highly sensitive data, connecting them to the public cloud is out of the question. Many commercial applications run into similar constraints due to data sovereignty regulations like GDPR.
Or consider applications that require extreme performance at the edge. Many video processing applications, for example, have such high bandwidth requirements that data must be processed close to the source. Other scenarios are constrained by limited network connectivity. These include environments like oil rigs, mines, and geospatial imaging
How can applications like these take advantage of the cloud?
Cloud Platform in a Box
For Dell Technologies, the answer was to create a "cloud in a box" that delivers the Azure API for on-site deployment. Known as the Dell EMC Integrated System for Microsoft Azure Stack Hub, this appliance challenges the existing hybrid cloud model. By presenting neither a traditional CAPEX-heavy private cloud infrastructure play nor a network-dependent public cloud model, this is a different hybrid cloud option that gives the customer a new choice.
Handle highly sensitive data? Need extreme performance at the edge? @DellTech says to bring Azure on-premises—no network connection required via @insight.tech
The appliance can be placed almost anywhere—on-premises, in a third-party data center, or even in the field. It can even operate in disconnected environments with no network access. The upshot is that organizations can achieve:
Rapid data interpretation and visualization at the edge
Cloud-like scalability and economics with the highest security and real-time response
An on-premises appliance that features Azure-consistent APIs
This model eliminates the need to segregate computing workloads between on-site and off-site infrastructures based on data classification and sovereignty laws. It also eliminates the need to separately manage orchestration, IT environment monitoring, and application portability between public and private environments for their end-users.
A Look Inside the Box
Customers can choose to acquire Azure Stack Hub from Dell Technologies as a traditional hardware appliance or install the device and pay only for actual applications and workloads usage. Dell Technologies has also integrated advanced management functionality like monitoring, patching, system updates, and life-cycle management into Azure Stack Hub's advanced automation services.
While the hardware stack is an appliance with "no user-configurable parts inside," customers can choose from a variety of configurations for various needs. The integrated system is based on proven PowerEdge servers with:
Powerful Intel® Xeon® Scalable processors with a total of 96 cores per server
A choice of performance and capacity options to support Azure-based services
Cloud-native workloads running on-premises, and PowerScale storage technologies that can hold data at petabyte-scales
As an all-flash system, the Azure Stack Hub design and configurations support high-performance and data-intensive workloads. Upcoming enhancements will unlock valuable, real-time insights from local data using GPU-accelerated AI and ML capabilities.
New Operational Models
Operationally, this model opens a world of new possibilities. For artificial intelligence, this means pairing algorithm training with test data on the public cloud with the ability to run inferencing workloads with sensitive data in the on-premises private environment.
From oil rigs to natural-disaster sites, remote operational locations can avoid the need for gigabyte network connectivity to the public cloud due to local accessibility issues and still deliver powerful video and geospatial processing capabilities. The solution can also locally store and process the petabytes of data needed for mining and energy-related scenarios. This versatile platform can even support military forward operating bases with the environmentally hardened Tactical Azure Stack Hub.
Azure Stack Hub customers receive real competitive value to their organizational business challenges through the integrated system's ability to deliver exceptional GPU performance to IaaS and PaaS services across a hybrid cloud platform. It also offers business agility and the flexibility to run any workload (on-premises or in the cloud) while effectively addressing scenario-based data classification and data sovereignty laws.
A New Approach to Data Center Administration
As mentioned before, this stack is not like a traditional data center infrastructure appliance. Managing services from Azure Stack Hub is more akin to the management of cloud services.
As a member of the acquiring organization's staff, the administrator's focus will be on delivering quality cloud services to internal customers. The role is to ensure Azure services are highly available on the private infrastructure and that all internal customers have self-service access to provision, configure, and consume those services.
While this evolution may require additional training, this new hybrid cloud model encompasses the cultural, mindset shift, and operational changes that leading companies are embracing today.
The Future of the Data Center
This solution challenges the current definition of a hybrid cloud. It also provides a glimpse of the future of enterprise IT. Imagine a private data center fully provisioned with zero cash outlay. Where even though every piece of hardware and every bit of data remains in your private data center, but you pay only for the services you use when you use them.
Preetham Mukhatira, Director of Product Management at Dell/EMC, says, "You will go to a catalog where you're able to order your Dell EMC Integrated System for Microsoft Azure Stack Hub. Dell Technologies will deliver the integrated system to you on-premises. You would then flip a switch to turn it on. Dell Technologies will manage it for you and accurately meter usage. The organization will pay one bill that includes Azure, the Dell EMC storage, and the advanced Dell Technologies management services."