Fill form to unlock content
Error - something went wrong!
Your content is just a step away. Please submit below.
Autonomous Mobile Robots: Built for Demanding Environments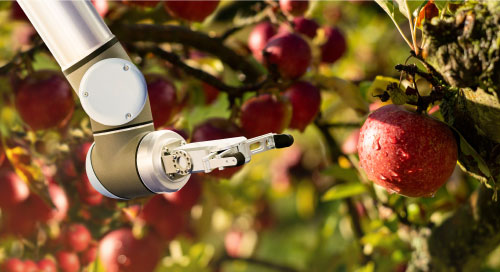 The autonomous mobile robot (AMR) is one of the most exciting technological developments to be enabled by computer vision. Using sensors and AI to operate independently and make real-time decisions, these intelligent machines help businesses alleviate labor shortages, improve efficiency, and boost sustainability.
But it's not always easy to deploy AMR solutions. "In sectors like agriculture and mining, AMRs can be difficult to implement," says Bob Dang, Product Director at ASUS IoT, a global AIoT solution provider. "In such settings, AI inferencing must be done at the edge due to network limitations, but most hardware platforms lack the computing power for this—or the ruggedization features needed to operate in harsh outdoor environments."
The good news is that there are now powerful, general-purpose industrial PCs (IPCs) built for performance at the remote edge. These solutions help businesses in sectors like agriculture and mining accelerate their digital transformation—and catch up to their peers in manufacturing and logistics who are already taking advantage of AMR technology.
Transforming Agriculture with Autonomous Mobile Robots
The ASUS IoT experience with a large fruit producer in France is a case in point. The company was facing several common agricultural sector pain points. Their reliance on manual labor limited harvesting to daylight hours and favorable weather conditions—and made the company vulnerable to staffing issues. The business was also under pressure to use land more efficiently to improve crop yield and support sustainable agricultural practices.
The producer was looking for an automated fruit-picking solution. But due to the nature of their operating area, any such solution would have to function without network connectivity and survive adverse environmental conditions.
ASUS IoT worked with the grower to develop an AMR solution to meet their needs. They equipped an autonomous vehicle with mechanical harvesting arms and sensors. The sensors included a LiDAR unit—the same light-based remote sensing technology used in self-driving cars—and multiple exterior cameras.
The "brain" of the AMR is the ASUS IoT rugged IPC PE3000G, running a computer-vision AI algorithm designed for agricultural use cases. Powered by Intel® Arc™ MXM GPU module, it enables the robot to make real-time decisions based on sensor data, allowing it to navigate dense, unstructured orchards, and identify fruit ripe enough to pick.
The result was an automated fruit-picking solution capable of operating 24/7/365, making harvesting more stable and predictable for the agricultural business. In addition, the compact form factor of the AMR unit provided a major operational benefit. "With our AMR solution, there's no need for such wide spaces between rows of plants or trees to accommodate workers and their tools," says Sophia Lee, Product Manager in the ASUS IoT edge computing division. "This means more efficient land use and better crop yields, because growers can plant more trees and plants without increasing the area of their orchards and fields."
ASUS IoT's partnership with Intel was instrumental in bringing this innovative solution to market. "Intel CPUs and GPUs make an ideal hardware platform for AI at the edge," remarks Dang. "We also see great customer demand for computer vision solutions based on Intel software toolkits like Intel® OpenVINO™, which makes our technology partnership with Intel even more valuable."
A significant benefit of industrial #PC platforms is their flexibility because they can be adapted to multiple use cases. @ASUS via @insightdottech
AMRs in Industrial Environments
A significant benefit of industrial PC platforms is their flexibility because they can be adapted to multiple use cases. For example, ASUS IoT developed a separate AMR solution for the mining industry based on the same IPC unit used in their autonomous fruit-picking robot.
But operating at the edge in the mining sector is perhaps even more difficult than in agriculture. "You have the same environmental challenges as in agricultural settings: extremes of heat and cold, inclement weather, and so on," explains Lee. "But the locations are extremely remote and undeveloped. The roads are rocky, and there's a lot of debris and dust everywhere simply due to the nature of mining."
In such scenarios, ruggedized IPC platforms are crucial to stable, high-performance edge computing. The ASUS IoT IPC used in their mining AMR offers essential physical features:
Thermal design to ensure consistent operation through a wide range of temperatures (-20°C to 60°C)
Anti-shock and vibration-resistant capabilities to protect against the rigors of rough terrain
Fanless design to shield internal components from ambient dust and particulate matter
Combined with real-time computing capabilities, these features mean that modern IPCs can bring AMR technology to the harshest locations. The upside for companies in these sectors is increased efficiency and cost savings. In industries like mining in particular, there are also benefits for workers, since AMRs can perform risky tasks and enter hazardous areas, reducing the likelihood of physical injury.
The Future of AMRs in Industrial Use Cases
IPC platform adaptability will likely attract the attention of solution integrators seeking ways to offer AMR solutions for heavy industries beyond just agriculture and mining. And as AMR adoption in these sectors grows, there will be opportunities to expand their use throughout the value chain.
"The future of smart agriculture will be marked by increased efficiency and intelligence in all areas where manual processes are still prevalent," says Lee. "AMRs will quickly find use cases in agriculture beyond harvesting, such as sorting fruit or shipping fresh produce."
From a big-picture perspective, the real promise of edge IPCs is that they will help more businesses participate in the ongoing convergence of IT and OT. "ASUS IoT has moved from being a purely IT company to an OT company as well because this is where the market is going," says Dang. "IT/OT convergence, along with rugged edge computing, will put the benefits of digital transformation within reach for businesses in every sector—no matter where they operate."
For more insights listen to the IoTChat podcast: Advancing Ruggedized IoT Through Collaborative Partnerships.

Edited by Georganne Benesch, Editorial Director for insight.tech.