Fill form to unlock content
Error - something went wrong!
Get the latest updates on IoT for industrial.
You are following this topic.
Amarillo Transforms Public Safety with HCI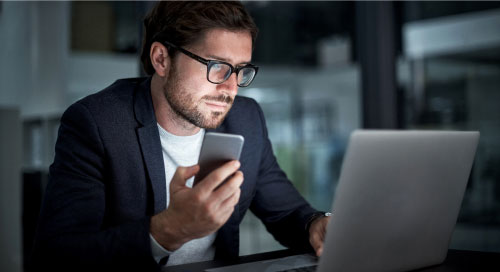 Organizations need agile, reliable systems now more than ever for mission-critical activities. Traditional datacenters can have silos that impede workflow, which is why more systems integrators and IT leaders are turning to hyperconverged infrastructure (HCI) as the solution of choice. With a future-proof structure, HCI consolidates compute, storage, and networking functions into a single system to simplify data management, especially in virtualized settings.
The shift can be substantial, especially when old systems need updating. The City of Amarillo, Texas learned this firsthand when it hired Richard Gagnon to be its CIO in 2016. Amarillo's public safety operations had been run from a large, flat network, Layer 3 firewalls, seven types of storage, and outdated laptops. The infrastructure was complicated, costly to maintain, and vulnerable to security hacks. Worse yet, it was slow, which negatively impacted vital service response times, including firefighters, police officers, and emergency medical technicians. An overhaul was overdue.
Gagnon, a seasoned global tech executive, chose Dell Technologies as its IT partner and transitioned to Dell EMC VxRail HCI. The solution integrated with the city's existing VMware Horizon virtual desktop infrastructure (VDI) mobile network.
"Being a private-sector guy, I faced a lot of internal skepticism about the changes needed and my urgency to enact them," Gagnon says. "But I have to hand it to my IT team. Keeping all this legacy infrastructure operating meant they had to really stretch their resourcefulness and creativity."
Consolidation Maximizes Performance and Lowers Costs
Powered by Dell EMC PowerEdge servers, VMware HCI software, and VxRail HCI System Software (Figure 1), the quick-to-deploy solution consolidated Amarillo's seven storage platforms onto a single appliance. Twenty-nine nodes in various cluster configurations took over a variety of workloads, scaling to maintain performance levels with software-driven automation and lifecycle management. And VxRail leveraged Intel® XEON® processors and Intel® Optane™ persistent memory to maximize performance at a lower cost.

Adopting a modern data management solution like Dell EMC VxRail can offer organizations dramatic benefits and results. In Amarillo, the city cut first-responder response time by 60% and saved $800,000 in hardware-refresh costs for its fleet of police cars. It also improved productivity by reducing PC boot-up times from 10 minutes to 36 seconds.
VxRail also helped when the pandemic created a sudden need for some essential employees to work remotely.
"Of course, large numbers of employees remained essential workers, but for those who could work from home, we were able to stand them up practically overnight, which would've been impossible before our IT modernization," Gagnon says. "In fact, we spun up a 75-person virtual call center for remote public-health clinics in just a day and a half using our VxRail-supported VDI."
Adopting a modern data management solution like Dell EMC VxRail can offer organizations dramatic benefits and results.
Proven Systems Offer Organization-Wide Benefits
Build-your-own HCI systems can be complex. By choosing a pre-built, pre-tested solution, organizations can quickly adopt a reliable infrastructure for business-driven operations (Video 1).
VxRail is ready for application development for DevOps or IT teams. In the commercial space, it's ready for databases and mission-critical activities, like SQL, Oracle, SAP HANA, Exchange, and SharePoint. And in enterprise, it's used for those applications as well as edge, AI, and general-purpose workloads.
When looking for a solution, deployment and management are often top concerns for organizations. "Operational consistency is important," says Justin Jones, VxRail marketing team leader for Dell Technologies. "VxRail is the only jointly engineered HCI system built to enhance VMware. As the leader in the virtualization market, most customers are already using VMware in-house. For those users, VxRail delivers a familiar operating experience."
Making decisions with the future in mind can allow organizations to focus on growth without worrying about scale. VxRail is the first hyperconverged system fully integrated with VMware Cloud Foundation SDDC Manager, and it delivers a direct path to the hybrid cloud from an automated platform.
"A lot of customers know they need to grow on-premises, but they also want the ability to grow in the public cloud," says Jones. "VxRail supports their applications, their workloads, and ultimately their business with a hybrid cloud."
And for organizations that require holistic support, choosing a solution from a reputable provider like Dell Technologies can offer advantages, such as peace of mind.
"System support from hardware to hypervisor to hybrid cloud is a hallmark of VxRail, and 97% of problem cases are resolved in-house," says Jones. "With 25,000 hours of testing and hundreds of engineers validating each release, your IT department isn't going to be stuck having to read white papers or docs to determine how to run, upgrade, or resolve issues. This moves them away from siloed teams doing separate research so they can focus on what they do best—delivering business value."
HCI Leads to a Data-Driven City
The transition to an HCI architecture is a game changer for organizations like the City of Amarillo. From improving public safety to quick pandemic response, a modern IT infrastructure doesn't just lower operational costs, it enhances the lives of citizens. And the city is looking to the future.
"Our next big moves are around expanding automation, both for operations and security, and our use of analytics," says Gagnon. "We want to be a data-driven city, and our VxRail modernization is helping to get us there."