Fill form to unlock content
Error - something went wrong!
Your content is just a step away. Please submit below.
AI Trucking Revolutionizes the Driving Industry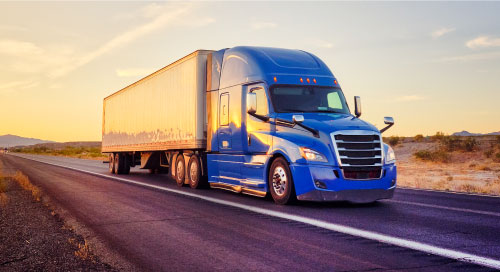 The American Trucking Associations (ATA) reported a shortage of 80,000 drivers in 2021 and expects that number to reach a historic high of 160,000 by 2030. And two years later, the numbers still look just as grim. The driver shortage is a bad indicator of the digital economy that relies on the ability to transport goods from remote retailers to remote consumers.
But how do you solve this growing problem? With the latest advancements in artificial intelligence and automation, technology may be the answer.
AI Trucking Offer a Driver Shortage Solution
We've heard about autonomous driving or self-driving cars mostly in the consumer context as of lately, but this capability is also being applied to the trucking industry.
The benefits of autonomous trucks are obvious. A self-driving semi doesn't stop to sleep, take bathroom breaks, or go on vacation. They're capable of transporting cargo 99% of the way to a destination. Finally, AI trucks—when optimally designed—are safer for everyone. And that's where the challenges come in.
Developing self-driving trucks that are as safe or safer than human drivers come at significant cost. In real dollars, the advanced sensor suite required to make safe self-driving a reality can cost tens of thousands of dollars. There are also many hidden costs in tailoring autonomy systems to the exact use case and deployment environment. Much of that work is fallout from the need to capture massive amounts of data and analyze it with AI inferencing algorithms in real time.
Optimizing Safety with AI Technology
The near-zero latency requirements of the use case mean that data analysis must happen locally so control subsystems can integrate information from the AI perception stack in time to act. The sheer amount of data and processing performance involved in these operations requires a full-blown server with GPU acceleration hardware.
And remember, autonomous trucking is a rugged, mobile environment that may or may not be temperature controlled.
"The more situational awareness you're looking for around the vehicle, the more sensors required. Thus the higher the compute load, which generally requires more power," says Jim Shaw, Executive Vice President at Crystal Group, a leading designer of rugged computing hardware. "And you can imagine the thermal challenges that kind of hardware creates because it's cranking pretty hard."
Thermal Management: The Hidden Cost of Autonomy
For example, TuSimple is a San Diego-based autonomous trucking company that develops self-driving perception stacks exclusively for long-haul semi-trucks. To successfully operate at SAE Level 4 Autonomy, which is fully capable to drive autonomously without human intervention, it needed an onboard computer platform with at least two GPUs to meet the real-time data processing requirements. Mechanically, the system had to manage heat dissipated by processors and be able to withstand the inherent shock and vibration of the use case.
"The more situational awareness you're looking for around the #vehicle, the more #sensors required. Thus the higher the compute load, which generally requires more power." – Jim Shaw, @CrystalGroup via @insightdottech
To achieve its compute and thermal requirements, the company turned to Crystal Group and its AVC5904 AI & Autonomy Solution, a custom rugged server prototype built on COTS components and designed to thermal-test profiles (Figure 1). The AVC5904 features dual Intel® Xeon® Scalable processors flanked by three GPU accelerators and 384 GB of DDR4 memory in a 19" rackmount form factor that was built to withstand the shock, vibration, and heat of an autonomous trucking environment.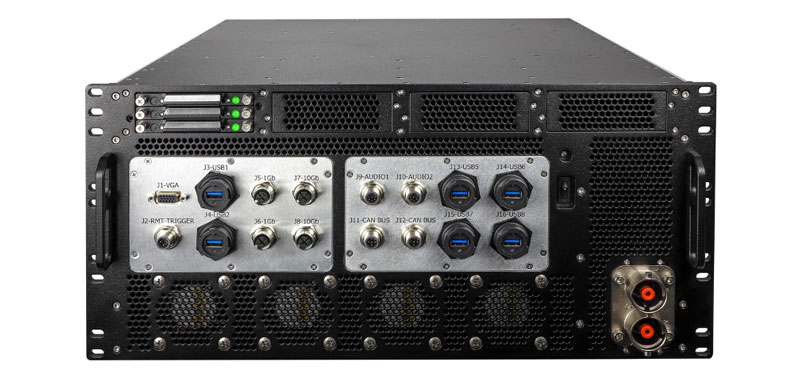 The AVC5904's Intel® Xeon™ SPs handle general system management, communications, and image pre- and post-processing, while GPU acceleration cards perform parallel processing of video, radar, Lidar point clouds, and other computationally intensive workloads. The system also supports eight or 12 removable SSD bays that offer more than 1 TB of onboard storage capacity for local data logging.
After developing four air-cooled AVC5904 prototypes, it was determined that more performance scalability would be required to future-proof systems. For instance, an advanced thermal management solution would be needed to enable autonomous trucking operations in extreme environments like the desert Southwest.
The commercial version of the AVC5904 added support for a fourth GPU card slot, as well as liquid cooling mechanisms to manage all the heat generated by multiple CPUs and GPUs in the same rugged chassis.
"When you go past 150 W on a CPU and 175 W on a GPU, you are clearly in dangerous territory," Shaw explains. "It's right when the system hits about 1500 W that we start to get really worried unless we're liquid cooled."
"What we've had to start doing is machining our own water blocks and come up with a pump system inside a computer that didn't leak and adequately fed enough flow rate into the system to reject that heat out into a radiator and fan system," he continues. "We've worked pretty hard at coming up with the science associated with designing the cooling blocks so that you have a very thin space in between the GPU die and where the water is impinging."
That work has paid off.
Autonomous Trucks That Keep Their Cool
Real-time data analysis on the next-generation AVC5904 allows autonomous driving systems like the TuSimple ADS to make up to 20 decisions per second when navigating roadways. And it delivers this performance day or night, rain, or shine. This means no supply chain interruptions due to human error or other unfavorably working conditions that could cause delays.
The smart trucking system was put to the test late last year, when a self-driving truck successfully completed its first driverless runs on public roadways. These included an 80-mile, 1-hour-and-20-minute trip between Phoenix and Tucson.
And thanks to the design expertise of Crystal Group, it kept its cool the entire way.

This article was edited by Christina Cardoza, Associate Editorial Director for insight.tech.
This article was originally published on October 27, 2022.