Fill form to unlock content
Error - something went wrong!
Your content is just a step away. Please submit below.
AI Neural Networks Boost Industrial Safety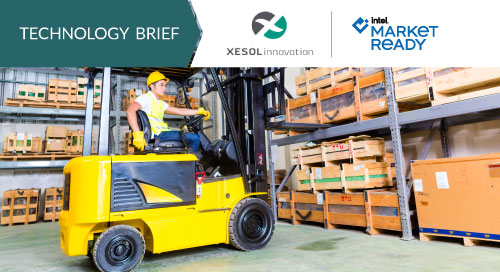 Workplace safety is an operational, financial, and moral imperative. But industrial accidents are distressingly common. And unfortunately, many plant managers shy away from safety technology due to concerns over productivity.
Thankfully, emerging technologies like AI neural networks and computer vision will enable industrial safety solutions that protect workers without negatively impacting production.
"It's a game changer, because management no longer has to choose between safety and profitability," says Jose Nogueira, Chief Executive Officer of Xesol Innovation, a company that specializes in application of AI neural networks to industrial safety. "In fact, safety solutions based on AI offer important IIoT benefits when they are adopted."
Protecting People, Machines, and Productivity
A good example is application of AI neural networks and computer vision to improve industrial safety systems for forklifts.
Forklifts are indispensable industrial vehicles—but they are also a major safety concern. Collisions with both people and stationary objects are commonplace, causing damage to equipment, injuries, and even deaths. In the US alone, forklifts were involved in more than 7,000 serious accidents in 2020.
Collision detection systems based on radio-frequency identification (RFID), radar, and standard cameras have proven inadequate to the task of delivering workplace safety. They also produce frequent false warnings that harm productivity.
"The main drawback of the older-style systems is the inaccuracy, and also the constant alarms," says Nogueira. "And many newer solutions still can't identify a person in anything other than an upright posture—for example, if they're lying down because they're injured, or if they're crouching while they work."
Using its experience in AI neural networks, Xesol developed Drivox, an intelligent collision warning system that tackles the problem of industrial safety in a very different way.
The solution uses front- and rear-facing computer vision cameras to acquire detailed imagery of the vehicle's environment. It scans for dangers in real time, and is trained to detect the human form in any position as well as environmental hazards. If a risk is detected, the driver receives an audio and visual alert on their display. But otherwise, they're free to proceed with their work—without being interrupted by false alarms caused by mere proximity to a person or another machine.
#AI-based safety systems also lend themselves to #IIoT applications organically—offering significant advantages to industrial end users, AI experts, and the #SystemsIntegrators (SIs) who serve them. @xesolinnovation via @insightdottech
Case Study: From Safety to IIoT
The obvious benefit of an accurate collision detection system is improved workplace safety. But as Nogueira's company discovered, AI-based safety systems also lend themselves to IIoT applications organically—offering significant advantages to industrial end users, AI experts, and the systems integrators (SIs) who serve them.
When implementing Drivox for a large manufacturer, Xesol was asked by their customer if they could add a number of additional features to the solution:
A digital safety checklist to determine the operational state of each vehicle, and the ability to automatically lock vehicles that fail the checklist.
A GDPR-compliant Biometric ID system to handle machine startup instead of old-style magnetic cards.
Insights into the performance and safety practices of each driver.
A unified reporting and data visualization dashboard to manage a fleet of vehicles distributed across multiple partner companies.
Xesol integrated these features into their technology roadmap, fulfilling each of the end user's requests. The result was a true win-win scenario: an extremely satisfied customer, and a reimagined solution for Xesol.
Takeaways for AI Specialists and SIs
In essence, Drivox has evolved from a safety device to a comprehensive IIoT service platform. The range of capabilities is extensive, says Nogueira: "What began as a next-generation collision detection system can now be used for fleet management, equipment inspection and reporting, to ensure that only authorized personnel operate vehicles, and for fleet maintenance planning."
For SIs and other AI specialists, the lesson in Xesol's growth is how a comprehensive solution can be developed by leveraging the resources of today's AI-powered product ecosystem. In this respect, the company's partnership with Intel was essential, says Nogueira:
"The neural network optimization tools in the Intel® OpenVINO™ Toolkit made Intel a natural fit for our company. But more importantly, Intel represents a huge technology ecosystem, with thousands of suppliers, assemblers, and market-ready solutions. That offers tremendous advantages in terms of speeding up product launch time."
The Future of Industrial Safety
The significance of solutions that offer both industrial safety and other IIoT benefits goes well beyond scalability. Such solutions are also inherently versatile, meaning that they find natural use cases outside of industrial settings as well.
Drivox, for example, has already had orders from the shipping industry for use on container ships, and also from civil engineering companies that want to bring safety and IIoT benefits to excavators and road rollers. And Nogueira says he sees even more diverse applications for the solution on the horizon: "I think airport and agricultural machinery are coming soon. We're also looking at entering the autonomous guided vehicle (AGV) and security sector."
Longer-term, AI-enabled IIoT platforms will help unify industrial safety, fleet management, logistics, and production functions in a single system.
"IIoT and AI are helping industry move toward a truly integrated factory environment management solution," says Nogueira. "If you'll allow me the expression, this technology is finally bringing the dream of 'smart factories' closer to reality."
Edited by Georganne Benesch, Associate Editorial Director for insight.tech.