Fill form to unlock content
Error - something went wrong!
Your content is just a step away. Please submit below.
AI Monitoring Boosts Robot Efficiencies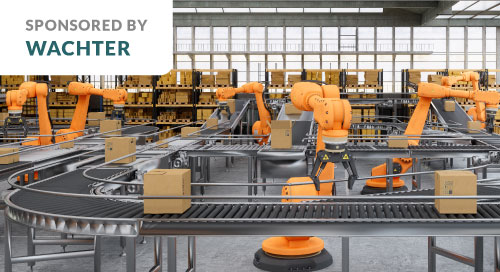 Today, more and more warehouses and fulfillment centers leverage preprogrammed robots to zip through the aisles and pick merchandise at warp speed with not a human in sight.
But who oversees their work?
It's becoming an increasingly important question as logistics managers—who face demanding customers and an acute labor shortage—invest deeply in factory automation. While fleets of robots can operate in synchrony to stock shelves faster and load trucks better than people who prefer higher-level work, safety is paramount in these situations. Often, these robots can be put into "cells" to work, sealed off from human contact. But that also means no one is around to hear a squeaky ball bearing or notice a bot veering off-track. When precision instruments become even less precise, the carefully orchestrated ballet of automated operations breaks down, reducing productivity and throughput.
As a result, retailers and manufacturers seek partnerships with companies that can help them deploy these factory automation solutions while mitigating risks through essential checkpoints and verifications. For instance, Wachter, Inc., a U.S. systems integrator, offers specialized consulting services and tailor-made edge solutions, actively working with numerous clients to address these challenges and adjust to their evolving needs. This involves leveraging AI and smart video cameras to oversee robotic operations and maintain seamless functionality. Through this approach, they can promptly notify technicians of potential issues, facilitating swift repairs and enhancing overall efficiency.
Deploying Supply Chain Automation
Part of what makes Wachter's partnerships successful is that setting up supply chain or factory automation with computer-vision robots is a collaborative effort. First, retailers figure out what they want the machines to do. Then, they work with a technology partner to train the robots to handle specific products.
Next, the machines are programmed to stack and shrink-wrap a mixed arrangement of goods to be loaded onto trucks at maximum density. A human-packed shipment requiring three truckloads to deliver may need only two if packed by robots.
"Robots see the entire manifest of a shipment and use AI to arrange goods like it's a Tetris game," says Matt Tyler, Director of Strategic Innovation and Business Development at Wachter, Inc.
Delivering goods with fewer truckloads cuts down on emissions and lowers costs. For example, facilities using robotics developed by warehouse automation provider Symbotic Inc. can save companies up to 33% on transportation. That enables them to service more distribution centers in the same amount of time. The cumulative efficiency gains add up to substantial savings. "It leads to a reduction in building more distribution centers, which cost $250 million to $400 million," Tyler explains.
A similar dynamic plays out within the distribution center. Robots operate in teams to distribute new goods onto shelves and pick and pack others for shipment, traveling at speeds of up to 25 miles per hour (Video 1). The better they synchronize operations, the greater the efficiency.
But the reverse is also true. A robot wearing down impedes overall operational performance. If it isn't serviced in time, it could grind to a halt, collide with other machines, or damage shelves and merchandise. With multimillion-dollar facilities on the line and customers demanding just-in-time deliveries, these are disturbing scenarios for companies to contemplate.
Systems Integrators Ensure Reliability
That's where the third leg of working with computer-vision automation comes in: monitoring the robots.
A large North American retailer's experience illustrates how monitoring can help. Working with Symbotic, the retailer deployed advanced robotics throughout its nationwide distribution centers. Though they didn't experience problems with the robots, managers wanted a monitoring platform to avoid issues in the future, as the machines accumulate service hours.
"It was a proactive engagement to ensure reliability and uptime," Tyler says.
Symbotic executives contacted Wachter, which was using video cameras for security monitoring at the centers. As a systems integrator, Wachter thrives on repurposing technology to suit custom client needs. Together, the companies saw an opportunity to transform the existing video management solutions into anomaly detection applications.
"We selected video cameras and audio systems to observe robots at friction points and choke points, where we can capture the most data," Tyler says.
Wachter assembled servers with Intel® processors and edge analytics capability, allowing the cameras to "see" minuscule alignment flaws and "hear" mechanical problems such as the squeak of faulty wheel bearings in real time. When the system detects an anomaly that could cause failure, it alerts a technician to repair the robot before it breaks down on the floor and creates an efficiency-sucking traffic jam.
Edge Data Analytics for Factory Automation
Video monitoring with edge analytics also helps manufacturers, which, like retailers, struggle to attract and retain workers. Wachter deployed video cameras at a steel plant using 2,000-degree ovens to melt iron ore. The factory was racking up $2 million a year in EPA fines because its ovens occasionally experienced leaks.
The manufacturer had initially planned to hire 12 full-time employees to manually monitor Wachter's video screens all day and report any smoke leaking out of the ovens—but given that steam normally escapes as part of heating, they found this could be very difficult and expensive to maintain.
"It probably would have been a $500,000 per year investment—if they could find anyone to do the work," Tyler says.
Instead, Wachter added edge analytics to the cameras, which now detect smoke leaks in real time, automatically generate EPA reports, and schedule maintenance if needed.
"The EPA was satisfied with the self-generated reports and corrective actions. They eased all fines in the first year," Tyler says.
#VideoMonitoring with edge analytics also helps #manufacturers, which, like #retailers, struggle to attract and retain workers. @WachterInc via @insightdottech
Harnessing the Power of AI
As AI evolves, robotics monitoring will incorporate more efficiency-generating capabilities. For example, in Phase 2 of the retail distribution center monitoring system Wachter and Symbotic created, video cameras will inform robots of problems and instruct them on how to fix themselves or travel to the shop, resolving issues faster and keeping humans away from the potentially dangerous cells. Within a couple of years, the cameras will likely incorporate radar and lidar, monitoring robot activity in three dimensions instead of two.
Advantages like these are quickly turning AI monitoring from a nice-to-have to a must-have solution.
"Not a day goes by where I don't have a conversation with a customer about AI and analytics," Tyler says. "With the labor shortage, manufacturing and logistics operations have to adapt in order to survive."

This article was edited by Christina Cardoza, Editorial Director for insight.tech.