Fill form to unlock content
Error - something went wrong!
Your content is just a step away. Please submit below.
AI in Manufacturing: The Key to Data-Driven Cultures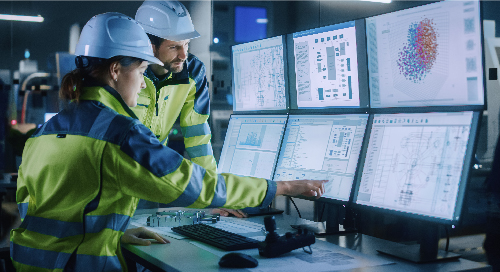 As Industry 4.0 transformations take off, manufacturers need to create a data-driven culture. With more devices connected and outfitted with sensors, there is an influx of valuable data waiting to be uncovered. But to properly collect, store, and analyze data to enable business decisions, artificial intelligence (AI) and machine learning (ML) models are key.
Unfortunately, developing and integrating models into production and overall operations can be a complicated task. For starters, not everyone has the knowledge and skill set to apply advanced models to their workflow—resulting in users having to wait for data science teams to analyze and interpret data for them.
And that's when and if companies have data scientists available. Many small and midsize manufacturers don't. Instead, they rely on AI technology providers to deliver the new features and functions they need—which is also time-consuming and can take up to a year.
If more workers had access to the skills and tools, manufacturers could start rapidly adding new products and features or even lower energy consumption.
At least that's the idea behind Taiwan-based company Profet AI, which is working to democratize AI in manufacturing with its Auto ML solution designed to make training ML models as easy as creating an Excel spreadsheet.
"We provide a three-hour training session that teaches users basic features they can start applying to everyday tasks," says Marc Wu, Business Development Director of Profet AI, a virtual data scientist company.
Leveraging Digital Data
Profet AI's Auto ML is a no-code AI platform designed for rapid model development. The company integrates with the Intel® Distribution of OpenVINO™ Toolkit to gain speed for its computations. This allows domain users at small and midsize companies to leverage it without the help of a data science team. For large companies with data scientists, the platform can act as another member of the team.
"When the domain user wants to solve a problem, they still collect the data and upload it to our platform. Our platform will automatically calculate the data and do some data cleaning and modeling, and then compare the models and come up with the best model," Wu says.
The process is similar to working with data scientists. "But the difference is the domain user can do it by themselves," he says.
"We believe that #AI should be an application #technology, not a very high-end technology only owned by a few people, so we designed our product to target domain users." – Marc Wu, ProfetAI via @insightdottech
A big advantage of Profet AI's platform is speed, according to Wu. "In the traditional way, if you have to pass a project to the data team, it usually takes about two to three months to get the result back. Via our platform, it usually takes about one week," he explains.
If a manufacturer wants to launch a new product, the R&D team can feed data to the model to determine the best production parameters. In a traditional approach, the company would likely do a trial run. With Auto ML, the company can run a simulation before an actual test run, saving considerable time and expense, according to Wu.
The company has already helped factories of all kinds build models leveraging their manufacturing data as well as operational data on areas such as power consumption.
For instance, a manufacturer of glass objects used Auto ML to get into the medical device market. A printed circuit boards (PCB) maker was able to minimize the amount of gold it uses in plating. And another company cut its monthly energy bill by $30,000 after increasing production during non-peak hours.
Entering New Markets
Being able to move faster is a huge benefit for manufacturers using Auto ML. In the glass manufacturer's case, after the company received a proposal to make a glass part for medical devices, it was able to test the parameters and prepare a response rapidly with the solution.
"Because their response was so fast, they successfully got the order from this new medical-devices customer," Wu says. And then the company was in the medical-device business.
This kind of outcome separates Profet AI from other AI vendors, who target their products to data scientists, says Wu. "We believe that AI should be an application technology, not a very high-end technology only owned by a few people, so we designed our product to target domain users," he says.
Having developed more than 120 AI applications across 10 different manufacturing factories, Profet AI also provides "Ready to Go Applications" that can serve as an AI template for customers, according to Wu.
It's a big help to customers that don't know where to start when they implement AI, Wu explains. The applications are downloadable, and Profet AI provides step-by-step tutorials and sample datasets.
"When they see the dataset, they immediately understand how to do that with our platform and how to collect the data by themselves," Wu says.
Taking AI in Manufacturing Even Further
To improve its platform, Profet AI is constantly listening to customer feedback. One customer asked for mobile access to a model it created so on-site users could use the model.
"We actually created this feature and put it into our product," says Wu. "Right now, the model can be trained by, for example, a process engineer, and actually can be run by the local operator using their mobile devices."
Wu says the integration of Intel's OpenVINO into Auto ML helped make the product even better. "We believe this can bring a better usage experience to our customer," Wu says. In the latest generation of Auto ML, the inference speed increases by as much as 100%, he says.
Ultimately, the goal is to make AI ubiquitous in manufacturing through easy accessibility for regular users. If the company succeeds in this goal, in due time training data models will become as common as creating an Excel spreadsheet, Wu hopes.
This article was edited by Christina Cardoza, Associate Editorial Director for insight.tech.