Fill form to unlock content
Error - something went wrong!
Get the latest updates on IoT for industrial.
You are following this topic.
AI and ML Power Sustainable, Smart Factories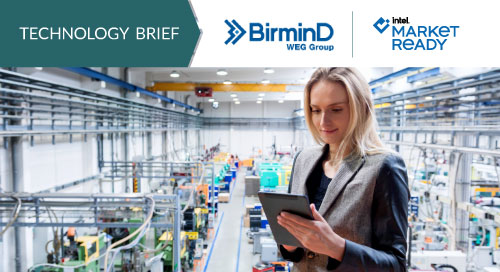 What if your company could harness its data to improve the performance of PID controllers, reduce variability in your industrial equipment by 8%, and emit 700 fewer tons of pollutants into the atmosphere? Some manufacturing companies are already doing it with the help of industrial IoT technologies.
Data-driven automation is long overdue in manufacturing. Legacy processes and technologies that minimize operational efficiency and visibility are still common in the industry.
But artificial intelligence (AI) and machine learning (ML) can drive industrial optimization and pave the way for true innovation: the kind that improves equipment performance, facilitates predictive maintenance, and cuts costs—all while reducing environmental impact. BirminD, an industrial AI company, is already producing these outcomes for customers, harnessing AI and industrial analytics to propel transformation in the industry.
Waste and Inefficiencies on the Factory Floor
Manufacturers have traditionally relied on PID control loops to manage the performance of industrial equipment on shop floors. PID controllers are instruments that regulate process variables such as the speed, temperature, pH, flow, and pressure of industrial equipment. These variables must be adjusted, or tuned, for optimal performance inside a PID control loop, but doing so properly can be tricky.
"Every process has an optimal point of operation, and if your PID controller isn't tuned correctly, it will cause oscillations," says Diego Mariano, CEO of BirminD.
Mariano says the main challenge manufacturers face with PID controllers is that they aren't tuned at the proper frequency, or at the right output. In addition, many PID controllers aren't integrated with control systems, and don't collect data for further analysis.
An incorrectly tuned PID controller can lead to greater process variability; inefficient use of electricity, gas, and chemicals—and an increased likelihood of equipment failure.
Bringing the Power of Industrial AI and ML
To avoid these poor outcomes and potential waste, companies need to employ continuous PID tuning. BirminD AI-driven algorithms and solutions make it possible.
The company's BWise BCloud AutoML solution uses data from various industrial equipment on the factory floor to detect anomalies in industrial processes and provide analytics that allow companies to harness the power of ML in predictive maintenance.
"We help manufacturers improve PID control loops by maintaining continuous learning. We're always monitoring our customers' data and offering them the best methods suited for any of their process models," Mariano says.
The BirminD platform allows customers to store their data on the edge or in the cloud. It combines Intel® Edge-to-Cloud solutions with AI solutions to optimize tuning for factories' control loops.
Raphael Bartholo Costa, chief technology officer at BirminD, says their solutions work in a noninvasive way to improve PID tuning. Factory data is stored offline on Intel-powered edge devices, since some companies prefer not to run their data in a cloud environment. With this approach, customers receive insights via a web application or on-premises dashboard and then deploy this information in various ways to improve their industrial processes.
"We don't alter the normal function of the process. We learn with the data," Bartholo Costa says. "And we can do this at scale for all control loops at the same time within a factory."
The BWise solution also provides an API that systems integrators and customers can use to incorporate the company's ML algorithms into their own platform or software, which allows them to securely send data to BirminD's cloud and receive insights through their own interface.
This kind of scalable, flexible offering has already driven measurable results for customers in the automotive, wastewater treatment, cement plant, and paper industries, among others.
To avoid poor outcomes and potential waste, companies need to employ continuous #PID tuning. @birmindbrasil #AI-driven algorithms and solutions make it possible. via @insightdottech
Driving Sustainability, Transforming the Industry
BirminD solutions have driven six-figure cost savings and improved operational efficiency for its customers. But its products also could push forward sustainability within the manufacturing industry.
For example, Iochpe-Maxion, a leading producer of automotive structural components, reduced chemical usage inside one of its wastewater treatment stations. Historically, the company produced liquid waste as part of the treatment process—but lacked connectivity and didn't collect data from the control loop responsible for its chemical dosage controls.
Iochpe-Maxion needed to stabilize the effluents inside its factory and optimize PID control loops to better control the pH of the wastewater it produced. BirminD helped the company collect data from its control system, run an analysis, and better tune its processes, which led to a 30% reduction in limewater consumption in its wastewater treatment plant.
As a result of this effort, Mercedes-Benz awarded Iochpe-Maxion its Logistics Excellence award in 2019.
BirminD also worked with a pre cement furnace company to optimize temperature control, reducing the company's coal usage by 7%—a figure that equates to 500,000 fewer parts per million of CO2 pollutants in the atmosphere.
"We have reduced the amount of pollutants inside the factory just by installing the software inside the machine," Mariano says. "This type of one-week implementation can be helpful for the whole world."
Another example is a paper company that now can better understand which of its 100 process variables cause pollution in its factory. ML algorithms can organize and draw insights from the company's factory data, ranking the variables from lowest to highest impact based on their emissions. Mariano says the paper company used this information to reorient its maintenance operations to reduce emissions in its factory.
Ushering in the Factory of the Future
As manufacturers integrate more industrial IoT technologies into their processes, they benefit from improved performance, lower costs, and more sustainable operations. The bottom line? Manufacturers become empowered to drive better business outcomes, reduce their environmental impact, and bring lasting, transformative change to the industry.
This article was edited by Georganne Benesch, Associate Content Director for insight.tech.