Accelerate Transition to Industrial IoT with Flexible Fog Gateways
OEMs can reduce downtime, cut costs, and improve operational efficiencies using industrial IoT (IIoT) concepts, but transitioning to the IIoT can require considerable upfront investment. Fortunately, new architectural approaches such as fog computing are reducing those costs, while improving performance.
The main problem is that legacy industrial equipment is not outfitted with the proper technology to support an overnight migration to IIoT. There are connectivity, security, and latency concerns to consider for systems that communicate with the cloud over enterprise networks, meaning that expensive retrofits, additional infrastructure, and significant design work are often required for organizations looking to make the IIoT transition. During this period, critical systems also must be taken offline.
How Fog Computing Enables Industrial IoT Migration
An alternative to this extensive reengineering is use of fog computing, which allows IIoT edge sensor networks to be created in an efficient, ad hoc, scalable fashion. Rather than placing the majority of intelligence in a centralized cloud, fog computing architectures distribute resources closer to the network edge (Figure 1).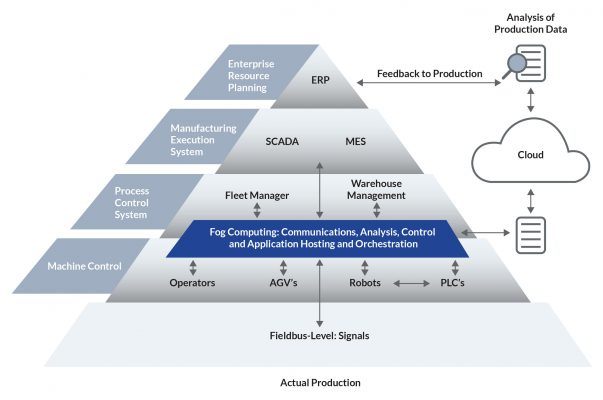 Figure 1. Fog computing places intelligence closer to industrial sensors to reduce bandwidth, latency, and security concerns associated with cloud communications. (Source: Nebbiolo Technologies)
By placing more intelligence closer to machines, fog computing architectures minimize bandwidth, storage, latency, and security concerns associated with cloud communications. They also allow use of less expensive and less complicated infrastructure hardware. For industrial organizations in particular, many time-sensitive data analysis tasks can be performed in the fog layer without having to be transported to back-end enterprise servers, enabling quick decision-making in real-time control applications and limiting data transport costs.
In all, fog computing helps reduce deployment barriers for industrial operators who want to join the IIoT. But making the jump into fog computing requires robust, reliable, and flexible IoT gateway platforms.
Flexible Fog Gateways Merge IT and OT
Because there is less reliance on the cloud in fog architectures, fog gateways must provide much of the functionality typically offered by the cloud. These gateways serve as the connection point between industrial sensor and control platforms, conduct a significant amount of local data storage and analysis, and also communicate with other external systems when needed. They must therefore include compute resources that resemble those found in enterprise platforms while supporting the flexible connectivity and low-power operation demanded by industrial environments.
The IoT-380 Gateway from WIN Enterprises is an example of an entry-level IoT fog gateway that is low-cost, easy to use, and quick to deploy (Figure 2).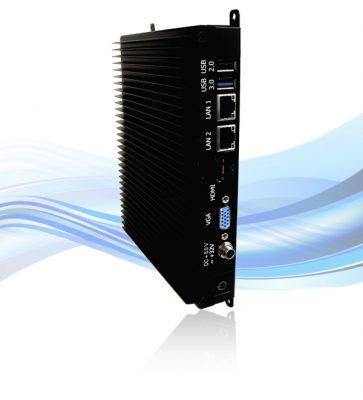 Figure 2. The IoT-380 Gateway from WIN Enterprises is a flexible fog gateway for industrial IoT deployments. (Source: WIN Enterprises)
Based on the Intel Atom® processor E3826 and equipped with 4 GB of 1067-MHz DDR3L memory, the IoT-380 is designed to stream raw data from sensors and either process it locally or send it on to the cloud for further analysis.
The E3826 processor provides ample performance for local data analytics and packet streaming, while incorporating a range of features that make it well suited for IIoT and fog environments. For example, the processor consumes only 7 W of power, while also supporting Intel SpeedStep® Technology. Intel SpeedStep dynamically manipulates the clock frequency of the processor based on workload, helping save power while providing a performance boost when needed. The processors also provide virtualization capabilities through integrated Intel® Virtualization Technology (Intel® VT) so that critical and non-critical workloads can be separated for security purposes.
In addition, the IoT-380 is outfitted with two Intel® i210AT Ethernet controllers, which facilitate time-sensitive Gigabit Ethernet (GbE) networking based on the IEEE 802.1Qav Audio-Video Bridging (AVB) standard. The controllers also support Energy Efficient Ethernet (EEE) technology that, similar to Intel SpeedStep, enables lower power consumption during periods of low data activity.
Beyond Ethernet, the IoT-380 includes a host of wired and wireless communications options that make it applicable to a range of IIoT applications. These include 3G, LTE, Wi-Fi, and USB 2.0/3.0. The gateway has an operating temperature range of -10°C to +60°C and VESA mounting capability, allowing it to operate and be mounted in harsh environments. These include manufacturing facilities, oil rigs, remote power stations, and transportation systems, where tolerance for high levels of shock and vibration are critical.
Keep It Simple (and Safe and Low-Cost)
With an ever-increasing number of devices connected to control networks in industrial settings, designers are seeking an effective, safe, low-cost, and simple migration path to the IIoT. The IIoT has far more stringent requirements than the consumer IoT, including the need for no-compromise control and stronger security. But to reach the end goal, it's important to understand connectivity features and environmental requirements of current systems, and to analyze the near-term goals in terms of functionality and data exchange.
IoT gateways like the IoT-380 are key to efficiently deploying IIoT fog gateways. It serves as a bridge between edge devices and the cloud. And, by leveraging Intel® architecture, it ensures backward compatibility with existing solutions as well as a forward migration path to the IIoT/fog networks of the future.