Fill form to unlock content
Error - something went wrong!
Your content is just a step away. Please submit below.
The Future of AI in Healthcare Is Already Here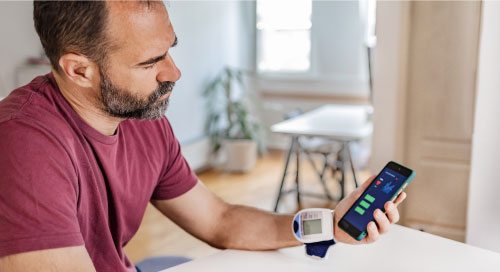 Over the past few years, the healthcare industry has seen major changes. Telehealth appointments have reached mainstream adoption, and more and more patients can get the care they need from the comfort of their home. Remote patient monitoring also has advanced, giving doctors deep insight into patient data.
And this is just the beginning of the new and innovative services and solutions both patients and healthcare providers can expect with remote care.
Healthcare Beyond the Office and Screen
Before the pandemic, telehealth accounted for only 5% of remote encounters. Today, that number is up to about 80%, according to Dr. Richard Bakalar, Chief Strategy Officer for ViTel Net, provider of scalable virtual care solutions.
What those numbers told Bakalar was that many providers didn't have the technology, training, or support infrastructure in place to successfully deploy telehealth solutions. So ViTel Net decided to create a solution that would not only allow hospitals and clinics to adopt telehealth but integrate it into their entire system. Instead of piecemealing services together, ViTel Net has created a platform that connects disparate systems and streamlines databases and workflows.
Using its cloud-based vCareCommand model platform, along with the high-compute Intel® processor-based solution stack, the company can integrate with existing information systems and collect all necessary patient data in one place for continuity of care.
As #technology continues to advance, and providers and patients become more comfortable using it, we are going to see technology use cases expand. @intel via @insightdottech
AI and CV Improve Medical Diagnosis
Being able to have all the proper data in the right place enables providers to accurately treat their patients. And with advances in artificial intelligence and computer vision, they can also get more support when it comes to diagnosis.
As you can imagine, having access to all types of patient data takes time and effort for doctors to sift through and detect anomalies. Leveraging AI and computer vision, systems can automatically point out any issues for faster diagnostics.
And going even further, companies such as Aireen, a provider of AI-based screening medical devices, use solutions like the Intel® Distribution of OpenVINO™ Toolkit to provide early diagnosis and treatment options.
For example, Aireen is currently helping physicians and optometrists screen patient retina images to enhance medical diagnostics. Its solution is trained on more than 1.5 million fundus camera images to provide 99 percent sensitivity when analyzing a retina image.
Another example is from the network hardware and edge server producer AEWIN Technologies Co., Ltd., which leverages OpenVINO to analyze patient Low-Dose Computed Tomography images and improve screening efficiency. This can help detect suspected illnesses such as cancer much earlier—allowing patients to get diagnosed and treated as soon as possible.
These advances are not meant to replace medical expertise by any means. Instead, they are designed to complement it and free up practitioners to develop better treatment plans.
AI Solves Medical Staffing Issues
Part of the reason solutions from Aireen and other companies are becoming more desirable is because of the global medical worker shortage. Today's limited healthcare staff is overburdened, and patients are unhappy when they show up for a doctor's appointment only to be met with a crowded office and long wait.
Technology can help ease the burden on medical workers by providing AI-powered self-service kiosks to reduce wait times for patients and take pressure off staff.
For instance, Imedtac, a provider of IoMT technology solutions, has developed Smart Vitals Sign Station, an alternative to measuring vital signs. Traditionally, before a patient would see a doctor, a nurse would come take their vitals. But with Imedtac, self-service kiosks can measure a patient's height, weight, temperature, heart rate, and blood pressure—not only allowing staff to focus on more important matters, but also preventing manual errors from happening. Intel processors are key to the solution's ability to provide reliable and accurate services.
The Future of Healthcare
As technology continues to advance, and providers and patients become more comfortable using it, we are going to see technology use cases expand.
congatec AG, a leading supplier of embedded computer modules, already brings AI into new areas like the operating room by enabling robots to perform automated tasks such as suturing wounds.
From improving operations, diagnostics, and treatment plans to providing patients in rural areas with better care, the opportunities for the future of healthcare are practically endless.
Learn how you can be part of the change by checking out the Intel Edge AI Certification Program or taking the 30-Day Dev Challenge.
This article was edited by Georganne Benesch, Associate Editorial Director for insight.tech.