Fill form to unlock content
Error - something went wrong!
Your content is just a step away. Please submit below.
Technology Distributors: Embedded to Full-Stack Solutions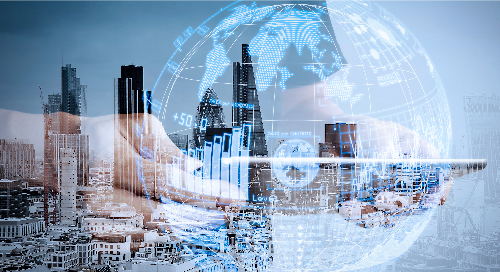 With the accelerating pace of technology, alongside ongoing supply chain issues, companies face roadblocks in achieving their transformation goals. These trends apply to OEMs that rely on silicon vendors to deliver innovative products, and in turn to their customers—the builders that design these innovations into their hardware. And the value chain continues, resulting in full-stack solutions deployed by end users. This never-ending technology lifecycle requires continual adaptation and adoption for every business to remain competitive.
Technology distributors have always been at the heart of this paradigm, moving millions of components from global suppliers to developers across every industry.
But with advanced hardware components becoming more and more commoditized, today's distributors must move up the solution hierarchy—investing more broadly to help their customers design products the marketplace wants and needs. The complexity of building transformative solutions creates both new challenges and new opportunities. And so, many distributors have moved into providing design, build, supply, and services to their customers.
They are the intermediaries between suppliers and customers—facilitating distribution of embedded-technology components, such as microprocessors, motherboards, and sensors. Today, the work distributors do go beyond broad line component distribution—working very closely with system manufacturers and solution providers, especially in the IoT marketplace.
"The distributor of today looks a lot different from the distributor of the past," says Dave Guzzi, General Manager of Global Channel Sales at Intel. "Top embedded global distributors have more resources available than in the past and are investing more broadly."
#Distributors are becoming true embedded-market specialists, consulting with #OEMs, #ODMs, and solution providers with the objective of creating future demand. @Inteliot via @insightdottech
From Technology Distributors to Solution Aggregators
Distributors are becoming true embedded-market specialists, consulting with OEMs, ODMs, and solution providers with the objective of creating future demand. For example, distributors are investing in early design cycles, helping systems integrators (SIs) design products and solutions end customers need. They offer a broader range of services to customers and vendors, including stocking products around the world, providing credit lines, pricing, and availability.
Embedded distributors provide a growing number of substantial benefits to both their customers and vendors by:
Providing customers with insight to roadmaps and product lifecycles, which helps maintain a healthy supply chain on all sides—a win-win in managing inventory as it flows from vendor to builder.
Enabling developers to plan next-gen design cycles and begin new-product development based on the latest silicon releases.
Supporting the design phase of a product through basic solution creation skills, staging materials based on needs, and providing integration services with other platforms.
Creating out-of-the-box kits for makers, with multiple parts and components, including a motherboard, hard drive, CPU, and other elements.
With design and build services, training, logistics, and even full-stack solutions, distributors apply their extensive market and technical expertise—helping customers streamline product development and get to market faster.
The Embedded Distributor of Tomorrow
Solution aggregators around the world, such as Avnet, Arrow Electronics, WPG, and Digital China, are examples of how embedded and IoT Solution distributors are evolving—engaging with an ecosystem of partners to deliver best-in-class IoT solutions.
Take, for instance, Avnet. Not only is it an electronic components distributor but it also engages with systems integrators to provide innovative technology solutions. Avnet invests time and expertise to identify best-in-class partners to deliver transformative solutions that businesses need. Together with Intel, the company orchestrates end-to-end solutions comprising hardware, software, and cloud elements that SIs can take to their customers with confidence.
Embedded distributors and solution aggregators are also an essential part of Intel's broad partner ecosystem and play a critical role in how the company serves its customers and drives business growth. And their role is expected only to continue to evolve. They play a bigger role in delivering products and services to customers—from OEMs to solution developers to SIs—particularly in the rapidly growing IoT technology space.
"Embedded distributors are becoming scale experts," says Guzzi. "We value and rely on our distribution network to get our products to market and reach more partners."
An evolving partnership creates significant opportunities for the Intel authorized distribution channel. Intel can further its already strong business relationships with key accounts. And not only does it maintain a strong embedded-product business, but Intel can also deliver more profitable solutions and services, achieving market growth and contributing to the bottom line.
"We need extreme partnership—from component distributors to solution aggregators—to reach the hundreds of thousands of businesses that are creating technologies that will improve the lives of every person on the planet," says Guzzi.

Edited by Christina Cardoza, Associate Editorial Director for insight.tech.