Fill form to unlock content
Error - something went wrong!
Your content is just a step away. Please submit below.
Cloud Desktop Solutions Make Smart Hospitals More Efficient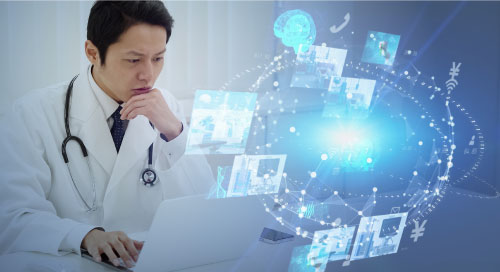 The digital transformation of healthcare has given us the "smart hospital." These next-generation facilities leverage AI, IoT, digitalized information systems, and cloud computing to unify hospital data, streamline medical workflows, and improve patient care.
Smart hospitals help address medical sector pain points like staff shortages, budget cutbacks, and aging populations in need of increased care. But as hospitals embrace digital tools and infrastructure, they're encountering new challenges. One clear example is the operation and management of PC workstations used by hospital staff.
"Entire hospitals are now going digital, from inpatient and outpatient departments to back-office groups and training divisions," says Han Xingkun, Senior Product Manager of H3C Cloud and Intelligence Product Line at New H3C Technology Company (H3C), a digital infrastructure provider that offers a cloud desktop service for hospitals. "But these user groups all have diverse needs. Technical staff must customize extensively—and manage and maintain different terminal environments and applications separately. It places an enormous strain on hospital IT departments."
In addition to management and maintenance challenges, PC terminals have other limitations. They tend to be expensive and resource-intensive. They're also difficult to secure, making them a real worry in an age of cyberattacks and ransomware.
The good news for healthcare is that there's an alternative approach to the traditional PC terminal that addresses these issues: the cloud desktop. A cloud desktop—also called a hosted desktop, virtual desktop, or desktop as a service—is a system where a user's OS, settings, and applications are hosted and managed in the cloud instead of on a particular PC. Users access their personalized desktop environment from any device over a network connection.
Virtual desktops are reliable and secure. They're also more cost-effective than standard PCs, because they can be accessed using lightweight, energy-efficient terminal hardware. Best of all, cloud desktop platforms now support multiple configuration options, making it easier for IT groups to manage desktop environments for varied user groups.
Making Smart Hospitals Smarter
Modern cloud desktop solutions enable deployment and management of terminal environments through a single, cloud-based platform—and allow for the integrated management of multiple virtual desktop architectures. In a hospital setting, this is vital, because it allows IT teams to offer different departments and user groups exactly what they need:
Inpatient departments are 24/7 operations with teams of doctors and nurses caring for vulnerable patients. Cloud desktop services offer highly stable systems for continuous operation. They can be easily shared by medical staff working in shifts and repaired quickly by remote IT staff if a problem arises.
Outpatient departments serve a high volume of patients every day and combine check-in, payment, and pharmacy functions. Virtual desktops offer the high reliability and strong security needed in this setting. They also support multiple types of peripheral devices at patient service windows, such as all-in-one card readers, QR code scanners, high-definition cameras, receipt printers, and point-of-sale devices.
Back-office staff operate in a more traditional office environment, with the same user at the same terminal from day to day. In this scenario, cloud-hosted desktops can be configured to support a more account-based user experience, enabling greater personalization, more complex applications, and remote work options.
Training facilities in hospitals are essentially classrooms, with large numbers of desktop terminals and different groups of students and instructors sharing resources throughout the day. The benefits of cloud desktops here are standardized environments, fast recovery in case of an outage, and easy central management to help IT departments deliver reliable updates, upgrades, and security patches.
This degree of flexibility and performance is not easy to achieve, but H3C's technology partnership with Intel has helped make it possible.
"Our solution is based on Intel® Ultra Cloud Client, which delivers an excellent balance in terms of performance, stability, compatibility, manageability, and personalized application support," says Xingkun. "Intel's platform also provides powerful management tools, including peripheral security management and control, batch software updates, software security features, permissions management, and push messaging to user desktops."
Modern #cloud desktop solutions enable deployment and management of terminal environments through a single, #cloud-based platform—and allow for the integrated management of multiple #virtual desktop architectures. @H3CGlobal via @insightdottech
From the perspective of the end user, hosted desktops offer the best of both worlds. The experience is similar to the PC terminal they are already familiar with. But behind the scenes, the simplified IT management and increased flexibility provide a customized and highly reliable desktop environment.
Benefits for IT Teams and Hospital Managers
While frontline hospital staff and back-office employees benefit significantly from cloud desktops, perhaps the biggest beneficiaries are IT employees and hospital administrators.
For IT teams, the centralized management capabilities of virtual desktop platforms simplify routine maintenance tasks, OS upgrades, and personalized software updates for end users. In addition, the stability and security of hosted desktops lower the risk of crashes and security incidents, which further reduces the burden on hospital IT.
Hospital administrators see the benefits of cloud desktops at the macro level. Their staff have the tools needed to do their jobs, and IT groups are free to pursue higher-value tasks. The terminals themselves are more reliable and energy efficient. And thanks to built-in security features, there is less risk of a cybersecurity incident. For many healthcare business managers, cloud desktops will be a natural choice.
H3C's implementation at a large medical center near Shanghai is a case in point. "Our cloud desktop solution was widely deployed at the Kushan Eastern Medical Center," says Xingkun. "Hospital leadership felt they'd effectively solved the problem of their doctors' and nurses' workstations and daily office work in the hospital—and that a single member of the IT team could now manage thousands of desktops."
The Future of Cloud Desktop Services
As the digital transformation of healthcare accelerates, more hospitals are likely to turn to cloud desktops to solve operational challenges and lower the total cost of ownership for their hospital workstations.
In addition, virtual desktops will find numerous use cases outside of hospital settings. H3C, for example, offers versions of its cloud desktop platform for education, telecommuting, and R&D settings. The promise is broad, and the future is bright, says Xingkun—especially in the healthcare sector.
"Medical systems face some serious challenges, but the current wave of digital transformation offers hope," says Xingkun ."Smart hospitals, powered by innovative technologies like cloud desktop services, will help make patient care more efficient and keep our citizens and societies healthier."

This article was edited by Teresa Meek, Editorial Contributor for insight.tech.