AI + IoT Deliver on Hygiene Control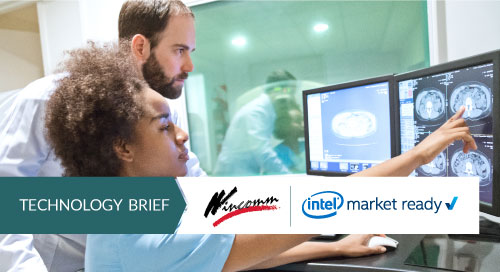 Artificial intelligence and the Internet of Things have independently proven their worth by delivering new options and business models to many industry verticals. This exceptional value is now being enhanced by the promise of AI and IoT fusion.
For example, common activities in healthcare have the potential for significant transformation by combining IoT and AI technologies, referred to as the artificial intelligence of things, or AIoT. Pushing AI all the way to the IoT edge is enabling real-time decision-making, increasing patient and staff safety, and improving system-wide communications.
And the pandemic has simply accelerated this need for intelligence at the edge—in the hospital and beyond. Applications such as thermal detection, object recognition, and hygiene control are more important than ever, as are the high-performance and versatile computing platforms that make them possible.
Enter the medical-grade panel PC. These compact computers meet the space limitations and hygienic safety standards required at pharmaceutical, food process, clean room, and similar environments.
Panel PCs: A Platform for Health Tech
The Smart Hygiene Control Solution is one example of a panel PC system that's making these applications possible. Developed by industrial and medical grade computer manufacturer Wincomm Corporation, the AIoT solution is representative of the organization's forward-thinking heritage.
Wincomm medical-grade panel PCs are packaged in IP-65-rated, microbial-resistant housing, with sealed front bezels and fanless architecture. These features minimize the likelihood of secondary infections that may stem from the platforms, yielding a 99 percent reduction in the level of germs on the devices. Other essential features include:
Full flat P-CAP touch screen with easy-to-clean hot-key design
Built-in battery to prevent power interruptions
Electric leakage protection for external ports
Add-on video capture card and MXM graphic support for 3D medical Imaging
DICOM Part 14 compliance for communication and management of imaging information and related data
Wincomm medical-grade panel PCs are also designed to block noise, reduce interference, and improve the quality of the signal transmission—essential for hospitals with increasing electrical and RF emissions.
The system delivers the connectivity, storage, and compute that are foundational to healthcare applications. Installed at nursing stations, on mobile carts, in operating rooms, and labs, panel PCs are perfect for applications ranging from EMRs to medical imaging (Figure 1).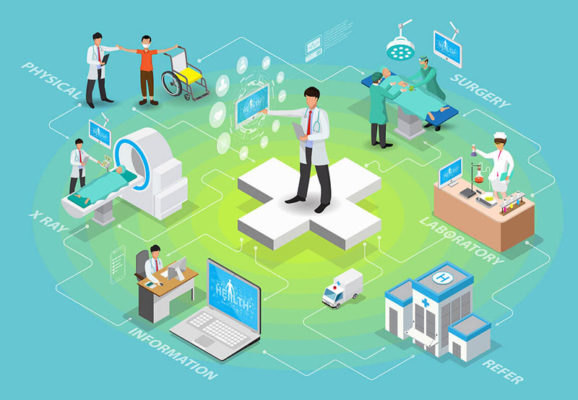 Medical-grade panel PCs meet the space limitations and hygienic safety standards required at pharmaceutical, food process, clean room, and similar environments.
Medical IoT Software Is the Secret Sauce
And it goes well beyond hardware design. Software solutions include an embedded OS image and device application program for reliable and secure usage.
The system works hand in hand with the company's Wincomm Remote Device Management (WRDM) client-to-server medical IoT software. This clinical-grade IT/OT platform enables orchestration of end-to-end data collection, analysis, storage, and management of dynamic, real-time IoMT (Internet of Medical Things) in a fashion compliant with industry regulations.
The combination of Wincomm panel PCs and WRDM software can be used for AI training in on-premises hospital servers when local edge platforms cannot support neural networks at the point of care. For instance, the hardware and software combination can efficiently perform deep-learning inferencing to autonomously classify, recognize, and process novel inputs. New inputs enable the updated model to make predictions against previously unseen data.
"This scenario could be used to support AI on edge devices, which would feed inferencing results back into hospital servers that actually train the original AI models," says HY Chiou, CEO of Wincomm. "The result is a continuous feedback loop that improves the accuracy of neural networks over time in applications like medical imaging."
Wincomm platforms rely on Intel® processors, the Intel® OpenVINO™ toolkit, and computer vision technologies pre-integrated into their Market Ready Platforms.
"We found out that OpenVINO was more flexible and provided more options, especially for industry vertical applications," says Chiou. "Additionally, it doesn't require excessive power when it's executing robust AI computing calculations."
Wincomm's ability to design and deliver customized industry vertical solutions capable of optimal performance in almost any environment really sets them apart in the healthcare market.