Fill form to unlock content
Error - something went wrong!
Get the latest updates on IoT for healthcare.
You are following this topic.
AI-Assisted Diagnostics: The Future of Cancer Detection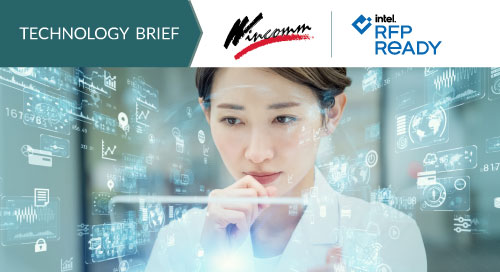 For cancer patients, getting a swift and accurate diagnosis is critical for their prognosis—and peace of mind. But if the screening is done by an endoscopy, the process is more complex. Typically, doctors look for lesions with specialized cameras, but limitations leave the door open to oversight and errors. In fact, about 25% of all colorectal neoplasms, or cancerous tumors, are missed by experts using this standard process.
Today, those same cameras are being enhanced with AI and machine learning technology, helping improve patient outcomes. The solution leverages capture cards typically used in video gaming to enable high-resolution graphics that can be displayed on screens in real time. The crisp images are paired with machine learning data that can help doctors identify tumors faster, speeding up a patient's path to treatment.
"Endoscopy is the base case for AI Analysis because doctors want to understand what is happening inside your body," says Evelyn Tsai, Marketing Manager for Wincomm Corporation, a provider of industrial and medical grade computer products. "Previously, a doctor would need to have the patient come back to the hospital for more observation and tests. Through AI-assisted diagnostics, they can diagnose in real time whether or not something is neoplasm."
The AI-Powered Medical Panel PC for New Endoscopic System, called EndoBRAIN, was first deployed in a hospital in Japan. Its speed and accuracy can reduce the costs, time, and risks associated with biopsies and repeated colonoscopies, saving patients the high level of discomfort that would come from enduring multiple procedures. EndoBRAIN can also improve patient diagnostics at remote rural healthcare facilities that are often lacking experienced professionals, who tend to work in large urban hospitals.
"AI-assisted diagnostic doesn't replace the doctor's decision; it supports their decision by a prediction training model," says Tsai. "Experienced doctors may be able to detect neoplasms easier than younger doctors. Through this kind of system, doctors don't need to rely on years of practice because the computer has learned the experience and can assist with a diagnosis."
Development Partnership Leads to Innovation
To make such a technology operate properly, different disciplines must work together. For example, the medical specialists must work closely with the embedded technology experts to develop the solution.
One such case is where the Wincomm engineers worked closely with the team at CYBERNET SYSTEMS CO., LTD., subsidiary of FUJISOFT, to develop EndoBRAIN and EndoBRAIN-EYE—tools that deploy AI to detect and analyze colorectal polyps and other lesions in an endoscopy.
The system is integrated with the Wincomm high image processing Medical Panel PC platform and an Olympus endoscope, which was key to getting the regulatory approvals required to bring it to market. In addition to compute performance and design flexibility, the panel PC's antibacterial design protects against airborne diseases. And the system's built-in safety protects patient data by avoiding equipment damage from signal and voltage feedback loops.
"While #technology can't replace the judgment that #healthcare professionals provide, #AI does have the power to impact and enhance the industry in important ways." – Evelyn Tsai, @WincommCorp via @insightdottech
AI and Machine Learning Improve Diagnostic Accuracy
EndoBRAIN is the endoscopic microscope used to photograph the inside of the patient's large intestine, as well as the AI software that determines the presence of colorectal cancer using image analysis technology. After "learning" with 60,000 medical records, the tool's sensitivity rate is 96.9% and its accuracy is 98%, comparable to senior specialists. Using AI to automatically judge key parts of the image enlargement, the diagnosis is brief, reducing patient discomfort and the scheduling and training burden placed on hospital staff.
AI inferencing at the edge—enabled by the Intel® OpenVINO™ toolkit—is key to providing real-time data required for diagnosis.
"To make the medical imaging process perform smoothly, it must be low latency, almost real time," says Tsai. "The doctors need to see the screen at the same time they watch the analyzed data. Doctors have different techniques, such as moving the imaging faster or slower. The system must also be able to fit the doctors' behavior. Intel processors provide the powerful computing performance, high-resolution graphics, and an architecture can support these requirements."
The Future of AI in Healthcare
Wincomm is also helping systems integrators expand the Medical Edge AI solution to other use cases. The medical edge AI computer platform, powered by Intel® Core™ processors, can work with a range of servers, camera control units, and medical imaging solutions. In addition to endoscopies, the technology supports a wide range of use cases such as robotic surgeries, ultrasounds, ECGs, and x-rays.
While technology can't replace the judgment and care that human healthcare professionals provide, AI does have the power to impact and enhance the industry in important ways, says Tsai. First, AI can assist in providing a more accurate diagnosis, such as with the endoscopy solution. Data analytics can be especially impactful for new physicians who haven't yet collected years of experience.
Second, AI tools can enable intelligent monitoring solutions, which can collect data and save time and resources. For example, patients with a non-critical diagnosis can be cared for remotely, freeing up hospital beds for those with more serious conditions. In addition, AI can help nurses monitor patients from a central location, saving time while maintaining care. And AI solutions can speed up deployment of advanced healthcare to a wider geographic region, including rural facilities that may have a harder time competing for top care providers.
"Edge AI is going to dramatically shift the healthcare industry in the future," says Tsai. "The cost, time and healthcare service quality will improve, and patients can get faster care."
This article was edited by Georganne Benesch, Associate Editorial Director for insight.tech.