AI and IoT Power Self-Serve Health Clinics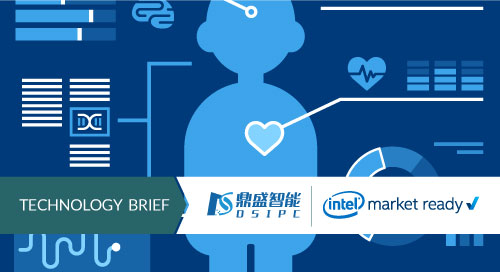 Advances in China's standard of living provide more people with access to healthcare. Nonetheless, with life expectancies now averaging 76.5 years, medical costs are on the rise.
And while the number of top-tier hospitals throughout the country has more than doubled, the annual number of outpatient visits increased almost fourfold during that same period. Improving patient outcomes now relies on the use of new technologies such as real-time analytics, facial recognition, and the IoT.
Innovation enables more people to get better access to healthcare information and advice without going to a hospital or waiting to see a doctor. It can also reduce the strain on overburdened medical personnel and resources by automating collection, transmission, and storage of healthcare data used in patient records.
Self-Service Health Assessments
The Intelligent Health Management Solution from Shenzhen Dingsheng Intelligent Technology is helping to fulfill this mission (Figure 1).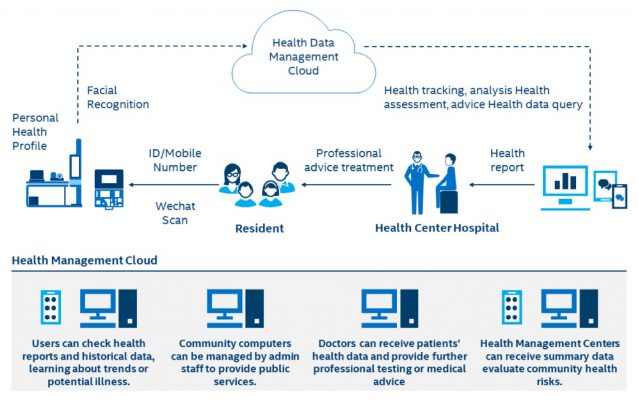 Jessica Hsu, Sales Director at Shenzhen Dingsheng Intelligent Technology, explained how the solution provides comprehensive self-service health exams.
"The system includes approximately 50 physical examination indicators that measure vital signs and monitor for key chronic diseases," said Hsu. "By setting it up in everyday locations like drugstores, community centers, and shopping malls, we make it easy for people to get comprehensive checkups."
To illustrate how it works, imagine that a 68-year-old man we'll call John comes across the Health Management Solution at a shopping mall. Overdue for a checkup, and not wanting to wait in his doctor's office, he decides to try it out.
First, John scans a QR code on his smartphone to log in. The intuitive interface helps him enter background information and guides him through checking his blood pressure, heart rate, and body composition. He uses the system's built-in modules to do these tests without any assistance.
The software compares John's results with standard reference points and provides him with a report containing healthcare suggestions. While the report is uploaded to John's account, he also prints a copy.
Because John has questions, he video-chats directly with a remote medical professional who also has his report. The two have a conversation and John receives advice on what he can do to enhance his well-being. He also finds where he can get help with quitting smoking.
AI Simplifies Checkups
To speed up the process, facial recognition and artificial intelligence (AI) determine a person's approximate age, gender, and ethnicity. The technology automatically recognizes people who have an existing profile.
And when not in use, the system can play video advertising on its high-definition display with customized content, which through facial recognition matches the demographics of people nearby. Ad revenue defrays the overall investment costs, enabling businesses to let their customers use it for free or at a nominal cost.
The company's most comprehensive model includes a wide range of sensors and medical devices. Powered by an embedded PC, interactions with the system are done through a touchscreen, high-definition display, HD camera and speaker, and more (Figure 2).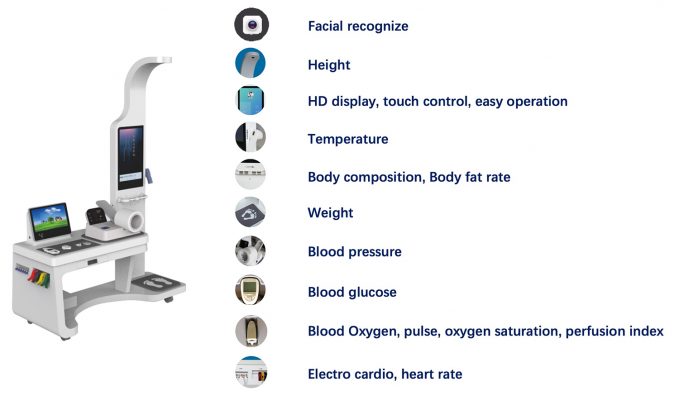 Storing and Securing Data
Patient information is stored locally during use, and then uploaded to the cloud where it's analyzed to quickly generate a health report. Centralized storage also enables people to access their historical data anytime on their mobile phone or a PC. This helps prevent people from losing medical files, which traditionally are kept only as a hard copy by the patient.
"Intel® processors and the Intel® vPro™ platform enable us to provide a wide range of capabilities," said Hsu. With vPro, data is encrypted without losing performance. And Intel® Identity Protection technology provides role-based security that prevents unauthorized users from accessing the system. It also enhances remote management, essential to deploying hundreds of solutions in different locations.
Beyond individual health assessments, systems such as the Intelligent Health Management Solution can provide population-wide data analytics for government use. This helps officials implement regionally targeted programs designed to improve citizen health across the country. Such actions can help China reduce diseases that otherwise will affect more people each year.
"Many of our solutions are purchased by drugstores, nursing homes, malls, and health centers, and are available to be used for free," said Hsu. "They do this to benefit their customers, residents, and society in general. And it shows goodwill."