Fill form to unlock content
Error - something went wrong!
Your content is just a step away. Please submit below.
A New Vision for VARs: An AI Playground in the Classroom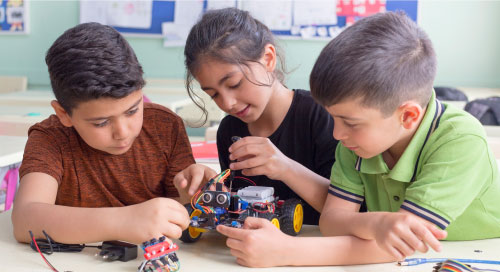 We live in a society increasingly dominated by AI, advanced technology, and automation. Whether we interact with curated playlists, shop online, or lean on streaming recommendations for the next show to watch, we unconsciously use AI.
Because of this growing ubiquity, schools across the globe have started to integrate AI capabilities into the classroom curricula to prepare elementary school-age students for the increasingly digital future. By doing so, teachers can immerse their students in safe AI-driven environments until the training wheels come off and they enter the real world.
But unfortunately, there are many barriers to adoption when it comes to applying AI to the education sector. Not only are there concerns around student privacy and budgets, but schools lack a clear strategy, the necessary talent to getting started with AI, and the commitment to apply it to their lesson plans.
Global Solutions Distributor BlueStar, Inc. takes a key role in removing these barriers. To start, BlueStar works with VARs to deliver out-of-the-box solutions that help educators modernize classroom technology. And the company backs up these solutions with service, support, and AI expertise.
Partnership Launches an AI-Based Classroom Solution
BlueStar also partners with ISVs like meldCX, which developed the AI Playground, a cost-effective and safe environment for students to experience and explore AI.
The AI environment is presented to students as a Lego-based competitive game. For instance, similar to building Legos, students are presented with brick kits that come in a range of levels—from a beginner pack of six to an advanced 100-piece unit—to create a model.
A camera is used to help guide students about where to place the parts. And to protect their privacy, the camera is situated to focus only on the students' hands. Any faces are blurred at the edge, not captured or used in any way. In one example, students used kits to create a Mars Rover model, and once it was complete, they were able to use the playground's software to "launch" it into space, have it land on Mars, and explore the surroundings (Video 1).
The AI software can stream educational information about the red planet, subtly making it a science-based learning lesson. Students can also compete against one another in timed events to see who can launch their model in the shortest amount of time.
Learning Lessons from the AI Playground
Such gamification is underexplored territory for schools, according to Joy Chua, Executive Vice President of Strategy and Development at meldCX.
"This is a rare opportunity to create awareness about what AI can do in the field of learning and creating knowledge out of data. At the end of the day, this is about empowering kids to learn how to collaborate with AI, and use it to build their skills, unlock creativity, and solve epic problems," she says. Because gamified teaching is a welcome departure from the typical blackboard-driven instruction, students also enjoy this different learning approach, she explains.
Hands-on tactile learning can help in other ways, too. "Part of today's education still doesn't consider the multiple ways that students learn," Chua says. Integrating AI into the Rover-building game, for example, can help educators accommodate both beginner and advanced students by tweaking the prompts delivered along the way.
This calibrated approach "allows people of all ages to learn at their pace and facilitates one-on-one attention to detail," says Stephen Borg, Group Chief Executive Officer of meldCX. "It doesn't alienate anyone; it doesn't make anyone feel behind but will also make it dynamically more difficult if someone's progressing really quickly."
An Ecosystem of Partners Bring the Pieces Together
AI Playground was built in collaboration with BlueStar partners Intel and meldCX along with the University of South Australia. It leverages the meldCX vision analytics platform Viana to provide insights into the lesson. In the Mars Rover example, the game uses AI-based object detection programs to recognize the Lego bricks and the various stages of the Rover creation process.
Schools can get started with a basic web camera, a display screen, an Xbox controller, Lego bricks, and an Intel® NUC 12 Extreme Kit, which comes pre-integrated with the AI Playground software. The kit facilitates AI inference in the classroom in a small form factor since the NUC occupies less space than a traditional PC, Borg explains.
The value of the Intel partnership goes beyond hardware, according to Chua. Optimization using the OpenVINO™ toolkit at the edge facilitates quick detection of gestures and immediate delivery of feedback. "We have had synergies with Intel helping us by working with leading-edge technologies and making sure we're on track to adopting best practices," Chua says.
Additionally, the AI Playground solution abides by TRUSTe Enterprise Privacy & Data Governance Practices Certification, does not track faces or other identifying features, and students own their data.
meldCX has also created a range of packages to ensure the solution is accessible to all students, irrespective of learning styles. "We're firmly ingrained with Intel's AI for Youth vision, a program meant to empower youth with AI tech and social skills in an inclusive way," Chua says. The AI Playground can be applied in a one-student-to-one device setting, one-to-few, or one-to-many.
Broader Applications of Vision Analytics
Beyond the elementary school classroom, object detection software like AI Playground can teach students in other subjects. For example, trade schools can demonstrate how to conduct tasks like assembling a car engine or fixing power lines. Anatomy labs can take apart and explore models of human bodies and learn how organs work together.
And beyond educational settings, object and gesture detection and recognition can find use in a number of industries. Hospital administrators can ensure that high-contact surfaces are cleaned appropriately, and meat packaging lines can use similar vision-based analytics to label packages accurately. Brands can conduct shopper behavior analysis—while still retaining privacy—to analyze buyer decisions and their relationship to product packaging.
Whether through solutions outside the classroom or inside it, Borg says, "We wanted to demonstrate that you can use AI safely and in a way that educates and informs. We wanted to help remove the negative perception of AI perpetuated by doomsday movies and let people see that there are many good applications of AI."
"Our mission is to participate in the ethical practice of AI and bring it forward because we really see AI as a tool to augment human capabilities," Chua adds. "As we're moving towards a more digital future, it is important for us to empower our students to be first-class innovators, supported by second-class AI."
And that's a lesson educators take to heart.

---
About BlueStar
BlueStar is the leading global distributor of solutions-based Digital Identification, Mobility, Point-of-Sale, RFID, IoT, AI, AR, M2M, Digital Signage, Networking, Blockchain, and Security technology solutions. BlueStar works exclusively with Value-Added Resellers (VARs) to provide complete solutions, custom configuration offerings, business development, and marketing support. The company brings unequaled expertise to the market, offers award-winning technical support, and is an authorized service center for a growing number of manufacturers. BlueStar is the exclusive distributor for the In-a-Box® Solutions Series, delivering hardware, software, and critical accessories all in one bundle with technology solutions across all verticals, as well as BlueStar's Hybrid SaaS finance program to provide OPEX/subscription services for hardware, software, and service bundles. For more information, please contact BlueStar at 1-800-354-9776 or visit www.bluestarinc.com.