Why Connect Physical Security to the Cloud?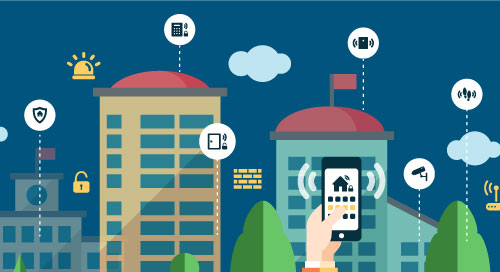 Security systems providers have been cautious about adopting digital tools—and for good reason. Each connected device can add the risk of being compromised, which is counterproductive to its role as protector. But the explosive growth of IoT coupled with the pandemic have created new levels of risk for businesses that can be solved only by new technology.
Connectivity and access are key in today's high-tech offerings, and Knight Security Systems, a Texas-based security systems integrator, uses cloud technology to scale operations quickly without requiring installation of additional infrastructure.
Physical Security in the Cloud
"In the past, securing doors or gates required physically connecting cameras to a company's servers, software, and network," says Trey West, chief technology officer at Knight Security Systems. "It could have taken two or three days to build. With cloud systems, you plug in the hardware and the infrastructure is already built. Boom, you're done. It takes the lift off the integrator, who can use the time for something else, saving the customer's money."
Cloud services also allow SIs to move information and systems to high-trust data centers to improve the level of safety and security compliance it can offer customers.
"Some customers have reluctance to move to the cloud, at least initially, because it's a loss of control," says West. "They say, 'Wait a minute. I'm going to take my data out of here and put it up in some unknown cloud data center?' It looks a little scary until you really understand how much better protected the data is and how much more secure it is, especially for hardware and network failures."
Physical security integrators are searching for cloud strategy. @KSSTexas and @PSASecurity share theirs (via @insightdottech)
In fact, cloud services can save customers money in the long run. "The server might cost you $15,000, but the care and feeding of it might be an additional $3,000 or $4,000 annually if you put a pencil to it," says West. "Moving to the cloud is attractive if you understand the return on investment. It gives customers back time to do other things that are more related to their business."
Managing the Responsibility
As the systems become more complex, managing them becomes a bigger challenge, which is why many companies are looking to offload the responsibility. Knight Security Systems provides more value to end users and helps them grow their businesses by offering SecurePlan (Figure 1), a managed service that proactively monitors systems to prevent failures that could be catastrophic to a business.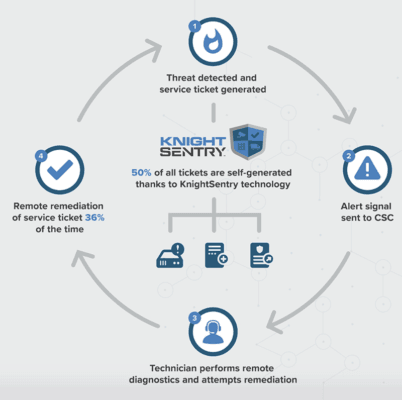 Big integrated physical security systems can have thousands of cameras and thousands of access control doors. Through Knight Security's Client Support Center, technicians watch over the health of these systems. When a potential threat is identified, a ticket is generated. In half of the cases, this is done automatically.
"We're not reviewing video or dispatching the police," says West. "We're making sure the components of the systems work."
Some problems can be fixed remotely, which became increasingly important during the pandemic. In 36 percent of cases, security system problems are fixed with remote assistance, helping to avoid downtime. When a technician did need to be dispatched, the monitoring system collected information so they know what they need to do and can address the problem immediately. This methodology allows for fast problem resolution and increased system uptime.
Partnering Improves Safety and Security
Systems that address these new challenges are complex and fragmented. Since time is often of the essence during a system rollout, security system integrators can offer their customers proof of concept and faster installation by partnering with a consortium like The PSA Network.
Knight Security Systems involvement with The PSA Network has opened opportunities to partner with other consortium members, putting the small company on par with larger providers to help them compete and serve customers across the country.
"PSA has a partner called Viakoo with a cloud-based application that enables proactive health monitoring," says West. "They were looking for a company, like Knight Security, to outsource watching over alerts to keep a camera network healthy for live views and make sure the infrastructure is operating properly."
Security system integrators like Knight Security can help end users adopt new technologies and provide services that support them.
"You don't get second chances in the security industry," says West. "We're seeing more companies asking for these types of services. We believe it will be the way of the future in security."