Fill form to unlock content
Error - something went wrong!
Your content is just a step away. Please submit below.
Visual AI Powers Digital Transformation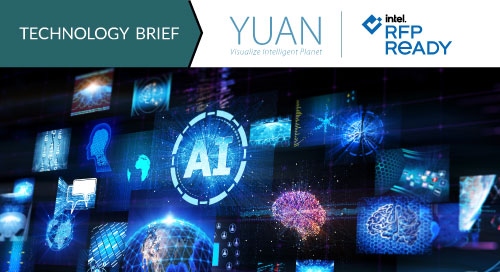 From transportation and healthcare to education and manufacturing markets, high-quality video data is generated in all kinds of applications. Nowadays, thanks to advancements in visual AI, this data can be analyzed at the edge to provide valuable insights and accelerate digital transformation.
"The application of computer vision at the edge to Ultra HD video data is a game changer," says HP Lin, General Manager at YUAN High-Tech, a manufacturer of intelligent video processing solutions. "It's going to transform how we work, live, and learn—in ways that would have been unimaginable even a decade ago."
Visual AI in Hospitals, Media, Classrooms, and More
AI video processing platforms for UHD video can handle several fundamental computer vision tasks: video capture and playback acceleration, target detection, motion recognition, and so on. In other words, these solutions perform the kind of general visual AI workloads required in many different scenarios—which means end users and systems integrators can adapt them for a truly diverse range of use cases:
In medical scenarios, intelligent video processing at the edge enables real-time, 4K60 video capture, playback, and analysis—without the need for discrete GPUs to handle the heavy AI inferencing workloads required in medical imaging. The result is an integrated visual AI solution that offers in-the-moment decision-making to support medical professionals during clinical diagnosis and treatment.
In live broadcasting, television directors face a number of difficult video editing challenges: working with multi-angle videos, performing complex video splicing and switching, and more. Doing this kind of "instant editing" requires a tremendous amount of processing power, but edge AI makes it possible to handle these workloads in real time—obtaining smoother captures and transitions and better image quality for viewers.
In educational scenarios, AI and computer vision have the potential to greatly enrich both learning and teaching. Up until now, classroom video capture has permitted only simple video storage and playback. But a smart video solution can capture and analyze real-time interactions between students and teachers. This means that the system can monitor teacher body movements as well as student expressions to offer instant feedback on the lesson—helping teachers identify students who may need extra help or adjust their teaching if needed.
In safety areas, it's expected to see a wide range of new AI vision applications. For smart cities, applying visual AI to traffic camera data offers a way to prevent unsafe driving and traffic violations. In public spaces, AI video analysis can be used to help streamline airport entry inspection and make university campuses and schools more secure.
Clearly, there are many attractive possibilities here. But achieving widespread adoption has its challenges. Organizations have been hesitant to implement visual AI solutions for several reasons: the heavy processing power required for inferencing workloads, concerns over system stability at the edge, and the perceived difficulty of engineering comprehensive video-processing workflows.
But now there is a reason for optimism, says HP Lin: "Modern smart video platforms address the historic concerns about visual AI, because they offer powerful and efficient edge processing, comprehensive workflows, and real stability after deployment."
A major factor in the development of general-purpose #AI #video processing solutions has been the emergence of #ComputerHardware designed for visual AI at the #edge. YUAN High-Tech via @insightdottech
Hardware and Software Built for Edge AI
A major factor in the development of general-purpose AI video processing solutions has been the emergence of computer hardware designed for visual AI at the edge—along with software development tools that streamline the process of tailoring the solution to an end user's specific needs.
YUAN High-Tech, for example, uses Intel technologies in its solution:
Intel® Celeron® and Intel® Core™ processors provide a high-performance hardware platform optimized for edge computer vision workloads and that supports multichannel HD graphics processing.
The Intel® OpenVINO™ Toolkit enables performance acceleration for computer vision tasks, including substantial optimization of AI algorithms.
"Intel's technology is extremely important in bringing our solution to market," says HP Lin. "It's well suited to build edge AI and computer vision solutions—especially when both performance and flexibility are required."
Growing Computer Vision Ecosystem
The future of visual AI looks bright. In part, that's due to the unique advantages of video as a foundation for building AI applications: multidimensional data acquisition, contextual data analysis, and the ability to understand and respond to human behavior in real time.
But beyond that, it's possible that the growing prevalence of computer vision solutions—and the technologies that support them—will result in greater adoption. YUAN High-Tech's leadership team seems to think so: "We're committed to building a more active visual ecosystem to drive the implementation of smart video analytics solutions in even more industries," says HP Lin.
With old adoption barriers solved and a burgeoning visual AI ecosystem, systems integrators and solutions manufacturers should have an easier time helping businesses, schools, and governments to take advantage of real-time analytics, improved efficiency, and safer environments offered by computer vision at the edge.
Edited by Georganne Benesch, Associate Editorial Director for insight.tech.