Type 7 Modules Solve Complex IoT Edge-Node Processing Matrix
The new Type 7 pinout in the COM Express 3.0 specification gives developers an important option for headless server design. Among other changes, this pinout removes display and audio interfaces in favor of four 10GbE ports—making Type 7 an excellent fit for server-on-module (SoM) designs.
Already, module vendors are providing server-grade modules with up to 16 cores on the new pinout. These modules are helping fill a gap in fog computing architectures, where more and more processing is being pushed toward the edge. By cramming more compute power into small form factor modules, these Type 7 boards are enabling high-performance and high-bandwidth edge nodes.
A More Flexible Module
Type 7 does not replace Type 6 but is instead a complementary pinout tailored to headless, high-bandwidth edge nodes (Figure 1). To this end, the new standard removes the display and audio interfaces, as well as trimming the USB 2.0, SATA, and ExpressCard interfaces. This freed up 102 pins, making room for four 10GbE ports and a total of 32 PCI Express lanes.

Figure 1. The Type 7 pinout complements Type 6 and 10 pinouts. (Source: congatec)
The Type 7 specification also adds a Network Controller Sideband Interface (NC-SI). The NC-SI defines the connection of a Baseband Management Controller (BMC) to enable out-of-band remote manageability, all via the carrier board. Type 7 is backward compatible with Type 6 in that it can plug into a Type 6 carrier and use legacy I/O.
The end result is a highly flexible COM Express module, 10 of which can be integrated in a single 1U enclosure with a combined maximum transfer rate of 0.4 terabit/s.
Ethernet on the Carrier Board
The Type 7 10GbE interfaces comes by way of four 10GbE-KR backplane lanes, with the actual physical implementation of 10 GbE interfaces taking place on the carrier board (Figure 2). This provides for high-speed communications, while giving developers the option of using any of the following for the final interface:
2x 10GBASE-KR through a copper physical layer (PHY) to 2x RJ45
4x 10GBASE-KR through copper PHY to 4x RJ45
4x 10GBASE-KR through fiber PHY to 4x SFP+
4x 10GBASE-KR through fiber PHY/copper PHY to SFP+/RJ45


Figure 2. The COM Express 3.0 Type 7 allows for various implementations of 10GbE on the carrier board. (Source: ADLINK Technology)
Early Modules Boast High Performance
The module is processor independent, but already modules are available from ADLINK and congatec that are based on advanced SoCs specifically designed for dense, low-power, highly optimized processing at the network edge.
One such module is the Express-BD7 from ADLINK. Using a COM Express Basic form factor (95 x 125 mm), the module is based on an Intel® Xeon® D Series processor or Intel® Pentium® D SoC with 4, 8, 12, or 16 cores, and combines that with 32 Gbytes of dual-channel DDR4 memory running at 1867/2133/2400 MHz with ECC (Figure 3).
The module supports two of the possible four 10GbE ports, along with GbE, NC-SI, 2 SATA ports running at 6 Gbits/s and 4 USB 3.0/2.0 ports and up to 32 PCIe lanes (24 Gen 3, 8 Gen 2). The module supports Smart Embedded Management Agent (SEMA) functions, and ADLINK emphasizes its environmental ruggedness: It can operate over a temperature range of -40˚C to +85˚C. SEMA functions include voltage/current monitoring and power sequence debug support.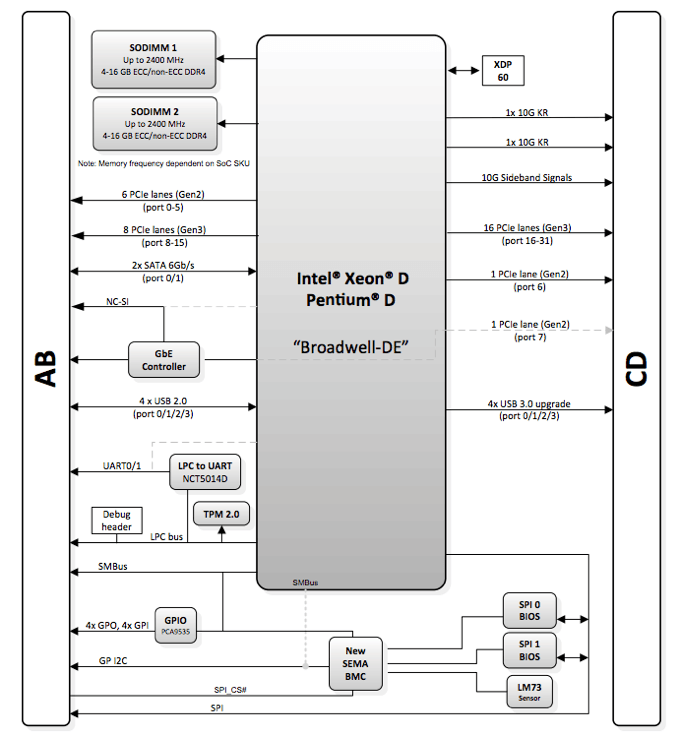 Figure 3. The functional block diagram for the Express-BD7 shows the two 10GbE ports (1x 10G KR) on the upper right, the GbE controller feeding into the NC-SI on the left middle, and the 32 PCIe lanes spread left and right between the AB and CD interfaces. (Source: ADLINK Technology)
congatec also recently introduced its own implementation of a COM Express 3.0 Type 7 module, the conga-B7XD (Figure 4). Like ADLINK's Express-BD7, the conga-B7XD uses a COM Express Basic form factor and is based on an Intel® Xeon® D Series processor or Intel® Pentium® D SoC, also with 4, 8, 12, or 16 cores. Depending on the combination of cores, memory cache, and core clocking frequency, the power consumption for the SoC ranges from 19 to 45 W.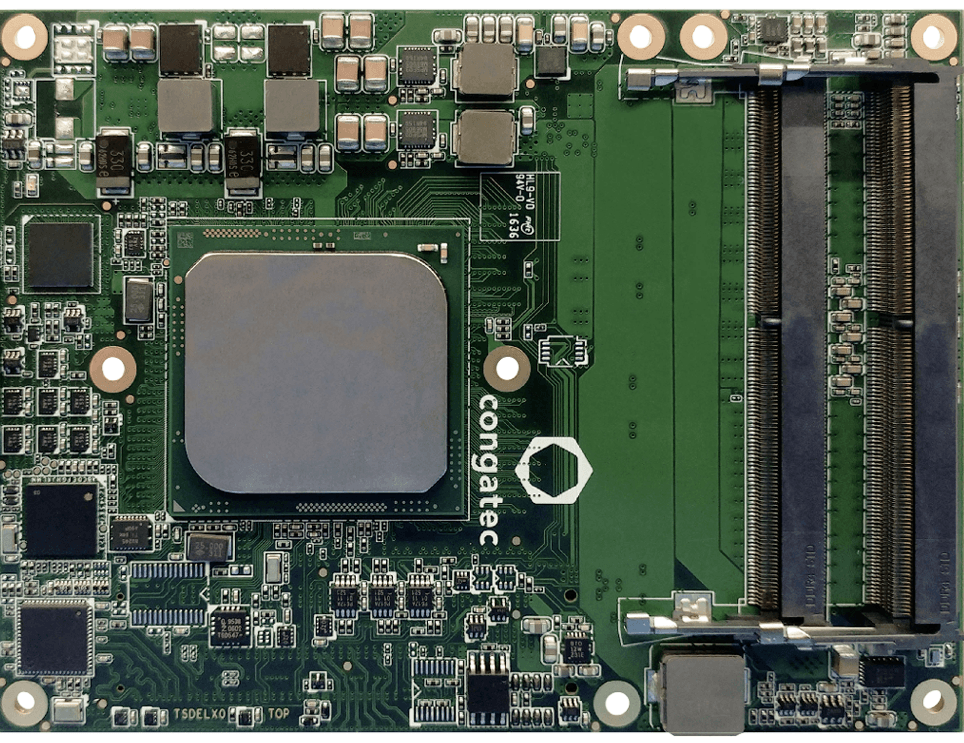 Figure 4. The conga-b7XD SoM with the Type 7 pinout uses the COM Express Basic form factor, measuring 95 x 125 mm. (Source: congatec)
Dense Virtualization at the Edge, or Anywhere it's Needed
Both the Express-BD7 and conga-B7XD support the Intel Xeon and Pentium processor with up to 16 cores. With 10 modules in a 1U shelf server, doing the simple math, that's 160 cores, or what could be virtual machines, that can be deployed at any location from the edge to the data center. For industrial applications, for example, the locally virtualized system with larger caches can be used to take sensor and measurement data in real time, or transcode and process data-intensive video streams as fast as needed: Just use more cores. The horsepower can also be used for deep packet inspection, to ensure security and quality of service.
These are just some of the applications enabled by the emerging class of COM Express Type 7 modules, all of which are enabled by the combination of optimized, low-power processing and high-speed communications.