Trouble-Free Collaboration with Zero-Touch Deployment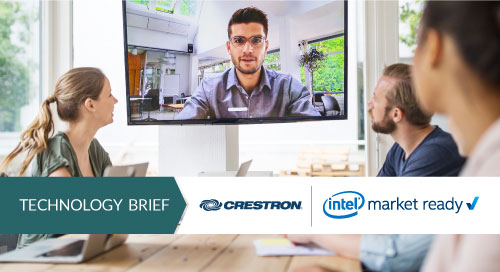 Editor's Note: Distance learning has already proven its merits—and now there is a sense of urgency to create robust, widespread remote classroom ecosystems. Educators around the globe are ramping up the deployment of both technology and best practices to transform the virtual classroom experience.
Teachers, students, and parents are more likely to embrace platforms that are intuitive and trouble-free. And for the IT team, success depends on zero-touch deployment and straightforward remote management.
Crestron is answering these challenges. For example, with its one-tap touchscreen, teachers can stream videos, display documents, broadcast lectures, and record lessons for later distribution to students. Students can connect their devices and stream video to one another in small groups—promoting teamwork and collaboration.
These capabilities—for expanding educational opportunities—are built upon the company's enterprise-grade solution discussed below. Be it a business environment or school system, the ways in which we work together are expanding by leaps and bounds. Crestron provides a smart platform that makes it easier to move forward.
---
Seventy percent of business leaders expect use of online collaboration platforms to increase over the next five years. With more businesses maintaining offices in multiple buildings, cities, and countries, working together across time zones is typically a daily occurrence—and a challenge.
Innovations in Unified Communications (UC) technologies are improving how people can collaborate from multiple locations. Today, UC hardware and software are often decoupled, meaning that different interfaces can run on top of a standard computing platform.
Some developers also blend new technologies with UC systems, linking them to smart building sensors and enabling AI capabilities. Analytics add another layer to the newer UC solutions, clearing the way for enterprises to gain insights from workspace usage data.
But finding a single UC system that's easy to use, simple to deploy and support, and works with existing applications remains a challenge. Read Five Key Factors in Choosing a Collaboration Solution to learn more about Interactive Video Displays for business and education applications.
Creating Better User Experiences
Sealed Air, a Fortune 500 company, wanted to offer visitors a seamless experience—without the distraction of incompatible technology. With more than 100 meeting spaces at its main campus, it was often difficult to determine if a reserved room had actually been used. And visiting presenters regularly faced technical difficulties when trying to connect their devices to the company's collaborative tools.
To overcome these problems, Sealed Air needed a solution that could centralize the conference room scheduling process, report room usage information in real time, and provide easy connectivity for visitors with different devices. They chose the Collaboration Solution from Crestron Electronics, which provides a combination of AV and UC capabilities that run on Crestron's XiO Cloud platform.
Standardizing on the Crestron solution enabled the company to create a consistent user experience for all room types across its campus. This consistency provides confidence and greater acceptance and use of the technology, improving organizational productivity.
"The Sealed Air story illustrates one of our big goals—the ability to navigate the day without the stress and anxiety of making technology work," said Nic Milani, Executive Director of Commercial Product Marketing at Crestron Electronics. "We're bridging the complexity of the physical space with easy-to-use technology in a straightforward, unified way."
Image quality also played a role in the company's decision. In the past, businesses had to sacrifice high resolution in their digital presentations and videoconferencing or rely on an expensive proprietary network to avoid noticeable delays in video streaming.
Using an innovative method to compress information between the encoder and decoder, Crestron's AV platform transmits 4K audiovisual content over a standard IP network. This process minimizes latency and its resulting delays in high-quality video distribution over a conventional network and foster more natural communication.
The solution also simplifies scheduling, allowing employees to plan, reserve, and start meetings on time, improving efficiency and employee satisfaction. This reduces time lost to interoperability issues. Plus, the system collects data and tracks meeting effectiveness across Sealed Air's headquarters and more than 200 additional sites, worldwide.
Integrated End-to-End Solution
The solution components are designed to work together as a single ecosystem as shown in Figure 1.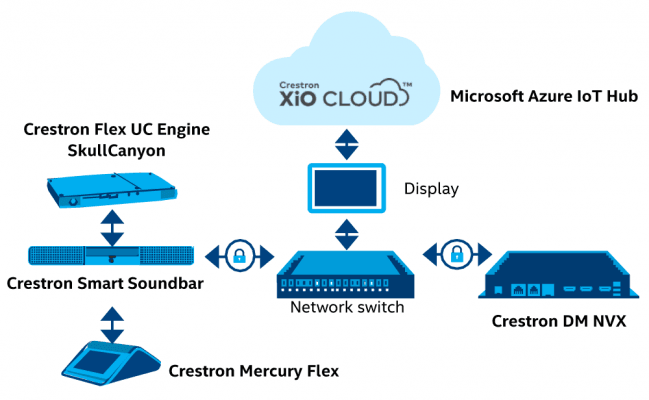 A Crestron touchscreen sits on the conference table, serving as the room control panel.
The UC engine is preloaded with collaborative software.
An AV system sound bar with an integrated camera is mounted at the front of the room under the display.
The XiO Cloud platform aggregates the data it receives from its solution components and other connected sensors for detailed analysis.
This can reveal the number of people present in each meeting, peak times for room usage, which workspaces people prefer, the technology they're using, and which tools remain dormant. The teleconference camera uses edge-based AI capabilities for object recognition, counting meeting attendees, and automatically adjusting the camera angle to center people in the frame.
Zero-Touch Deployment
All of the endpoints reside on the corporate network and communicate back to the XiO Cloud provisioning and management software—enabling rapid deployment and reducing install time by up to 90 percent.
Built on the Microsoft Azure IoT Hub and accessible through a web browser, it enables IT staff to quickly and remotely resolve issues and manage devices in various locations. Solution elements receive firmware updates from the cloud, enabling functionality to improve rather than leaving enterprises stuck for years with hardware and software that are behind the times.
That's important information, according to Milani: "Optimizing the spaces we work in is a huge opportunity to create efficiencies and save money. A lot of rooms sit empty or are improperly utilized. This data is rich with insights to address many issues."
Powerful and Flexible Digital Display
The collaboration solution uses Intel® technology—powering various UC applications. And the system's flexibility enables it to take on new features. Its AV firmware links easily with equipment from other vendors, using a common wireless presentation platform, increasing choice and ease of use.
"Whether your company is standardized on NEC, SMART, LG, Avocor, or any number of displays, you no longer have to buy a separate box to link those components to ours," Milani said. "Our goal is twofold: to serve users with the simplicity of an end-to-end solution and give technology managers the flexibility they need to work with different partners."
As the modern workplace is evolving, business leaders need to stay out in front of trends and ensure technology investments support the way people want to work. Innovative collaboration systems such as the Crestron solution are enhancing how employees, contractors, and guests collaborate—from anywhere around the world.