Toughest Tablet on the Drilling Platform or Factory Floor
There are places on earth where no computer dares venture. Picture an oil rig in the North Atlantic blasted by salt spray in 60 mile-per-hour winds during a frigid storm. Or imagine a United Nations aid convoy driving across a barren desert, their vehicles subjected to blowing sand, jarring vibration, extreme heat, and sun glare. Such hostile environments are no place for a tablet computer with a sensitive touchscreen – until now.
In this article, we examine the growing need for reliable mobile computing and wireless connectivity in extreme environments. We consider a rugged, water-resistant tablet line designed to thrive even when exposed to severe temperatures, rain, saltwater spray, dust, and hard drops. We discuss how its innovative touchscreen allows personnel to use it in intense sunlight with wet and gloved hands. Then we explain how its ultra-low-voltage 5th generation Intel® Core™ processor delivers the compute and graphics performance necessary for challenging computing tasks in the office or field.
Enhancing Productivity in a Harsh World
It's hard to be productive in a connected world when ambient conditions exceed the limits of technical equipment. The situation could be a maintenance engineer checking smelter performance amid the dust and vibration of a steel mill, a Malaysian delivery driver dropping off packages in monsoon season, or a first responder providing medical care during a Kolkata heat wave. With so many jobs needing to be performed outside the comfort of an office, organizations cannot afford to ignore the past decade's productivity gains from computing just because of harsh environments.
Increasingly, performing these jobs demands the connectivity, compactness, and convenience of tablet computers. Lightweight, highly portable tablets enable immediate input without the cumbersome clamshell of a notebook computer.
Wireless connectivity gives tablets access to information stored anywhere in the world. It also enables real-time sharing of essential data with team members and management. With a tablet's built-in camera, personnel can take photos of damaged, malfunctioning equipment for consultation with headquarters on next steps and warranty evidence. Webcam and audio capabilities allow video conferencing with outside experts during emergency medical situations, such as after an earthquake, tornado, or flood.
The limiting factor between the need for tablets in the field and the nature of field work has always been the wide variety of conditions in which these tablets must function. Wind, rain, snow, floods, glare, temperatures, oil, grease, and vibration challenge even the best of tablet designs. While many "rugged" tablets on the market claim suitability for mobile and outdoor use, most, if not all, fall short when it comes to surviving the conditions described here.
A Tablet Built to Endure Extremes
Recently Kontron set out to fill the void in truly tough, nearly indestructible tablets. The result is the Kontron Endurance Tablet family. These tablets comply with many of the strictest requirements for rugged classification.
Similar to other rugged tablets, they operate in extended temperature ranges, meet IP65 compliance for dust and water resistance, and include protected corners and edges to safeguard against drops. But then they go much further.
Take the screen, for instance. Anyone who has tried to read a tablet screen in bright sun knows how hard it can be to see anything. The Endurance Tablet is the only tablet currently on the market to offer a 1000 nit sunlight-readable display – the highest available (Figure 1).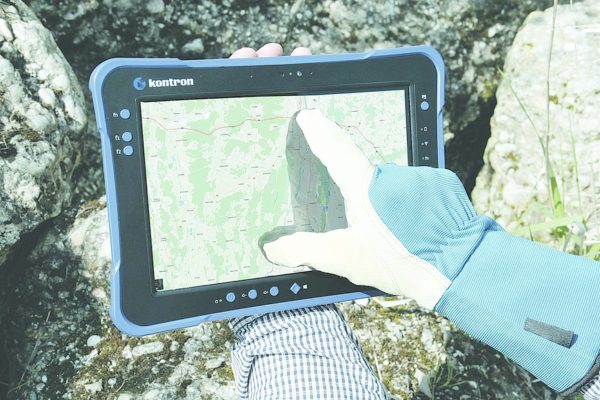 Figure 1. The Endurance Tablet features a 1000 nit display for maximum readability in bright sunlight and a capacitive, multi-touch screen supporting glove touch as well as water and palm rejection.
A nit is a unit of visible-light intensity commonly used to specify the brightness of a cathode ray tube (CRT) or LCDdisplay. A typical active-matrix LCD panel has an output between 200 and 300 nit. At 1000 nit, the Endurance Tablet's screen is more than three times as brilliant.
The Endurance Tablet's 10.1-inch, 1920 x 1200 WUXGA display is more than easy to read. It's more responsive to touch. Its capacitive, multi-touch screen supports glove touch, as well as water and palm rejection. Personnel can use it to perform work while wearing dripping, saturated gloves.
The screen is also tougher than normal. It's made of Corning* Gorilla* Glass 3 designed with Native Damage Resistance* technology (Figure 2). This atomic configuration of Corning Gorilla Glass 3 is formulated to be fundamentally tougher and more damage-resistant than the prior generation Corning glass, even before the factory's chemical strengthening. It offers protection from contact damage and is scratch-resistant. It is particularly resistant to the deep scratches that can cause screen glass to break.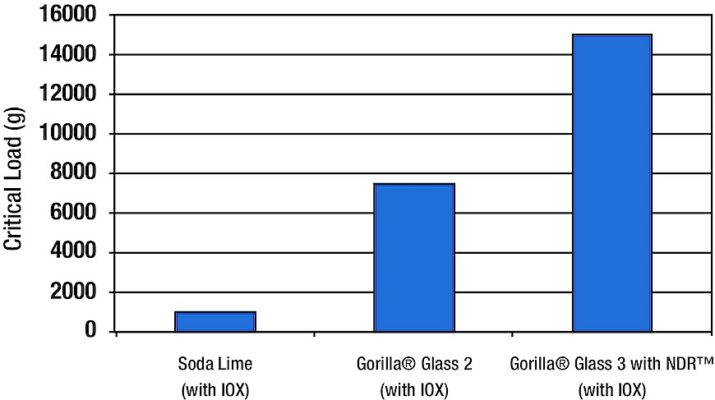 Figure 2. Corning Gorilla Glass 3 with Native Damage Resistance technology withstands much higher loads before succumbing to radial cracks in the glass. (Comparison results derived from a Corning Gorilla Glass 3 product sheet.)
Not Just Water Resistant – Seriously Anti-Water, Anti-Dust
Water and computers may be dire enemies, but the Endurance Tablet is IP65-certified water-resistant. It can withstand low-pressure jets of water from all directions (Figure 3). Workers can use it in the rain and just wipe it dry when done. If the Endurance Tablet falls in the mud, a quick wipe with a damp cloth to clean it, and it's ready to go.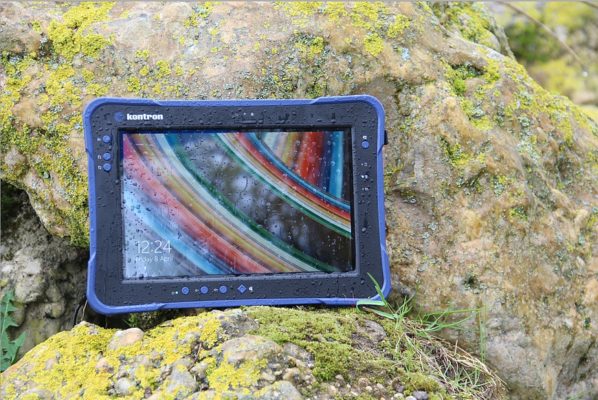 Figure 3. The Kontron Endurance Tablet handles everything from low-pressure water jets to dust, high shock, vibration, and multiple 5-foot drops.
As for impact resistance, the tablet can survive multiple 5-foot drops. It is certified to MIL-STD-810G for shock and vibration, and features an extended operating temperature range from -20°C to 60°C.
Designed for Connectivity, Data Capture, and Extended Battery Life
Up for nearly any task, the Endurance Tablet integrates a broad set of I/O and connectivity functions to support diverse communication needs (Figure 4). Advanced wireless technologies include Wi-Fi 802.11abgn/ac and optional 4G LTE, Bluetooth 4.0, plus GNSS (GPS/Glonass/BeiDou) for navigation, location, and plotting applications.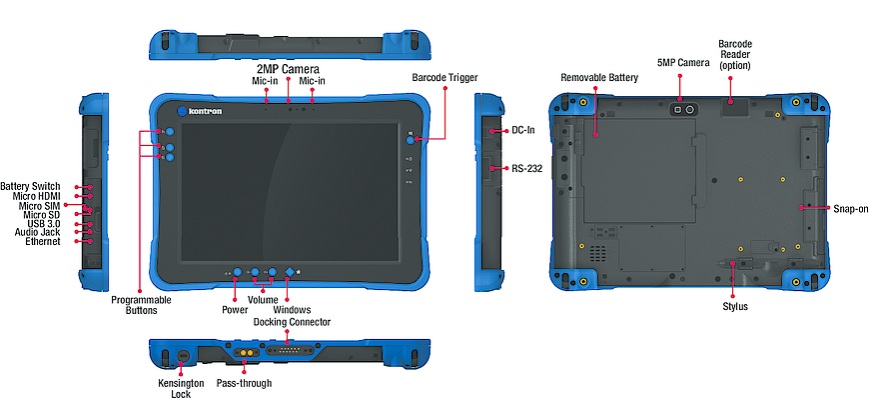 Figure 4. The Endurance Tablet integrates a broad set of I/O and connectivity functions to support diverse communications needs.
Sensors include a gyroscope, an accelerometer (G-sensor), and an electronic compass. A built-in light sensor constantly checks available light and automatically dims the screen in dark light to be easier on the eyes and save battery life. In the sunshine, the screen automatically brightens to improve visibility.
The tablet family offers a variety of data collection capabilities. To read near-field communications (NFC) and RFID tags on packaging and equipment, there is optional NFC, plus snap-on options for a smart card and magnetic strip readers. There is also an option for a 2D barcode reader. Tablets include a 2 megapixel (MP) front-facing camera and a 5 MP rear-facing camera with auto focus and LED flash. A 128 GB SSD or optional 256 GB mSATA SSD offer ample storage. Tablets come standard with 4 GB DDR3L memory, but can be ordered with up to 8 GB DDR3L.
The tablet includes a powerful 6-hour, hot-swappable battery. Customers have the option to replace it with a larger capacity battery offering up to 12 hours of operation for full days in the field. Users can swap batteries without putting the tablet in sleep mode, eliminating downtime and enabling round-the-clock use.
Hand straps and other accessories facilitate field use (Figure 5). Docking options include both a desktop and vehicle dock.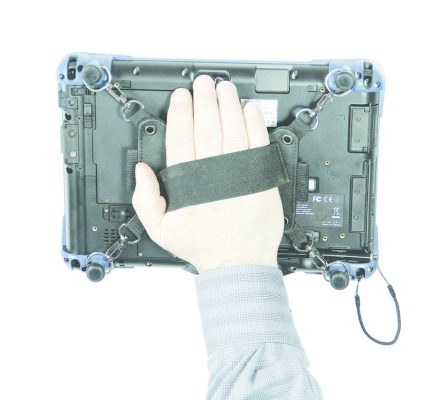 Figure 5. The Endurance Tablet offers a comprehensive set of accessories including a four-point hand strap, two-point carry handle, shoulder strap, power adapter, and stylus.
To give end customers additional peace-of-mind, Kontron's Global Service offers options for extended warranty, accelerated technical support, hot swap exchange, and professional services anywhere in the world. These services include expedited repair with inbound and outbound freight pre-paid by Kontron.
The No Compromises Mobile Processor
To provide outstanding compute and graphics performance for the current top-of-the-line Endurance Tablet, Kontron uses the 5th generation Intel® Core™ i5-5350U processor (Figure 6). This low power, multi-chip package (MCP) combines a 64-bit, dual-core processor and a platform controller hub (PCH) on a common package substrate. The processor delivers the performance and features expected of an Intel® Core™ i5 processor in a 15 W package, complete with integrated HD graphics and high-quality audio.

Figure 6. The 5th generation Intel® Core™ i5-5350U processor delivers outstanding compute and graphics performance compared to older mobile processors. (Comparison based on the very similar Intel Core i5-5300U processor normalized to a 2010 PC with an Intel® Core™ i5-520UM.)
Based on Intel's 14 nm process technology with 2nd generation 3D tri-gate transistors, the Intel Core i5-5350U processor enables the Endurance Tablet to deliver ultra-HD 4K graphics performance without excessive power use. The result is clearer, sharper display on the Endurance Tablet's brilliant screen whether viewing a map, a 3D diagram of a complicated assembly, or a parts list.
The integrated Intel® HD Graphics 6000 engine provides an improved architecture and an additional VDBOX unit (multi-format video codec). The combination delivers smoother visual quality, extremely fast media transcode performance, and outstanding HD media playback.
The graphics include Intel® Clear Video HD technology and Intel® Quick Sync Video 2 to enhance visual quality and color fidelity for video content ranging from safety videos to step-by-step assembly procedures. Codec support includes VP8 and HEVC/H.265. An updated audio DSP core provides the power for Intel® Smart Sound Technology, which includes support for MP3/AAC decode, Waves* DTS* post processing, and Wake-on-Voice.
A number of features combine to ensure excellent tablet performance in field applications:
Intel® Turbo Boost Technology 2.0 delivers short performance boosts when needed for specific workloads.
Intel® Hyper-Threading Technology (Intel® HT Technology) enables simultaneous multi-threading within each processor core to optimize computation performance on every clock cycle.
Intel® Advanced Vector Extensions 2 (Intel® AVX2) provide faster performance on digital signal and image processing workloads such as medical imaging.
Intel® Smart Cache Technology reduces data-accessing latency to improve performance and power efficiency.
To protect sensitive data, the Intel Core i5-5350U processor provides advanced security features that help protect against malware intrusions and unauthorized software. These features include Intel® OS Guard and Intel® Advanced Encryption Standard New Instructions (Intel® AES-NI). Intel OS Guard protects against sophisticated viruses by preventing malicious code from executing in application memory space. Intel AES-NI is a set of instructions that enable fast and secure data encryption and decryption with little impact to application performance – data remains safe without impeding worker productivity.
A mid-range performance version of the Endurance Tablet offers even lower power consumption (8 W) for longer battery life. This tablet features the Intel® Atom™ processor E3827, that has proven itself in a wide range of climate conditions and applications.
How Will You Test the Endurance?
Tough jobs in extreme conditions require a tablet that can do more than just survive. Through innovative components and smart design, Kontron delivers a tablet line superbly constructed to thrive in the harshest environments. In the hands of field personnel, the Kontron Endurance Tablet provides the assurance of a rugged tool with the performance, connectivity, and advanced features to get the job done almost anywhere.