The Many Sides of 3D Imaging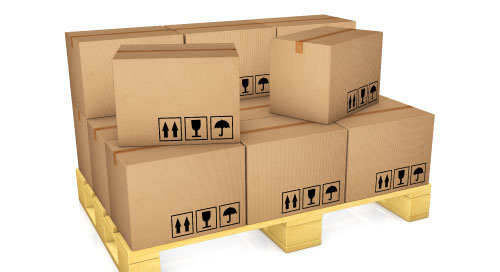 You may not think the duties of a nurse and those of a road crew member would have a lot in common, but the procedures they take to repair a wound or pothole require similar preparation. Traditional ways to measure a 3D object involve low- or no-tech tools, but those methods aren't accurate and are prone to limitations.
A better way is to use 3D imaging. While the technology isn't new, previous tools were bulky and expensive. Now, advancements in computer vision have led to the development of smaller and smarter cameras that have greater capabilities.
By combining 3D imaging tools with the latest edge-to-cloud technologies, industries can transform traditional measurement procedures and enhance their results.
"The key factor in repairing any ulcer or burn is depth," says John Miller, CEO of GPC Systems Ltd., a computer vision solution provider that specializes in 3D, AI, and image analytics. "You could measure around it, but to get the depth you have to use a probe—not very pleasant for the patient."
Road repairs follow the same pattern. A pothole is nothing more than an ulcer on a road, and road crews have been using metal rods that look like a child's growth chart to measure depth. "Until now there hasn't been a cost-effective solution, but using the Intel® RealSense™ camera has revolutionized the process," Miller explains.
By combining 3D imaging tools with the latest edge-to-cloud technologies, industries transform traditional measurement procedures, enhancing results.
Object Recognition Improves Efficiencies
Systems integrators that serve the healthcare or infrastructure industries can leverage products such as GPC's WoundMeasure and HighwayMeasure to solve their clients' real problems. While the use cases may be different, both offer a consistent return on investment by improving productivity and efficiency. For example, in healthcare, providers can use WoundMeasure to quickly analyze and treat a patient to release a bed (Video 1).
On roadways, crews can more efficiently make repairs. And the solution offers the ability to predict and perform maintenance, reducing the risk of needing emergency repair work later due to a legal case or claim.
"You can bring down your cost of repairs very quickly if you mount the cameras on cars and have them run alongside your parking lot or road on a regular basis," says Miller. "You can collect data and start reducing your insurance costs. With the Intel® AI suite, the solution can predict what's going to happen in the future."
WoundMeasure and HighwayMeasure demonstrate the versatility of the solution, and they're just the start. GPC recently leveraged the technology to assist freight logistics companies with its FreightMeasure tool.
"Airlines don't just carry your suitcases in cargo; they also carry freight," says Miller. "They could be flying flowers from Holland or live lobsters from Maine. The more efficiently they can fill the space on their planes, the more revenue they can make."
To create FreightMeasure (Figure 1), GPC mounts cameras to forklifts to measure the different-size boxes and create a plan on how to properly fill the plane cargo containers. Done manually, the process would take too long and cause shipments to miss flights.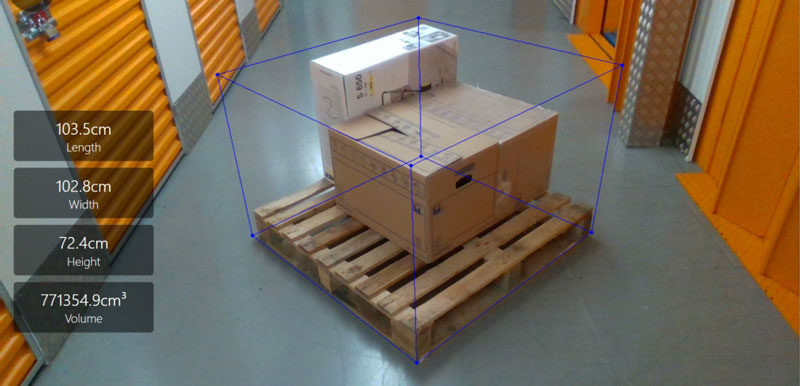 "The solution helps companies quickly move goods in and out of a warehouse increasing productivity and efficiency and making sure they're not losing any revenue by missing flights," says Miller, head of business development and partnership for GPC Systems. "The underlying benefit for all of the uses is revenue gain."
Computer Vision Measures Up
While these solutions sound straightforward, implementing them requires advanced AI. GPC uses Intel RealSense cameras to capture data through handheld methods or by mounting the device to a tablet, forklift, or vehicle.
The camera can be connected to the user's existing hardware or software systems. GPC's software is multifunctional, with analytics done on the back end. Data can be recorded in an Excel format or pushed to the cloud for external hosting, where it can be viewed from anywhere at any time.
"Data goes back to a central location where the knowledge base is located," says Miller. "It can tell them how to make the repair and what treatment to use. It could analyze a piece of tarmac or a leg ulcer. It's the same principle."
GPC's WoundMeasure, HighwayMeasure, and FreightMeasure comprise a single Intel® IoT RFP Ready Kit that systems integrators or end users can grab, download, and go. And depending on the environments or use cases, GPC also offers bespoke development and integration for software configuration.
Having a partnership with Intel® has opened up GPC Solutions to new opportunities. "Whenever we come across a new innovative project or an industry that we haven't quite broken into, such as our recent success with the logistics solution, we can work together to make it happen for the client," says Miller. "Being able to utilize our knowledge in 3D dimensioning with Intel's technologies and capabilities means that we provide an ever-better service and an ever-better product."