Fill form to unlock content
Error - something went wrong!
Your content is just a step away. Please submit below.
The COM-HPC Standard for Embedded Devices at the Rugged Edge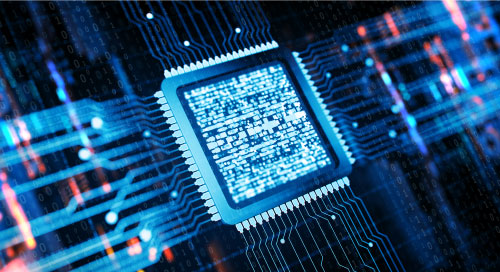 There's good reason why we don't use a fax machine to send business messages anymore. Sure, it can do the job, but it does not hold up to the breakneck speed of today's commerce.
A similar argument holds true with respect to today's computing landscape, argues Christian Eder, Director of Marketing and one of the cofounders for congatec, vendor of embedded computer boards and modules, and Chairman of PICMG COM-HPC.
With data being generated at an unprecedented rate, the ability to transmit and store data is becoming a major bottleneck in our ability to make use of it. Typically, data would be transmitted to a cloud or data center for analysis, but that type of infrastructure cannot always keep up with the amount of data at our fingertips today.
The Growth of Edge Computing and Embedded Devices
To overcome latency and the costs of routing large amounts of data to and from the cloud, AI inferencing is increasingly happening at the edge. And as a result, the computing muscle that was once the sole purview of servers in temperature-controlled data centers is now expected in much smaller, rugged form factors capable of tolerating high data throughput at a wider range of temperatures.
Up until recently, these embedded edge devices leveraged the COM Express computer-on-module standard to deliver mid-range edge processing and networking capabilities in fields like retail, transportation, and robotics. But with recent advancements in technology, this standard is starting to buckle under the demands of increased compute and volume of data throughput at the edge.
"With COM Express, we reached the top edge; it cannot grow anymore," Eder says. "The demand for higher data throughput, higher bandwidth, low latency, and higher computing power at the rugged edge has led us to define a new standard without worrying about backward compatibility. We needed new connectors and new sizes to provide a new level of performance and functionality."
The COM-HPC Standard for the Rugged Edge
To address the need for a new standard, PCI Industrial Computer Manufacturing Group (PICMG) brought major players from the industrial embedded market together to create the COM-HPC standard. The newer standard is designed to withstand the greater demands on today's embedded systems and can take the heat (quite literally) to deliver lightning-fast computing, Eder explains. "COM-HPC is the stable standard for the next 10-15 years as the technology advances," he adds.
In addition, a newer iteration of COM-HPC, its Mini equivalent, is making room for the smallest high-performance standardized module currently possible, nearly the size of a credit card. Useful for Small Form Factor (SFF) designs, the standard can accommodate power and space constraints while still delivering IO and computing power.
"The beauty of a #modular concept is that you can upgrade your existing #applications to a different power envelope without throwing away complete solutions" — Christian Eder, @congatecAG via @insightdottech
congatec recently introduced its first COM-HPC Mini modules to give customers a high-performance boost for their space-constrained solutions. "The intention here was to make it the right kind of platform to use the low-power range of the 13th Gen Intel® Core™ processors," Eder says. "It saves costs and saves real estate but is limited to low-power CPUs, yet is extremely powerful when it comes to computing."
A Rugged Edge Partnership
congatec's partnerships with companies like Intel have been critical in developing solutions with the latest computer-on-module standards, giving them better insight into what's around the technology corner.
"Participating in early-access programs enables us to have products already engineered by the time Intel is announcing the technology, which allows our customers quick access to the latest technology and reduces time to market," Eder says.
Knowing what is on the horizon allows congatec to develop modules with standards that are more rugged. And with 13th Gen Intel Core processors, congatec's COM-HPC modules gain performance improvements, AI inferencing abilities, improved GPUs, and the ability to withstand harsh temperatures from -40C to 85C. The processors also facilitate the high-graphics requirements that might be required of video streaming and analytics applications.
Migrating to COM-HPC
Given the many advantages of the COM-HPC standard, Eder thinks it's time to migrate performance-hungry systems from COM Express to COM-HPC. "The beauty of a modular concept is that you can upgrade your existing applications to a different power envelope without throwing away complete solutions," he says. "Instead you simply swap out modules." When switching gears from COM Express to COM-HPC, the carrier board has to be modified. But upgrading to future CPU technologies alone can be as simple as changing the compute module only.
Instead of changing a complete system, a modular concept helps prevent waste and is more environmentally responsible, Eder points out. Heat spreaders or cooling interfaces are also part of the module ecosystem standards, adding additional layers of sustainability.
While the actual swap-out might not be too heavy a lift, the other components may need to be adapted to make full use of the new performance and faster interfaces.
congatec facilitates adoption by providing reference carrier boards "for an easy start and to check out all dedicated functionalities required for the individual applications," Eder says. congatec also hosts an academy that teaches carrier board developers about best practices for design with the COM-HPC standards and within its ecosystem. The training focuses on standards-compliant carrier board design, which is essential for building interoperable, scalable, and durable custom embedded computing platforms, according to Eder.
Additionally, congatec works with partner networks, especially those that might have specialized knowledge of standards implementations requirements in different fields like transportation, communications, and healthcare. "Obtaining precertifications in certain industries like railways enables faster adoption of the products. Given congatec's computer-on-module products can withstand shocks and vibrations, selected SKUs even received certification for use on train systems", Eder says. Precertifications are especially useful to systems integrators who look for compatible and comprehensive tech stack solutions.
As the future of computing moves to the edge, the embedded edge devices must be able to manage crushing workloads in harsh environments. But COM-HPC stands ready to tackle the challenges. After all, Eder points out, "it's created by embedded specialists to simplify the use of latest embedded technologies."

This article was edited by Christina Cardoza, Associate Editorial Director for insight.tech.