Fill form to unlock content
Error - something went wrong!
Stay up-to-date with the latest IoT news.
Telehealth Is the Future of Care, and the Future Is Now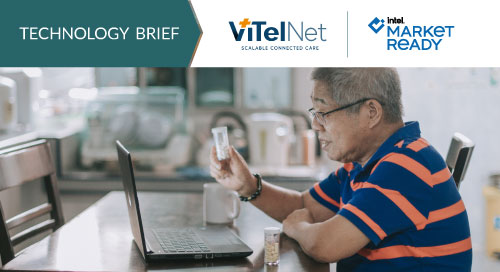 Imagine recovering from a stroke in your own bedroom or receiving infusion therapy right from your most comfortable living room chair. A combination of healthcare expertise and technology is driving the future of telehealth, expanding what's possible with solutions that meet a growing set of patient needs.
Telehealth dates to the '60s when NASA provided one-on-one care in space. But its mainstream beginnings were in 1968 when a Massachusetts General Hospital pulmonologist used closed-circuit television to examine ill travelers who were arriving at Boston's Logan Airport. The solution provided proof of concept that care is possible when there is distance between the provider and patient.
But widespread adoption has faced a variety of roadblocks, from technology and regulatory issues to privacy and lack of aligned financial incentives. In the 1990s, using technology to bridge distances started to take hold, but health system leadership was more focused on face-to-face care than virtual opportunities.
"Senior leadership of most health systems were more focused on electronic health systems — first medical imaging PACS followed by electronic health records. If there isn't a financial incentive, it's not likely to happen," says Dr. Richard Bakalar, Chief Strategy Officer for ViTel Net, provider of scalable virtual care solutions.
And Bakalar should know. His first job out of medical school was as the U.S. president's flight surgeon on Marine One. He served 25 years in the Navy, as an internist, in nuclear medicine, and he set up the Navy's operational fleet telemedicine program.
"I learned the importance of not being isolated," says Bakalar. "And that's why I really got interested in telemedicine. Setting up the Navy's telemedicine program is where I learned how to connect primary care providers with specialists, when needed. That was the beginning of this transition."
The Sudden Shift to Telemedicine
COVID-19 provided an incentive, suddenly accelerating the adoption of telehealth from a "nice to have" to a "must have" necessity.
"We had to bring healthcare to the patient, protecting them and providing access to those who couldn't travel," says Bakalar.
There was a financial incentive, too: On the business side, healthcare facilities had to furlough providers because they didn't have the capacity, or demand, for nonessential surgery or onsite primary care. The only way to retain revenue and provide services was to use telehealth.
"Bringing the #health system to the patient saves money and leads to better patient engagement and #medical outcomes." —Dr. Richard Bakalar, CSO, @ViTelNet
But most organizations were not prepared with technology, training, or support in place. And very few had governance or a business model that would allow them to rapidly transition and scale from in-person to telehealth care.
"Before the pandemic hit, telehealth made up only about 5% of remote encounters," says Bakalar. "During COVID, it was as much as 80%. Post-COVID, we anticipate a leveling off to about 25%. Going from 5% to 25% of an organization's business will create more visibility at the board level, and require a more systematic, disciplined level of reporting, accountability, and compliance."
A Need to Connect Health Tech Sources
To create an effective telehealth system, hospitals and clinics need to marry disconnected information sources. Most organizations take an app-store approach to choosing healthcare technology, picking products that solve specific service lines. Each solution has a separate database and workflow.
Few organizations had the foresight to take a platform approach, which does a better job across service lines. With a greater emphasis on telehealth, organizations will need to go from an app-store model to a platform model.
ViTel Net has a unique telehealth solution and consulting approach, working with customers to understand their current workflow, business needs, and goals, and providing technical services, compliance, and deployment. Its cloud-based vCareCommand modular platform uses high-compute Intel® processor-based platforms and integrates into a provider's existing information systems.
Live videoconferencing hosts patient encounters and embedded tools provide clinical documentation and access to medical imaging. The system also records the amount of time spent with patients for proper billing, coding, and enhanced reporting. Instead of being a system of record, it's a cache of information that aggregates the collaboration and images from the encounter and provides a report to the system of record, usually the EHR, for continuity of care.
"Our platform allows us to meet the local workflow needs of the customer, share data with the systems of record that have governance associated with them, and provide real-time business intelligence," says Bakalar.
Deploying the solution is easier because ViTel Net's vCareCommand technology can be assembled like Lego blocks. Customers can start small by adding application modules to their current technology, then scale as needed. For example, in 2018 a large academic medical center had successfully integrated the solution into its platform for tele-stroke care.
"In 2020, they were struck like everybody else with clinics being shut down," says Bakalar. "They added a module called 'TeleUrgent Care,' where patients who were at home could be evaluated through the platform. They had not anticipated that need, but it was something we could rapidly add because they had the existing capability."
A similar situation happened at a hospital in Washington, D.C., which treated children with serious infectious diseases pre-COVID. "They were able to put our technology in their ICU isolation rooms," says Bakalar. "Nurses from outside the ICU patient room could monitor the patients without having to go into their rooms with full PPE."
Telehealth Trends of the Future
While there are times when a patient needs to come to a health system, such as surgery, technology is creating a growing number of care services that can be done from home.
"Bringing the health system to the patient saves money and leads to better patient engagement and medical outcomes," says Bakalar. "It isn't just medical surveillance. We can treat them at home, too. We can send technicians to the home to perform services like infusions or set up patients on ventilators and monitor them. The proportion of face-to-face and virtual care will continue to shift in a positive way toward virtual care. Telehealth's time has come. It's taken us 30 years, but we're getting close."